10 Of The Best Eco-Friendly Yoga Essentials
While yoga and environmentally-friendly sound like a perfect pairing, the two don't always go hand-in-hand. We are closing that karmic gap with 10 of our favorite eco-friendly yoga essentials.
Beyond getting in a good workout, yoga is deeply rooted in a philosophical belief system, linking the self with the other and beyond, the mind and body with the heart and soul, and so on. It's about learning who we are singularly on a fundamental level as well as a community.
Translated from Sanskrit, yoga literally means "union" or "connection." This same awareness and connection that brings us to our mats regularly should also, in a karmic sense, give back and sustain. While yogis and environmentally-friendly are a perfect pairing, much like avocado and toast, or salt and pepper, it's still possible, in the case of yoga, to practice one without the other.
Much like our stance on food and health, we are firm believers in voting with your fork, putting your money where your mouth is, and in the terms of yoga, extending your practice beyond the mat. To help close that karmic gap between feeling good for yourself and doing good for the environment, we rounded up 10 of our favorite eco-friendly yoga essentials you'll feel good about using in your practice.
Prana makes every effort to reduce their carbon footprint and give back to the people and places they do business with. It is known for sourcing sustainable materials from organic cotton to recycled polyester wool, and hemp, are members of the Fair Labor Association, and have fair-trade and labor policies in place to not only ensure a high quality product but healthy, happy employees. Shop everything from men and women's yoga clothing to casual wear, mats, blocks, bags, towels and belts.
Teeki yoga bottoms, tops, and mats are made from upcycled plastic water bottles into spun fibers, transforming a product that takes 400 years to biodegrade into clothing that is as environmentally friendly as it is chic and comfortable.
Satva prides itself on sourcing cotton in the purest form possible – organic, non-GMO, and free from pesticides and fertilizers - and once woven, also free from bleaches, toxic waxes, and heavy metals. Only natural, non-toxic plant dyes are used in the production of their clothing. Additionally, their partnership with Suminter India Organics®, helps to ensure a union between the consumer and the planet, and production and the community and farming communities.
Committed to 100% transparency with their company's eco practices, Manduka has a well equipped line of sustainable yoga products and gear. What stood out to us was their all-purpose yoga mat cleaner and sprays, which are certified organic, naturally anti-bacterial, completely biodegradable, and chemical free. They help to fight odors, keep your mat sanitized, plus they smell amazing and add aromatherapy benefits to your practice.
These beautifully and ethically-crafted Chattra drawstring mat bags are made using handcrafted, traditional hand-block print textile techniques. By supporting Chattra you help them support individuals and small nonprofits in India and the US in their efforts to address their communities' challenges, such as Shanti Life.
Kulae creates sustainable mats and towels that are latex and silicone-free, 100% recyclable and machine washable. Not only are their products eco-conscious, they are durable and made to last.
Rated #1 by The New York Times for environmentally friendly yoga mats, Barefoot has created a durable mat using jute fiber and all-natural rubber (does contain latex).
Free from plastic and BPA, made from brushed steel in a variety of colors, prints and designs, S'well has propelled its mission of "Healthy Helpful Happy" by giving back ten percent of net sales to WaterAid, which supports programs that improve access to safe water and sanitation in the world's poorest communities. Of course they also help the environment by swapping out plastic water bottles, an estimated 50 billion of which accumulate in landfills each year. If that's not enough to get us to drink from our own personalized sleek canteen, how about the fact that they also help to keep drinks cold for 24 hours or hot for 12.
These all natural balms and sprays contain zero chemicals, dyes, or preservatives. Instead they are filled with USDA organic and ethically farmed, or wild-crafted, potent essential oil blends and oils, so you can feel refreshed with all of the benefit and none of the doubt.
Ursa Major is committed to providing the most effective, quality, natural skincare products out there. These wipes are not only sourced from 100% bamboo fiber, they are free from petrochemicals, sulfates, parabens, synthetic fragrance or color, glycols, silicones or PEGs, and provide a quick and easy solution for cleansing post yoga while also combining exfoliating AHA, hydrators, and soothing ingredients into one aromatic product.
How green is your yoga practice? Are there eco-friendly products you highly recommend?
Take the stress out of cooking with 21-days of guided meal plans, shopping lists, and nutrition support. You'll find all of this, and more, in our signature Clean Eating Program.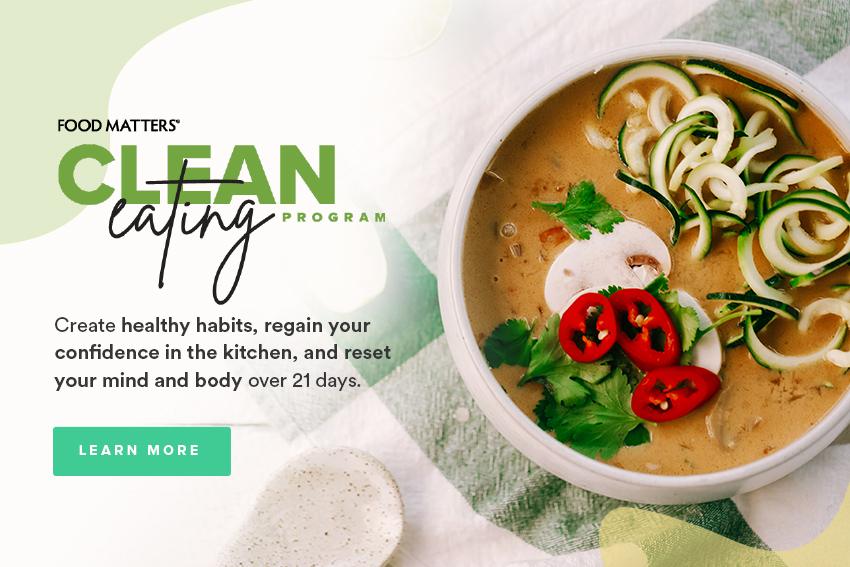 ---