10 Of The Most Popular Health Documentaries of 2016!
We're so lucky here at Food Matters as we get to watch so many incredible health and wellness documentaries throughout the year. We are constantly learning, growing and educating ourselves.
We certainly have our favorites, but with over 1,000 videos inside FMTV now, we couldn't possibly pick our top 10!
So this year, the most popular health documentaries of 2016 have been chosen by our incredible FMTV members! It says a lot when we release a new film onto FMTV and the views go through the roof within the first 2 weeks.
So if you're on holidays this time of year, or simply looking for some inspirational viewing to change your life, put these on your "must watch" list. Enjoy 10 days free of FMTV here, and start your year with a healthy bang!
After all, change begins with education and a little inspiration. Something you'll get plenty of with this top 10 list! Happy viewing!
Frank is 54 years old, obese, depressed and addicted. This charming documentary follows Frank as he transforms his life, both physically and emotionally.
This documentary, Love Paleo, reflects on how real-life people were profoundly transformed by their new way of life and became passionate about promoting the Paleo lifestyle through their business as a means for others to achieve optimal health.
Death Makes Life Possible follows cultural anthropologist and scientist Marilyn Schlitz, Ph.D. as she explores the mysteries of life and death from a variety of perspectives and world traditions. Sparked by her own near-death experience as a teenager, Schlitz has been delving into the nature of consciousness and death for the past three decades.
More and more people are diagnosed with celiac and non-celiac gluten sensitivity than ever before!
Cyndi O'Meara, nutritionist and founder of Changing Habits, went on a global quest to find out the reason why! Fourteen experts from Australia, United States, England, New Zealand and India, including Dr. Perlmutter, Sarah Ballantyne, Dr. Terry Wahls, Dr. Natasha Campbell-McBride, Pete Evans, and others weigh in on the subject and provide chilling answers.
The Center for Disease Control reports that nearly half the population in the United States of America lives with at least one chronic disease. These diseases are the leading cause of death and disability. They are also the most costly and preventable of all health conditions in the country. Food As Medicine follows the growing movement of using food to heal chronic disease. From individuals empowering themselves to change what is on their plates, to hospital groups administering vegetable Rx programs, we can already see the change happening around us.
Imagine eating nothing but traditional, authentic, Japanese cooking for 12 weeks. What sort of health benefits would this kind of diet have on one's body? It is widely known that the Japanese live the healthiest and longest lives in the developed world. But what is it about their lifestyle, diet, and culture that makes this so?
NutriBullet University is a 90-day healthy eating program that empowers students to take control of their health and change the way they eat. Over the course of 90-days, students are provided fresh produce, nuts, and seeds to make their personalized smoothies or what we call NutriBlasts. Through this hands-on experience, students are given a chance to change their health and reprogram their taste buds; a task which is not always easy. At the end of the program the results are in. Were students able to change their health for the better?
After looking at countless "before and after" photos on the web, Sergei Boutenko became curious to see if he, too, could achieve his dream fitness goals by following a no-gimmick exercise and diet protocol. At age 30, Boutenko noticed his metabolism slowing down, his weight increasing, and the temptation to get caught in life's bad habits (eating out, drinking, and living sedentary lifestyle). Instead of yielding to these pressures, Boutenko hired a film crew and decided to use himself as a guinea pig.
From the creator of the award-winning film "Garbage! The Revolution Starts At Home" (Sundance Channel, Super Channel) comes a shocking tale about the products we use to clean our homes and bodies. Chemerical explores the life cycle of everyday household cleaners and hygiene products to prove that, thanks to our clean obsession, we are drowning in a sea of toxicity.
Without exception, every human being has the ability to transform any weakness or challenge into strength, power, perfect peace, health and abundance. Now, for the first time in history, all the pieces of The Secret come together in a revelation that is life-transforming for all who experience it. The Secret explains, with simplicity, the law that is governing all lives, and offers the knowledge of how to create, intentionally and effortlessly, a joyful life. This is The Secret to life.
Beyond these incredible films, FMTV also has recipes, exercise and meditation videos, expert interviews and guided programs including the brand NEW 21-Day Program launching January 11th! You can sign up to be notified about the 21 Day Program release here!
FMTV really is your non-stop shop for health and wellness inspiration! Try 10 days free and see for yourself! :-)
Have you watched any of these films? Which one is your favorite?
Get access to the entire Food Matters Film Library. Start watching here.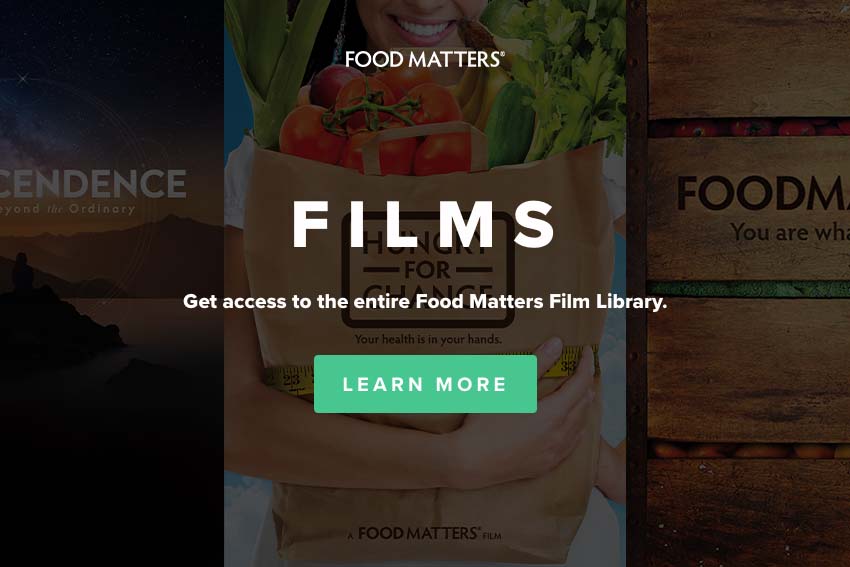 ---