5 Ways Studying Nutrition Can Change Your Life
Sometimes, magical things happen when you learn something new. You discover a new place, a new food, a new piece of information that totally transforms how you think, what you eat, how you act or even what you do from then on. Knowledge can truly be life-changing. For some, studying nutrition is their awakening moment or their solution to a long-term problem that's never been figured out. There are many ways that learning more about nutrition can change your life, but here are 5 ways that studying nutrition has changed the lives of people we know and love. The opportunities are endless!
1. You Can Help A Family Member Or Loved One Regain Their Health
Around 8 years ago, Laurentine and I studied nutrition then traveled the world in search of answers to help heal my father. In 2003, my father, Roy, was diagnosed with Chronic Fatigue Syndrome. At the time, we didn't realize how much this was going to impact all of our lives. It became the catalyst for our venture into the world of natural health and wellness and we wouldn't be where we are today without having made that decision to gain a deeper knowledge of nutrition. A decision that has truly changed our lives (read our full story here).

Since helping my father reverse chronic disease and come off a cocktail of medications, the Food Matters film has now transformed into a global wellness hub with a community of over 3.3 million people across email and social networks! If you know someone you love that is ill or in need of healing, having a good understanding of nutrition is an incredibly powerful way to help and support them. After all, everybody has to eat, but what you choose to eat has a profound effect on your everyday life!
2. You Can Practice Nutrition As A Consultant In Your Local Community, And Worldwide
"You can't grow if you take the easy route. Take risks, leap, jump and be brave". Do you love helping people?

Our friend Melissa Ambrosini studied nutrition to follow her true passion. She took a brave leap, leaving her old life, and created a life she's always dreamed of! Since studying nutrition she has healed herself, continued to learn about self-help methods, created a booming heart-centred business, and connected with thousands of like-minded souls, inspiring people all across the globe to break free from their inner mean girl, to nourish and nurture their body, and focus on leading a life full of purpose! Studying nutrition lets you help people in a way that provides long lasting change, and amazing results! The feel-good feeling you get from that is simply priceless.
3. You Can Become An Author And Write A Recipe Book Or Nutrition Book
Kris Carr was diagnosed with cancer in 2003. A diagnosis which turned her life upside down, in a good way! After embarking on an in-depth self-care journey, Kris discovered researching and understanding proper, natural nutrition to be one of the foundations for her new healthy lifestyle, and incredible success helping others manage their diagnosis and live life with an amazing vibrancy.

"I learned that a nutrient dense, plant-passionate diet rules, the Standard American Diet destroys (everything), stress sucks (life-force), exercise is non-negotiable (great for your head, heart, cells and ass-ets), joy is utterly contagious, and having fun must be taken very seriously." Kris now has multiple books (with another on the way!), and an award-winning film that continues to help others on a similar journey.
4. You Can Create Healthier Products For The World To Enjoy
Carly de Castro, let go of yo-yo diets and rigid fitness routines, discovering a more positive and balanced life through juicing. After losing her mom to cancer, Carly moved back home to Los Angeles and envisioned a business that would make nutrient-rich juice more accessible to all, particularly those with weakened immune systems.

Carly is now the co-founder of Pressed Juicery in the US, which has an amazing juice bar chain and cleanse program offering delicious and nutritious cold-pressed juices. After studying nutrition, Carly was able to take her business to the next level, and is now helping fuel people one fresh juice at a time!
5. You Can Have The Knowledge To Heal And Care For Your Body
It doesn't always have to be about another person. Though sharing your nutrition knowledge with the world is a powerful tool and an absolute privilege, it all starts with healing yourself first. Studying nutrition allows you to be in a position to heal yourself, to regain your health and to live the life you wanted to live. Sarah Wilson began her health journey, as many of us do - seeking answers. When her health was at an all time low, suffering from an autoimmune condition, she turned to nutrition and natural healing to help her lead a healthier, happier life.

Since then she is now managing her condition, and leading a much more fulfilling life! Not to mention being the author of the international best-sellers I Quit Sugar and I Quit Sugar For Life and the director and founder of IQuitSugar.com, an online wellness program and series of bestselling ebooks. Her 8-Week Program has seen more than 700,000 people quit sugar worldwide. When you study nutrition, you can begin to heal yourself, and heal the world, one person at a time.
Do You Have Your Own Success Story To Tell Too?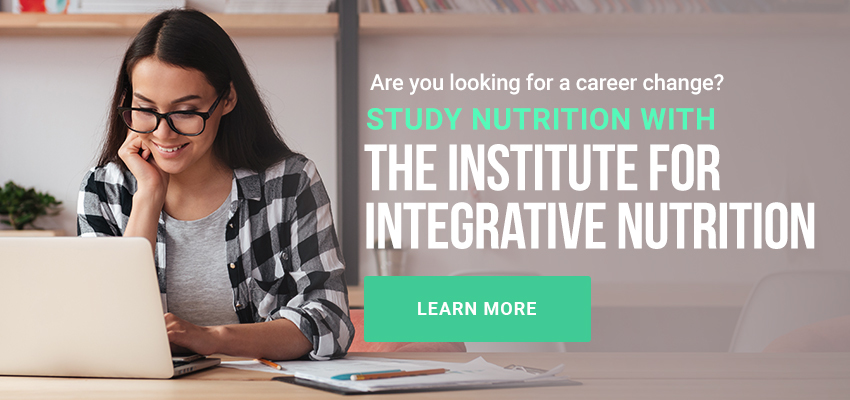 ---