5 Ways To Inspire A Year Of Magic With Food Matters TV
As cliché as it may seem, making resolutions and action plans for the new year are sometimes what we as humans need to turn our dreams and desires into actions. Sometimes we feel like we can't start something new unless it is a Monday, or the start of a new month. In this case we're talking about a new year. The year 2017 was a big one - some pretty radical things have happened in our society, both politically and to our planet. Mother nature certainly displayed some ferocity.
We've also never been more inundated with information. At a click of a button we can be wearing a smile from ear to ear, only to be suddenly sobbing uncontrollably with the next click. The tsunami of information that is the internet can feel pretty overwhelming, and frankly can leave us feeling pretty helpless. To give you the energy to break through the negativity and inspire a year of magic, we suggest starting off your year with a couple of these things…
1. Watch An Inspiring Documentary On Food Matters TV
That ah-ha moment, in all its glory, comes best from watching an epic eye-opening documentary. From reminding us how stunning our planet is to learning about the power of giving, these films will help light up your ticker within and restore your faith in humanity.
Grab your scissors and craft kit, it's vision board time! James & Laurentine truly believe in the power of manifestation. Creating your own vision board to guide you to your goals is one of the greatest ways you can turn your dreams and aspirations into reality. Not sure how? Join us for tutorial on vision board making here.
3. P

ractice Gratitude
Consumables - they seem to dictate our lives! We live in a world with an obsession with 'stuff'. Practicing gratitude can be a simple way to remind ourselves of what is important to us and what is integral to living a fulfilling life. Once a day, once a week, or once in a blue moon, try one of our gratitude meditations to reset your mind to what is important to you in 2018.
4. Make Healthy Eating A Habit
We like to call it the "green smoothie effect" - once consumed you instantly feel the health radiate through your body. Eating healthy not only is great for your physiology, it's good for the soul. But why can't we turn the occasional green smoothie into a habit? Last year we investigated the issues and created the 21 Day Program, a foolproof eating and lifestyle plan to turn occasion into a habit. Join us this January for 21 Days of health.
5. Start Listening To "Podcasts" On Food Matters TV
We often hear that there is so much amazing content on Food Matters TV but just not enough time to watch it all! We heard you loud and clear, and late last year launched an audio only option for all our incredible interviews, meditations and visualizations. So next time you've got a long car ride, taking the dog for a walk or cleaning the house plug into FMTV and listen to one our 350 audios.
Here is to an Epic 2018!
Do you have a passion for nutrition & natural healing?. Learn more about the Food Matters Nutrition Certification  Program here.
ENROLLMENT & BONUSES CLOSE IN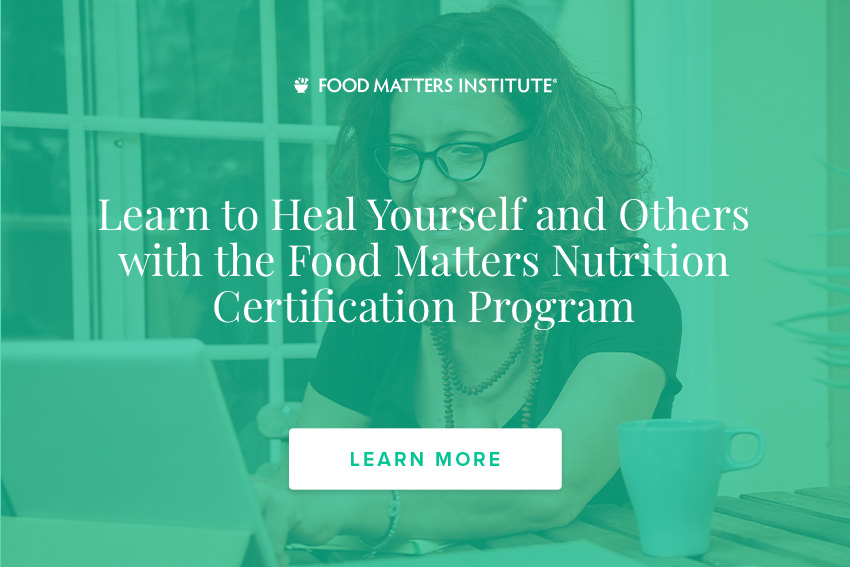 ---