Bouncing Back From Depression with Plant-Based Whole-Foods and Meditation
Wellness knowledge is a good thing to have - if you're putting it into practice. In this interview series, we get up close and personal with our FMTV members; finding out their insider wellness hacks and hearing the advice that has resonated with them. Kylie calls a small beach town in New Zealand home, who thinks her plant-based, whole-foods diet is just the beginning of something great.
Where do you call home?
Kylie: I live in Omokoroa, a small beach settlement in Tauranga, in the Bay of Plenty in the North Island of New Zealand.
How long have you been apart of the Food Matters community?
Kylie: I have been following Food Matters since the documentary came out around 2007, from a kindy fundraiser evening. Over the years I followed and revisited the doco when I needed to get back on track. I took advantage of the free offerings that came out often, but it wasn't until 2017 once the sh!t hit the fan and I gave myself the gift of an FMTV membership for my 42nd birthday, to get my life back.
What's your motivation to be healthy?
Kylie: It's totally about my mental health. After suffering from depression and anxiety for over a decade whilst raising three young kids, I totally do it to keep me sane. Weight loss just happened to be an added benefit.
How would you describe your eating style?
Kylie: I say "whole-food, plant-based" to anyone who will listen. When people ask what it means, I say "basically anything that is as close to nature as nature intended". As much as I don't like labels, sometimes I'll just say "wholefoods". I'm not rigid with it - I just do it as much as I can, which is probably around 90% of the time. I also eat seafood and will sometimes bend to chicken. They're still whole foods after all… as close to nature as nature intended. It's mainly red meat and processed foods that I try to stay away from.
Would you describe your community as health-conscious?
Kylie: Unfortunately, no. I'm still trying to find my tribe! I have met some people with a similar philosophy, but we seem to be into labels here, particularly vegan. I mean, I love animals too, but they're not my motivation. I tried to start a WFPB Meet Up group and it lasted about a year.
How do you stay motivated to stay healthy?
Kylie: I don't want to go back to that place. Now I know what to do and how to do it to ensure the wheels don't fall off - or don't roll away too far – when I feel myself slipping, that's all I need to get back on track.
Also, I donated one of my kidneys to a work colleague in December 2018, so although a secondary reason, I guess that's pretty important too. I think this also keeps me motivated because of the 18 months leading up to the operation, I had so many tests and each time the health professionals would comment about how healthy I was and what was I doing? When I told them mainly WFPB their eyes glazed over and they said: "well, just keep doing whatever you're doing". So I am. Living proof. Oh, and I just ran a half marathon at the end of November, within 12 months, of the operation – so something's working.
What is your go-to breakfast?
Kylie: Green smoothie, every morning. Kale, frozen bananas and blueberries, apple/pineapple/ berries (whatever I have), ground flaxseed, chia seeds, spirulina, cacao beans, and a couple of dates. Just with water.
What is your favorite film on FMTV?
Kylie: Oh, this is hard. I'm going to have to go with Mindfulness Be Happy Now. I was a sponge when I watched that for the first time and it spoke to my heart and uplifted me.
Do you supplement?
Kylie: Does what's in my smoothie count? Otherwise, no.
What's your biggest takeaway after joining FMTV?
Kylie: Food is just the beginning.
What is your favorite dinner that's on the menu most weeks?
Kylie: Umm, most nights?! Salad fresh out of my new little garden, rice and either tinned tuna or fresh salmon.
What is your weekly food budget?
Kylie: When it's just me, it's around $50 – when I have my 3 kids with me it's about $250! I have my kids week on/week off with their dad. I gave up trying to encourage them into it – now all I want to be is a walking sandwich board. I'm sure it's sinking in …
What's your favorite piece of content on Gaia?
Kylie: I'm still exploring Gaia. I have discovered Sally Kempton's meditation series "Falling In Love with Meditation". That's been great so far. However, I have to say your Ira Israel Beginner's Guide Series was my pivotal moment – days 5 and 9 changed my life.
Are you a meal prepper? Or do you cook daily?
Kylie: I cook daily. Just keeping it simple.
What are your weekly staples in your grocery cart?
Kylie: I must return to the supermarket 2-3 times per week for kale and rocket. Definitely the fruits and vegetables – LOTS of fruits and vegetables! Rice, tuna, tinned tomatoes, tinned beans, coconut milk, fresh seafood and herbs, and spices.
Do you have a trade secret healthy eating hack?
Kylie: Not that I can think of right now. And I wish I did!
What's your daily non-negotiable? Meditation? 1L of water straight up in the morning…
Kylie: Oh, both of those. I got that from the Food Matters documentary. Ever since then I drink a bottle of water as soon as I get up so I'm hydrated for the day. Also my meditation at night before bedtime. When I let that slip for too long, the wheels start to fall off.
With so many inspirational health and wellness documentaries, guided programs, recipe series, and meditation and yoga classes at your fingertips, you too can have a positive transformation and share this life-saving information with those you love. Click here to learn more about joining the FMTV Community.
Do you have a passion for nutrition & natural healing?. Learn more about the Food Matters Nutrition Certification  Program here.
ENROLLMENT & BONUSES CLOSE IN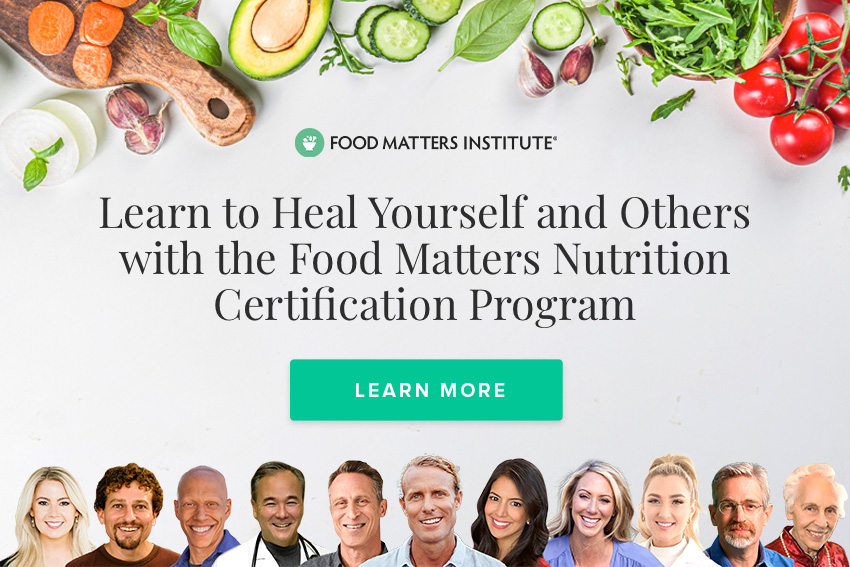 ---