Golden Elixir Salad Dressing Recipe
½ cup Extra Virgin Flax seed oil or Olive Oil
1 Whole lemon juiced
2 tbsp Raw sesame tahini
¼ cup Tamari soy sauce (low-sodium, wheat free if possible)
¼ cup Spring water
2 tsp Dried kelp seasoning
1 Small clove garlic*
1 tsp Fresh squeezed ginger juice*
* You can use powdered garlic and ginger, but fresh is better!
Method:
Place all ingredients except oil into a high-speed blender.

All lemons are not created equal. If the lemon is large then the dressing will be very lemon-y. If it is small or dry, then there may not be enough lemon. So make sure you taste and compensate with other ingredients if needed. I have found that about ¼ cup is the perfect amount!

To make fresh ginger juice, grate a piece of fresh ginger on the smallest element of the grater. No need to remove skin. Grate until you have a pile that would fill a tablespoon. Gather in your hand and squeeze out juice over the blender into the mixture. Discard the pulp and skin.

Start blending. Add oil slowly as you continue to blend.

Serve on mixed greens, quinoa, or rice.
This dressing was named 'The Golden Elixir' by my customers who often say they want to just "drink it". It keeps up to several days in the refrigerator.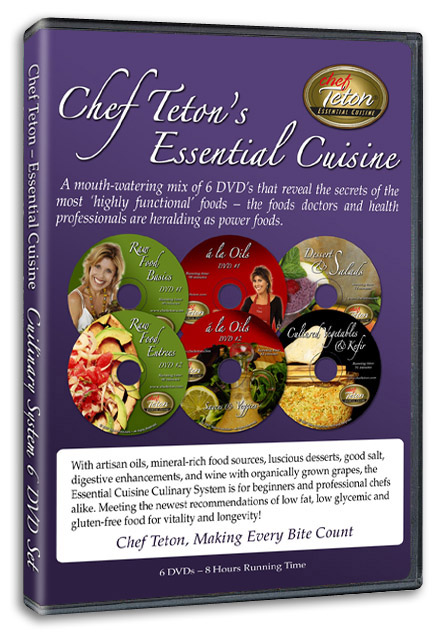 Excerpt From:

Essential Cuisine: A mouth-watering mix healthy recipes over 6 DVDs.

To find out more about this product and start making more of these dishes at home click here