Make Your Own Vision Board! (How-To Video)
Have you ever wanted to create your own vision board, but you weren't sure how?
What goes on it? Is it inspirational, motivational, or just a collection of things you love?
Have all your questions answered and create your very own vision board with me, right here!
James and I truly believe in the power of manifestation. Creating your own vision board to guide you to your goals is one of the greatest ways you can turn your dreams and aspirations into reality - it's almost spooky the number of times we've placed a goal on our vision board and seen it come to life.
So we encourage you to give this new year the healthiest start possible and create your very own vision board today!
If you're looking for even more inspiration, transform your health with the Food Matters 21 Day Gluten Free Program! A groundbreaking online mind & body program designed by Food Matters, with YOU in mind! We kick off a 'start together, finish together' group event January 14th! Find out more here!
There are so many programs these days to help you lose weight and get fit, but we wanted to design a program to help you GET HEALTHY.
This exciting new program is dedicated to improving your long-term health, way beyond 21 days. Focusing on nutrition, movement and mindfulness, you'll be enjoying:
Yoga routines,
Meditations,
Motivational videos,
A nourishing meal plan,
Weekly film nights,
And much, much more!
Don't miss out on this exciting opportunity to start your year fresh and revitalized, and gain the knowledge to set yourself up for a lifetime of good health.
Take the stress out of cooking with 21-days of guided meal plans, shopping lists, and nutrition support. You'll find all of this, and more, in our signature Clean Eating Program.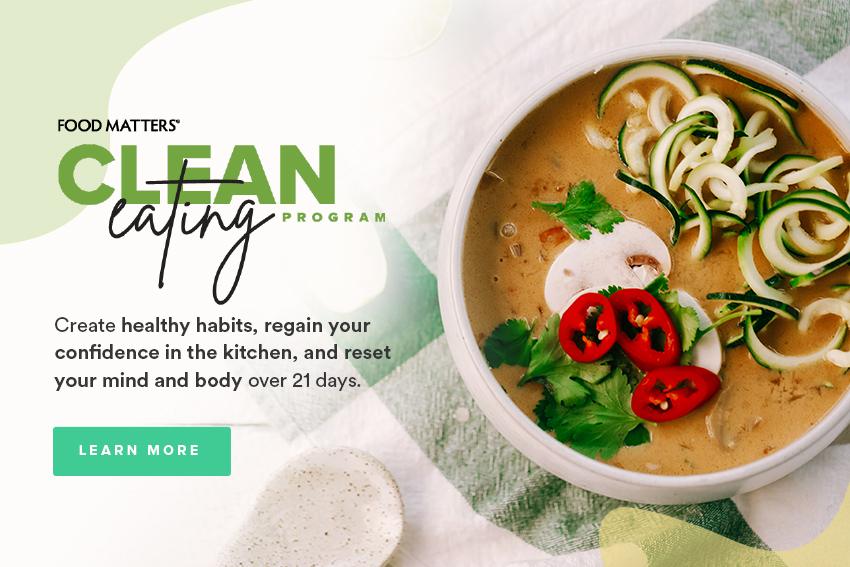 ---