Meet The Experts Of FMTV Live: Kris Carr
FMTV Live 2015 has started off with a bang, we've screened the eye-opening documentary 'Origins' and James Colquhoun (Founder of Food Matters) has asked health expert Pedram Shojai all the burning questions about his film-making quests and what kind of health era our world is facing, and most importantly what we should be doing about it. But we are only warming up!

FMTV Live has only begun, it's time to find out a little bit more about our second exclusive interviewee...
MEET KRIS CARR...

An all time Food Matters favorite and regular on FMTV Kris Carr is truly one of a kind. You've probably heard a bit of buzz about this incredible woman. Maybe due to her documentary 'Crazy Sexy Cancer' or her subsequent books 'Crazy Sexy Cancer Survivor' and 'Crazy Sexy Cancer Tips'… Or featured in one of FMTV's top-rated documentaries 'Hungry For Change'. Not only is Kris a New York Times best-selling author but a motivational speaker and wellness activist too. Well known for her contagious smile, loving personality, and let's not forget the classic pink streak in her hair! You may have also noticed us constantly sharing her words of wisdom!

Kris's journey to wellness begun in an unfortunate way, like many it sometimes takes the destruction of health to truly understand how important it is. In 2003, Kris was diagnosed with a rare and incurable slow growing form of cancer. This news sparked a deep desire to stop holding back and start living life like it means something. Kris hit the road on a self-care pilgrimage, learning to crank down the stress and up the joy factor. Kris discovered avenues to live the best life possible through nature, garden, people and animals, which fuelled her spirit each day. Kris's philosophy embodies the power of a nutrient dense, plant-based diet and gives accolades to the power of juicing. Although she is still fighting her battle and understands that her disease is still currently incurable she remains open-minded and continues to strive for good health and a positive mindset. Throughout her journey, she has developed a blueprint manual to live the best possible life, sharing the most thought provoking words that resonate in our minds! Here is one of our favorites...
"If it's made in the garden, then I eat it. If it's made in the lab, then it takes a lab to digest. If it has a shelf life longer than me, then I don't eat it." - Kris Carr from Hungry For Change.


Food Matters & FMTV adores Kris, that's why we can't wait for you to meet her! We will be screening the film, Hungry For Change followed by a live call with Kris on Monday 23rd of November at 8:00 pm (ET). Where James will be asking her all the questions on nutrition, wellness, chronic disease and maybe discover her secret juicing recipes! Here's one to get you ready for the live call:
Missed The Live Calls? Register For FMTV Today And Get Access To All The Live Calls Plus The Entire FMTV Catalogue,
Register Here Today!
Take the stress out of cooking with 21-days of guided meal plans, shopping lists, and nutrition support. You'll find all of this, and more, in our signature Clean Eating Program.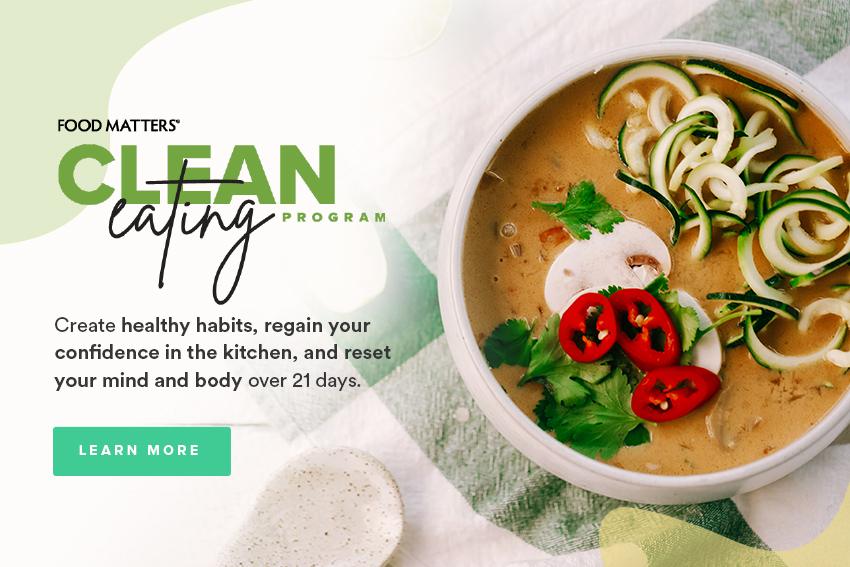 ---