Here's What Everyone Watched This Year!
This year was the best yet for amazing films, recipes, expert interviews, and guided meditations on FMTV. Find out what everyone loved with our list of most watch content on Food Matters TV.
In this 5-part docu-series you'll hear from some of the world's most recognized doctors, high-performance athletes, thought leaders, and everyday people who are living a life on purpose through the power of food, mindset, and self-discovery. This groundbreaking new FMTV original series will inspire you to examine your own life more deeply and give you the tools to ultimately live a healthier and happier life. Check out the trailer below.
We all want more energy, an ideal body, and beautiful, younger looking skin. So what is stopping us from getting this? Hungry For Change exposes shocking secrets the diet, weight loss, and food industry don't want you to know about; deceptive strategies designed to keep you coming back for more. Find out what's keeping you from having the body and health you deserve, and how to escape the diet trap forever. Watch the trailer below.
Do you see yourself 6 months down the track as your perfect ideal self? It may be relationships, career or even gaining a peaceful mind. Whatever success means to you, let Jon Gabriel guide you through meditative visualizations that help you tap into your mind's uncharted potential for manifestation. Watch the trailer below for Jon Gabriel's Series.
Roll out your yoga mat, find a quiet space at home and join James, Laurentine and Ashley in a 15-minute Sadhana yoga class. This 15-minute practice is a great flow for getting your blood circulating, your muscles oxygenated and your mind and body attuned. Get a taste of Awakening Yoga & Meditation series in the trailer below.
In this exclusive FMTV interview, join James as he chats with Ocean Robbins about how to supercharge your health with plants, say 'no' to factory farming, and make healthier food choices for your health and the health of the planet. This interview is part of The 10 Day Plant-Based Challenge, check out the trailer below.
In this in-depth video with James, you will learn some amazing health tips to discovering the healthiest version of yourself! You'll find the 7 Healthy Habits as part of The 21 Day Gluten Free Program, inside Food Matters. We'll be running The 21 Day Gluten Free Program "Start and finish together from January 14th so stay tuned for more info! Check out what's included in the trailer below.
It seems our Food Matters TV Tribe loves starting their day with the Ginger, Lemon, Detox Drink! This recipe will help flush out toxins and aid digestion by encouraging the production of bile. It is also a great source of essential nutrients including citric acid, potassium, calcium, phosphorus and magnesium. Get the recipe, along with 100's of other juice recipes inside Food Matters TV.
Get access to the entire Food Matters Film Library. Start watching here.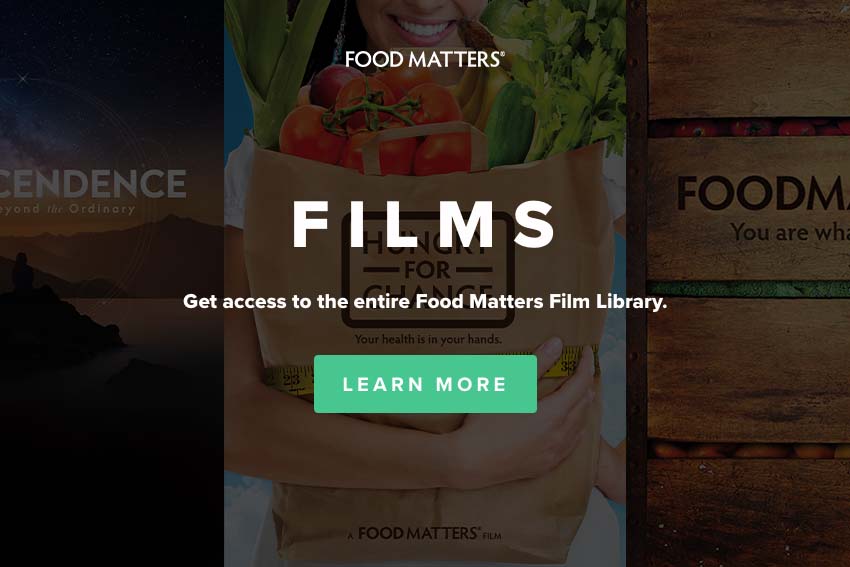 ---