Next Chapter For The Food Matters Farm
Growing up, my family lived all across the globe. I was born in Holland but my father's work took us all across Europe, and even the Middle East.
But of everywhere I've ever been, this farm is truly one of my favorite places.
Nestled within the Hinterland of the Sunshine Coast, in a quaint town called Montville, our farm is not only absolutely beautiful… It's also very dear to my heart for a number of reasons.
So Why Did We Buy This Cottage Farm In The First Place?
Firstly, James and I always wanted to experience a home that is very connected to nature. This property still retains almost half of its original rainforest and has significant history with the indigenous aboriginal people of Australia.
Nearby to our farm, Indigenous aboriginal people once held traditional gatherings for the Bunya Pine Feasts at Lake Baroon. This gathering site also contains natural pools that were used for ancient aboriginal birthing rites. In honour of these traditional Indigenous custodians, the farm was blessed by aboriginal elders from the Gubi Gubi Tribe after we moved in.
Having this access to nature at our fingertips has been incredibly grounding. There's nothing like walking barefoot through lush, untouched rainforest - literally in your backyard! Especially several years ago, when work required us to visit LA for extended periods of time. Coming home to our farm was such a sanctuary and way to balance out the bustle of being in a busy city.
This home also provided the creative space that we needed to produce 'Hungry For Change'. During the film's planning phase, James and I would wake up to the most beautiful views overlooking the Hinterland, native bird song in the air, fresh hinterland air to oxygenate our lungs and cosy mountain mists...
We'd meditate in this beautiful haven, then start our planning for the film. Most days, time simply flew by as we became immersed in the creative flow. We couldn't have asked for a more ideal or perfect 'office'.
Why Montville?
Montville is part of the Sunshine Coast Hinterland, which is a growing mecca for all things natural and organic. There's a powerful grassroots movement in this area towards sustainability, eco-living and organic food production. Indeed, even our property was used as an avocado farm for many years and is still zoned as commercial agricultural land.
The pristine environment and fertile soils of this region are perfectly suited to producing high-quality organic food. Within half an hour's drive of Montville, there are numerous small towns that host world-class Farmer's Markets! There are even several communities close by that offer sustainable commune-living and shared biodynamic farming arrangements.
Why Are We Selling?
This farm holds many, many dear memories. Our son Hugo started his first years in this house and we have many joyful, 'first-time-ever' family memories there.
But nothing in life is static, and the time has come for us to let go of that chapter and embrace the next stage. James and I have a vision of buying a new Food Matters HQ in the Sunshine Coast of Australia, with a yoga studio and healers on site. We're always looking for new ways of connecting with people who need help and healing, and our office needs an upgrade to progress this mission.
This farm has truly brought James, Hugo and myself so much joy. I really believe that this space is waiting for the next person to come along and love it as much as we have.
So if you'd like an Australian haven - a truly unique place within the unparallelled paradise that is the Sunshine Coast Hinterland, you can find out more HERE. It won't remain on the market for long!
Are You The Next Owner Of The Food Matters Farm?
Do you have a passion for nutrition & natural healing?. Learn more about the Food Matters Nutrition Certification  Program here.
ENROLLMENT & BONUSES CLOSE IN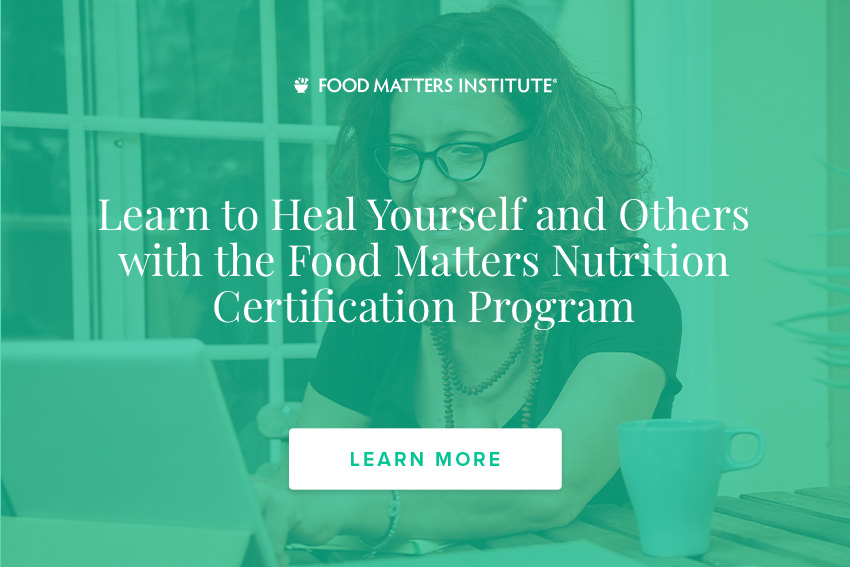 ---