Our Favorite Natural 3-Step Skincare Routine
If you're the type of person who's discerning about what you put IN your body, then you probably also care as much about what you put ON your body.
But what if the skin care products you're using contain harmful ingredients that can damage your health and your delicate epidermis?
Chemicals abound in commercial products, but surprisingly in many organic brands, whose ingredient list don't betray the hidden content of sneaky artificial ingredients that don't need to be indicated on the label by law.
There's one brand that we've been using for years now! Not only are they great friends of ours, we wholeheartedly support their brand, their voice and the way their products are created. Annmarie Skin Care create the most beautiful, organic and wildcrafted products.
What is wildcrafted? A selection of the herbs used in Annmarie Skin Care are hand-picked in the mountains where they grow wild—this is the definition of wildcrafted. When they use wildcrafted herbs, we know that no commercial farming methods have been used and that the plants are hearty, vibrant and full of skin-nourishing nutrients.
Their organic, wild-crafted herbs and ingredients, infused and extracted at low temperature, are of the highest quality.
Do you want:
Alleviation of temporary redness or discomfort, and leave your skin soft, supple and ready to seize the day

(Carpe diem!)

Products that are entirely devoid of harmful ingredients and make a real difference in how you feel? That

means no itchy eyes, no dry skin; only positive results and compliments. :)

Soothing herb-infused formulas that reduce the appearance of fine lines and wrinkles, without irritating

sensitive skin types?

Products that keep your skin looking firm and lifted?

You don't even have to splurge to try those products!
We've partnered up with Annmarie Skin Care so that you can try our 3 favorite products in their 3 Step Restore Trial Kit for just $9.99. You can grab your trial kit here.
Yes, $9.99 will get you over $54.00 worth of products, including their:
1. Aloe-Herb Cleanser
After a long day, there's nothing like washing your face before finding comfort in the arms of Morpheus. The next day, you'll not only be well-rested, but your skin will thank you for your loving care. Because this aloe-based cleanser removes impurities without stripping away your skin's natural oils, you will feel like your skin is breathing for the first time! Like with any good investment, you'll notice visible results that compound over time.
2. Neroli Toning Mist
The genie in the bottle! Positively intoxicating, instantly revitalizing, this is the perfect product to keep in your purse for those moments when you need to freshen up. I can't think of a better way to hydrate and soften your skin. A quick spritz and you'll be in an orange-blossom aroma oasis, in the middle of a busy day.
3. Anti-Aging Oil
A few drops of this herb-infused formula delivers a concentrated dose of moisture for those autumn and winter months when dry air and indoor heating make it difficult to feel beautiful and for dry and mature skin year round. You'll love the sublime fragrance, but you'll keep using it for the way it can help reduce the appearance of fine lines and wrinkles.
And…
They're also going to include a travel size bottle of their Anti-Aging Serum. This is a potent aloe vera-based serum with herbal extracts for firming and tightening the appearance of aging skin, with a $20 price tag when ordered separately.
Want to give these products a try?
All together that's $74.00 worth of products. Annmarie Skin Care has put together a special offer for my readers. You can get the 3 Step Restore Trial Kit for just $9.99 plus shipping. Head here to learn more and grab your trial kit!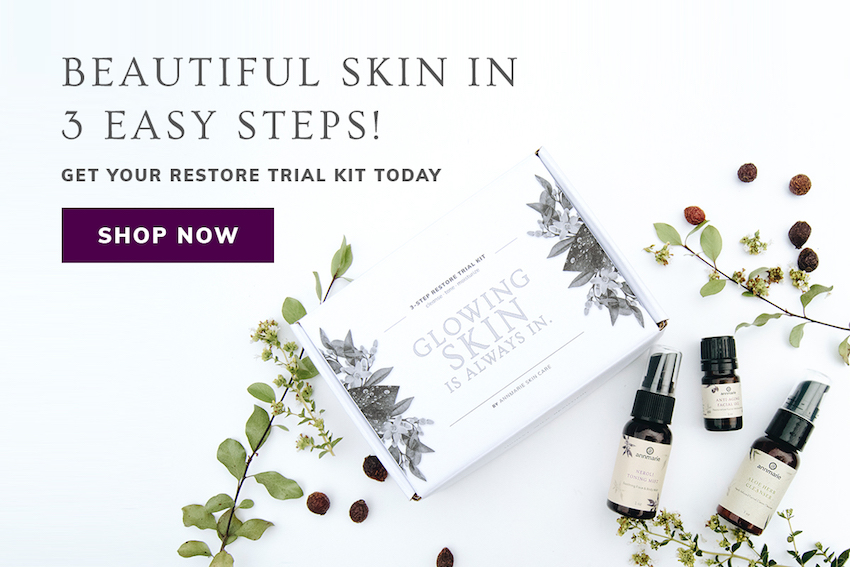 ---