Top 10 Cancer Documentaries Of All Time
These films help to push the boundaries of what's possible, expose the potential dangers of conventional treatment and provide natural and time-tested solutions.

At Food Matters, it's our mission to help share this life saving message with more people. Luckily there is now so many places you can watch these films online instantly from the comfort of your own home.

THIS LIST IS IN NO PARTICULAR ORDER however if you are serious about finding your answer to cancer we highly suggest watching them all.
Join Howard Straus (author, scientist, son of Charlotte Gerson and grandson of Dr. Max Gerson) for an in-depth examination on what is known about the causes of cancer and an explanation about the Gerson therapy, a natural approach to this illness. You can watch this film instantly on FMTV here.
This follows the story of a young science-writer at Memorial Sloan-Kettering Cancer Center, who risked everything by blowing the whistle on a massive cover-up involving a promising cancer therapy. It's a much watch film on the little known vitamin B17. You can watch this film instantly on FMTV here.
Crazy Sexy Cancer is a personal diary styled documentary created by actress and author Kris Carr. The film tells the story of Carr's battle with a rare vascular cancer and focuses on her healing, in a spiritual sense of the word, rather than the illness itself. This is one inspiring film you can't miss! You can watch this film instantly on iTunes here.
Food Matters sets about uncovering the trillion dollar worldwide 'Sickness Industry', and exposes a growing body of scientific evidence proving that nutritional therapy can be more effective, more economical, less harmful and less invasive than most conventional medical treatments. Featuring interviews with leading health experts who reveal the best natural healing choices you can make for you and your family's health. You can watch this film instantly on FMTV here or buy the DVD here.
Cut Poison Burn is a searing film that illuminates the grim truth about America's so-called War on Cancer. This thought-provoking documentary takes on the forces that have conspired to thwart meaningful advances in cancer research and treatment over the past century. These forces include the federal government, drug companies eager to suppress alternative treatments and powerful industry organizations that place profit over human lives. You can watch the film online here or purchase the DVD here.
Ph.D biochemist, Dr. Stanislaw Burzynski, won one of the largest legal battles against the Food & Drug Administration in U.S. history. Dr. Burzynski and his patients endured a treacherous 14-year journey in order to obtain FDA-approved clinical trials for a new cancer-fighting drug and his groundbreaking medical battles have brought revolutionary cancer treatment to the public. Upon completion, his treatment will be available the world over - sending a shockwave through the cancer industry. You can watch Part 1 and Part 2 on FMTV.
This thought-provoking film explains, with frank and open honesty, the pioneering work of Dr. Max Gerson, who showed us that disease can be prevented and cured with nutritional therapies. Your doctor may not advise you how you can heal your body from degenerative diseases naturally... but this film can. You can watch the film on FMTV or purchase the film here.
Rethinking Cancer is an educational documentary that provides a rare look into the journeys of five men and women who used natural therapies to overcome cancer and other serious illnesses. This inspiring film features ordinary people who dared to question the medical model. You can watch the film on FMTV or buy the DVD here.
A sobering documentary about the danger of modern day healthcare and the merits of the often discredited Gerson Therapy. Featuring doctors, medical experts, cancer survivors and Gerson family members, the film uncovers the origins and health impacts of fluoride, mercury fillings and the link between brain cancer and MSG and aspartame. You can watch the film instantly on FMTV or own the DVD here.
Filmmaker Steve Kroschel goes on a 52-day journey to find evidence supporting the effectiveness of the Gerson Therapy, a long-suppressed natural cancer cure. His travels take him from Alaska to Mexico with stops in San Diego, New York, Japan, Holland and Spain. In the end, he presents the testimonies of patients, scientists, surgeons and nutritionists who testify to the therapy's effect on curing cancer and other degenerative diseases and presents the hard scientific proof to back up their claims. Watch the film here on FMTV.
ADDITIONAL FAVORITES OF OURS
For the first time ever, our children are growing up less healthy than we are. As the rate of cancer, infertility and other illnesses linked to environmental factors climbs ever upward each year, we must ask ourselves: why is this happening? Food Beware begins with a visit to a small village in France, where the town's mayor has decided to make the school lunch menu organic and locally grown. You can watch this film instantly on FMTV here.
The video covers the failings of conventional treatments and how cancer can be successfully healed with dietary treatments and natural supplementation. Participants include T. Colin Campbell (The China Study), Brian Clement (Hippocrates Health Institute) and Charlotte Gerson (The Gerson Institute). DVD available on Mike Anderson's site here.
While the pink ribbons campaign has done a lot to raise awareness about breast cancer, this film uncovers the real truth behind it all. You might be shocked to discover some of the questionable companies involved in the campaign, where your money goes and how little is spent on prevention and natural therapies. It's a well-produced and must watch film! You can watch this film instantly on FMTV here (US only).
What's your favorite? Did we miss one? Let us know below!
Do you have a passion for nutrition & natural healing?. Learn more about the Food Matters Nutrition Certification  Program here.
ENROLLMENT & BONUSES CLOSE IN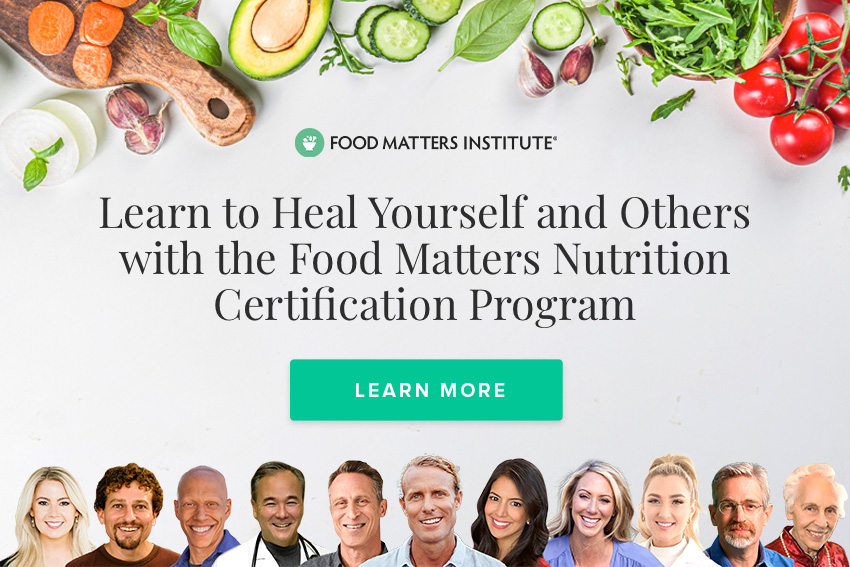 ---