Top New FMTV Film Releases Of 2016
2016 is flying by! In case you have missed any of the new releases this year, here is a recap of our top films that have been added to FMTV.
Food. It's kind of important. And it's integral to the lives of the world's 7 billion inhabitants. But what we think of as 'food' is something very different from what people ate a century ago. This probably isn't news to you. A number of compelling documentaries have focused on the many downfalls of our modern food system. But while these films have succeeded in bringing awareness to these modern problems, they've also left us feeling frustrated, confused, and hopeless. But there is an alternative. And it's spreading rapidly across the globe. Revolution: Food is all about the positive changes taking root in our modern food system. It focuses on real farmers who are growing/raising real food and the consumers who are demanding it.
The Fruit Hunters travels across culture, history and geography to show how intertwined we are with the fruits we eat. The ranks of the fruit-obsessed include adventurers, scientists, fruit detectives and even movie star Bill Pullman, fruit hunters dedicating themselves to searching for and saving rare and exotic fruit, and to creating a Garden of Eden in a world increasingly dominated by industrialized monoculture. A cinematic odyssey through nature and commerce, The Fruit Hunters will change not only the way we look at what we eat but how we view our relationship to the natural world.
We spend the majority of our lives in a kind of hibernation: Functional but separate from the source of our being. What can we do to wake up? Catharina Roland explores this crucial question, inviting us to share in her deeply enriching journey to discover how we can be whole again, how we can heal ourselves and the environment we live in, and how we can leave the cocoons of our perception to face our own selfishness and fears. Through lessons from visionaries and spiritual teachers as well as numerous exercises, Awake in the Dream gives us the tools to break down the walls of the person we have created for ourselves. Complete the transformation from caterpillar to butterfly. Tap into the potential that has existed since the beginning of time. And wake up to the wholeness that awaits each and every one of us.
Can we trust our scientists? This timely documentary explores how the heavy hand of the agriculture industry is steering 'science' towards its own interests, eliminating legitimate research and silencing any critical opinions. Taking a close look at genetic engineering and the powerful vested interests that dominate its research, 'Scientists Under Attack' reveals the frightening reality of modern science, as an objective investigation is corrupted by corporate money.
Aspartame is an artificial sweetener, an additive. And it's a chemical. It's not a natural product; it's a chemical. The molecule is made up of three components. Two are amino acids, the so-called building blocks of protein. One is called Phenylalanine, which is about 50% of the molecule and the other is Aspartic Acid, which is like 40%. And the other 10% is so-called Methyl Ester, which as soon as it's swallowed becomes free methyl alcohol. Methanol. Wood alcohol, which is a poison. A real poison.

Aspartame is a toxic food that came into the world as an investment by Donald Rumsfeld, while ignoring the deadly effects the tests showed. Sweet Misery shows how dangerous artificial sweetener Aspartame is. From its history to its effects, this documentary is enough to shock anyone into really looking at the food labels next time they shop.
Death is something that most people fear and don't want to think about. But is it possible that facing our mortality can inspire us to live our lives more fully?

Death Makes Life Possible follows cultural anthropologist and scientist Marilyn Schlitz, Ph.D. as she explores the mysteries of life and death from a variety of perspectives and world traditions. Sparked by her own near-death experience as a teenager, Schlitz has been delving into the nature of consciousness and death for the past three decades.

The film looks at how popular culture deals with the ever-present fear many have about our own mortality. Interviews with mental health experts, cultural leaders, and scientists explore the meaning of death and how we can learn to live without fear. The interviews and evidence presented are interwoven with personal stories of people facing their own death as well as those who report encounters beyond death. The narrative is illustrated with vivid imagery.

Death Makes Life Possible features some of the leading scientists, anthropologists, philosophers, spiritual teachers and thinkers of our time – including Yassir Chadley, Deepak Chopra, Mingtong Gu, Stuart Hameroff, Lauren Artress, Michael Bernard Beckwith, Dean Radin, Rupert Sheldrake, Rudy Tanzi, Luisah Teish, Dr. Jim Tucker and others (see list below).

Death Makes Life Possible offers a deep and thoughtful exploration into the ultimate question we all face.
Do you have a passion for nutrition & natural healing?. Learn more about the Food Matters Nutrition Certification  Program here.
ENROLLMENT & BONUSES CLOSE IN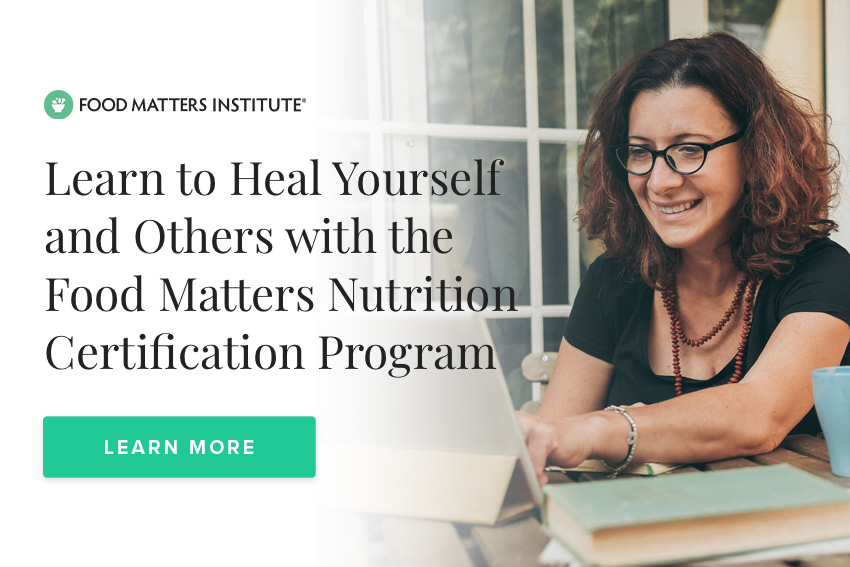 ---