TRANSCENDENCE: PRE-RELEASE SCREENING TOUR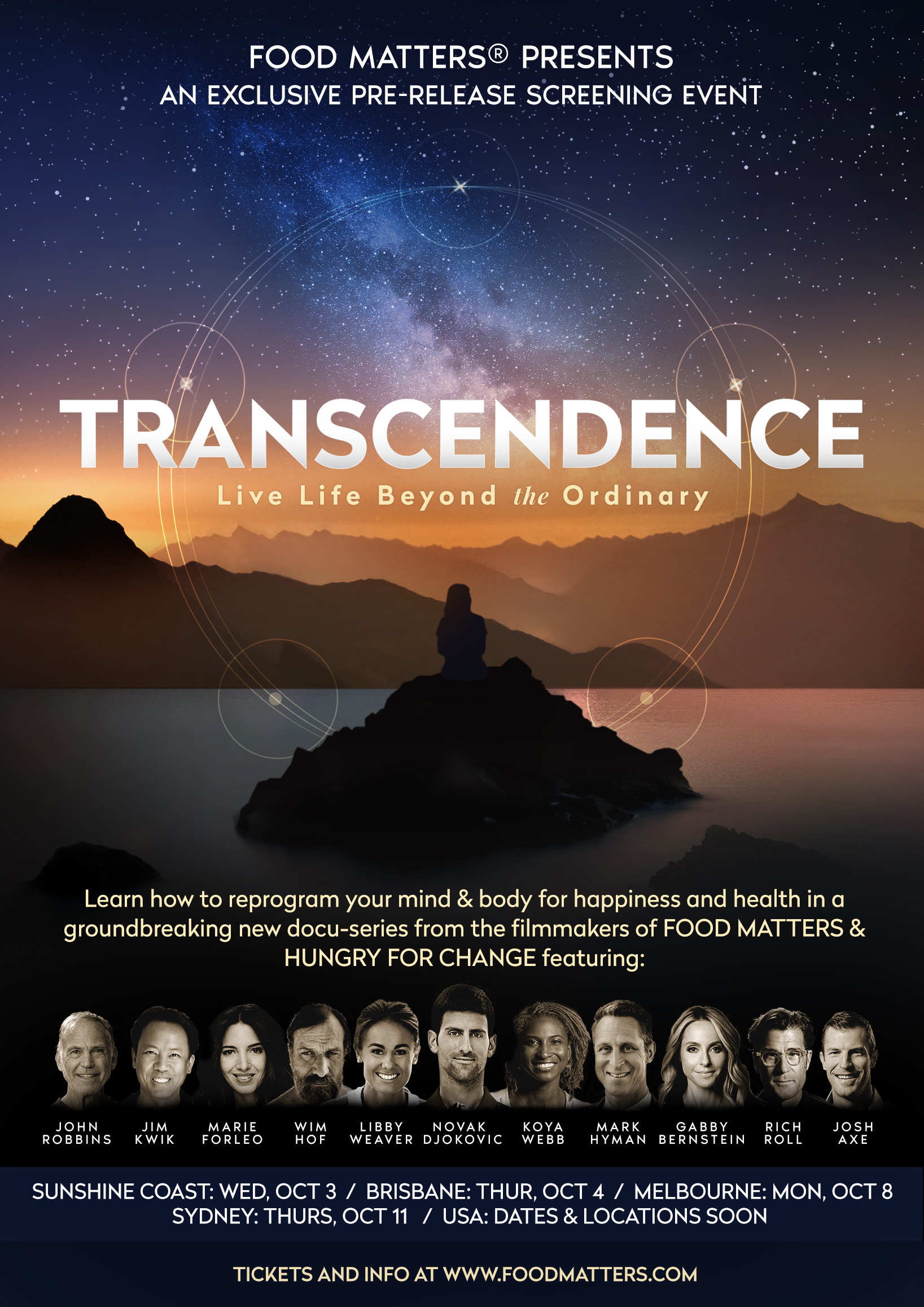 Thanks to you, our first two films FOOD MATTERS and HUNGRY FOR CHANGE have been shared and seen by hundreds of millions of people around the world. Collectively we have all played a part in ushering in a new era of health & wellness with this movement.
**Let's not forget that mainstream restaurants didn't have GF, PF, DF or Vegan on their menus and goji berries and green juice were practically unknown 10 years ago!!**
Now it's time to take it to the next level and after two years in the making we're excited to announce our third film TRANSCENDENCE - Live Life Beyond The Ordinary is launching soon.
This has been a huge passion project for us and will take you deeper into the mind and body than ever before on reprograming your life for greater happiness, health, and fulfillment. Covering the gut, stress, autoimmune disease, depression, anxiety, fear, cancer, cultural conditioning, beliefs, purpose, and fulfillment like never before.
With an all-star cast including Novak Djokovic, Wim Hof, Bruce Lipton, Gabrielle Bernstein, Dr. Libby Weaver, John Robbins, Jim Kwik, Marie Forleo, Rich Roll, Joe Dispenza, Chris Wark, Vishen Lakhiani and many more...
This is a great chance for you to not only get a sneak peek of the film, but you'll also have a chance to meet us!
If you're an FMTV member you can attend the event for free (check your email for a special code). If not you can buy a one-off ticket below or join FMTV and request a code.
These events will sell out so you will need to RSVP to secure your spot.
Can't wait to see you there.
James, Laurentine and the Food Matters team.
TICKETS AND EVENT INFORMATION
SUNSHINE COAST
Wednesday, October 3rd. The Innovation Centre. Get your tickets and more info here.
BRISBANE
Thursday, October 4th. New Farm Cinemas. Get your tickets and more info here.
MELBOURNE
Monday, October 8th. Village Cinemas, The Jam Factory. Get your tickets and more info here.
SYDNEY
Thursday, October 11th. Wesley Conference Centre. Get your tickets and more info here.
EUROPE
Dates and locations coming soon!
**Don't live in any of these cities? Don't panic! Our FREE worldwide online premiere goes live, starting November 1st. Save your spot here and you'll unlock the first 12 minutes of the film. And did we mention, it's FREE!**
---