What 5 People Did To Improve Their Sleep & Reduce Stress
Sometimes we get ourselves in a rut with a routine that runs us down and completely drains us of our energy. And with a society that's getting busier with each passing year, more and more people are beginning to feel the negative effects of a stressful lifestyle and sadly, it's taking a serious toll on global well-being.
The topic of sleep and stress might not seem connected to Food Matters but it is something so close to our heart; the power of the mind is just as powerful as the power of food. To help you manage your sleep we created a 10 day sleep and stress program with tools and techniques for how to deal with stress and achieve a deep, restorative sleep.
Here is what 5 people who have completed the program have to say:
Has Your Mood Changed After Completing The Program?
Courtney: A little, kids are stressful lol!
Lina: After starting the program, I noticed my mood has definitely improved during the day. I felt less stressed and more in control of my emotions.
Nancy: Yes, my mood has changed. I feel more positive and more grounded. Also more relaxed.
Zena: I came into this program as a full-time shift worked who constantly had disrupted sleep, falling into the habit of my body automatically waking in the early hours of the morning and finding difficulty returning to sleep. As a result, I constantly felt tired and had difficulty "getting through the day"! This program has certainly helped me to reset this unhealthy behaviour and I can now say that mostly, my sleeping patterns have almost returned to a healthy level.
Do You Think This Is A Useful Way To Get Better Sleep/ Less Stress?
Courtney: Yes I found it was much easier to fall asleep when listening to the videos before bed.
Lina: Yes, I do believe this is helpful. I noticed improvement in my mood very quickly, but I feel I need more time to help me improve my sleep.
Nancy: Definitely! The evening videos were very helpful for me. They relaxed me before going to bed and I utilized them again during the night to fall back to sleep and I was always able to fall back to sleep, which is huge for me. Before the program it would take me an hour or more to fall back to sleep when I wake up in the middle of the night. Now, with the meditations, I can listen to a 10 minute meditation and fall right back to sleep! Love it!!!
What Was Your Favorite Part Of The Program?
Courtney: I enjoyed the different evening videos the morning one got a little redundant.
Lina: I really enjoyed morning meditations and the variety of evening meditations. I liked the short meditations the most and I didn't mind the morning meditation was the same each day. Morning meditation and the healing meditation were probably my two favorite ones.
Nancy: My favorite part was the variety of the evening videos. I really liked having different meditations and of varying lengths to use depending on how I am feeling. I would love to see more meditations for stress. I didn't care for repeating the same meditation every morning.
How Achievable Is The Program To Follow? Did You Miss Any Days?
Courtney: Yes it was very easy to follow. I did miss a day or two because I ended falling asleep with the kids while putting them down.
Lina: I did all 10 days, both morning and evening. I believe the introduction to the program was that we require 20 minutes a day - 10 in the morning and 10 in the evening, which I thought was great.
Nancy: I think the program is incredibly easy to follow, I just made it part of my regular sleep/wake up routine and it was very seamless. I didn't miss any days of the evening meditations. I did skip some of the days with the morning meditation...because of the repetitiveness.
Could You Fit It Into Your Daily Schedule On-Going?
Courtney: Yes definitely. I believe with the ongoing meditation my sleep will improve, as well. In general, I really enjoyed the program and the meditations.
Nancy: Absolutely. I will definitely continue to do the evening meditations. Would love to see more stress/gratitude meditations though.Thank you so much for the opportunity to participate in the study. I continue to be so impressed with FMTV and the quality of the content that you provide. I am FMTV for life!!!
Kim: Yes, I really enjoyed this session. I was able to fall asleep faster and wake up feeling refreshed. There were a few evening exercises that I like better and fell asleep while listening to a few of them.I also really liked the morning ritual. It would be easy to put this into a daily routine. I would like to do it again when the busyness of my summer is gone.
Zena: The length of the program being 10 days I felt was perfect. I was exposed to enough to rekindle my love for this self care practice to make me want to continue my journey in taking time to spend more time on "me"! It was also great to connect with others from all walks of life with different reasons to want to be involved in this program.
Join us for the 10 Day Sleep & Stress Guided Program as we unlock the secret to a more vibrant, empowered life!
Do you have a passion for nutrition & natural healing?. Learn more about the Food Matters Nutrition Certification  Program here.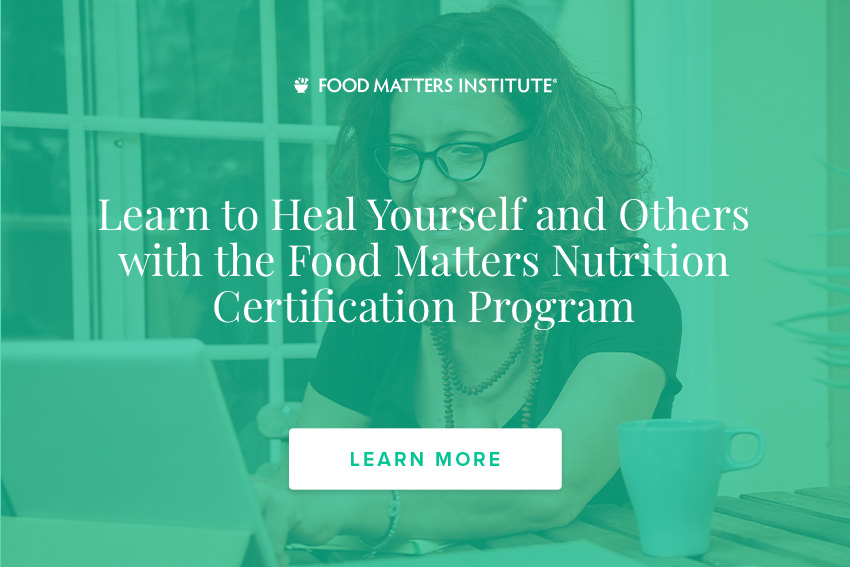 ---