3 Juice Recipes Freshly Pressed With Love
ADD TO MY RECIPES
It's no secret that I love juicing, though sometimes it's nice not having to clean the juicer! For this reason, we are ever so grateful to have great local juice bars like Cafe Gratitude, Main Squeeze, Rawvolution and Pressed Juicery so close to our home in Santa Monica!
On those days that we are super busy or feeling a little lazy, it is so reassuring that we can fulfill and balance our day with their freshly cold-pressed juices and smoothies.

The benefits of juicing are endless, fresh juice packs an energy boost, replenishes nutrient levels, and enhances beauty with younger more radiant looking skin. It also tastes amazing and offers a convenient way to incorporate fresh fruits and vegetables into busy daily routines. It has also gone mainstream, which is great but it's important that we cut through the confusion of so many health trends, and are consuming the right types of juices.

As health 'trends' become more mainstream, more supermarkets want to cash in on this and you will notice more and more 'fresh juice' products for sale in our supermarket giants. It's important to know the quality of these juices is seriously impaired. They are far from offering the nutrient quality of freshly cold-pressed juices for the following reasons:
They are heated and flash pasteurized killing all of the enzymes, antioxidants, proteins & all of the good stuff!
They are devoid of fiber and loaded with preservatives and additives… Especially refined sugar, GMOs and synthetic ingredients!
Bottled for an extended shelf life is plastic full of harmful chemicals

There is no comparison when it comes to fresh cold-pressed juice and I love that many juice bars out there have made it their mission to make this known! And for those that also love making your own juice at home, the founders of Pressed Juicery have put together an awesome new book. It's all about empowering you to choose the best juicer, learn the difference between juicing and blending, pick the best produce and to make awesome juice's with over 100 of their most popular recipes all in one health guide!

Their new health guide, 'Juice', now available on Amazon , captures the heart of the Pressed Juicery's menu focusing on three core elements:
Revitalizing leafy GREENS (including nutritional powerhouses like kale and spinach)
Filling ROOTS (such as beets, carrots, and ginger that are loaded with vitamins and minerals, fiber, and complex carbohydrates)
Immune-boosting CITRUS (refreshing combinations of favorites like grapefruit, tangerines, lemons, and limes)

We are excited to be giving you a sneak peek inside their new book and try the recipes that have become mine and Laurentine's favorite!
GREENS 15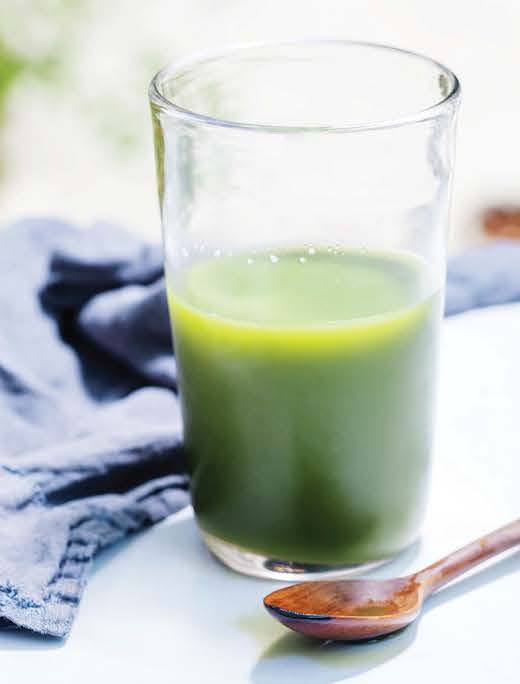 Triple leafy greens plus triple fruit equals triple treat. Here we add fennel, celery, and cucumber for a super hydrating juice that is not overly sweet.

MAKES 1 TO 2 (8-OUNCE) SERVINGS

3 celery stalks
1 cucumber, peeled
2 kale leaves
2 Swiss chard leaves
1⁄2 small fennel bulb
1 Fuji apple
1 pear
1 lemon, peeled
1 bunch fresh parsley
PINEAPPLE, BEET, PEAR, GINGER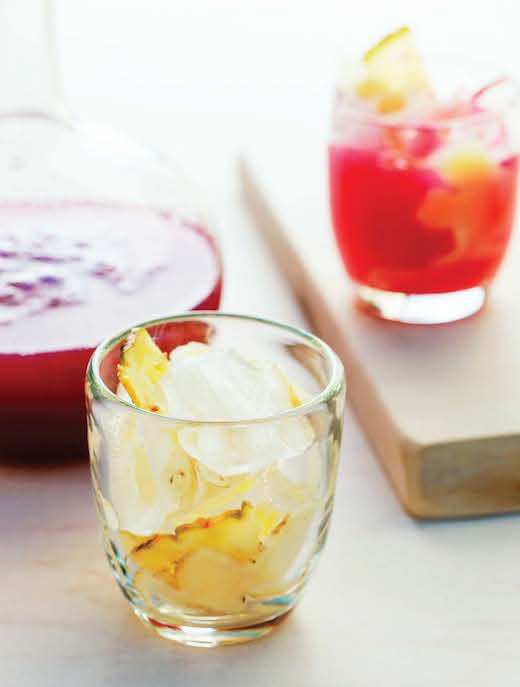 Along with being a tasty addition to our green juices, pear is one of our favorite fruits for its flavonoid content, which has a lot of promise for improving insulin sensitivity and decreasing diabetes risk and weight gain.

An unusual component of pears is cinnamic acid. Cinnamic acid has shown promise in studies to reduce the risk of esophageal, gastric, and colorectal cancer. This juice is extra sweet, so we add ginger for a dose of spice and to balance things out.

MAKES 1 TO 2 (16-OUNCE) SERVINGS

1⁄2 pineapple, skin removed
1 beet
2 pears
1⁄2-inch piece of fresh ginger, peeled

HOW TO PREP AND USE BEETS IN JUICE
Scrub your beets well (you don't have to peel them), then cut off their tops (the leafy beet greens make an amazing side dish or an addition to your juice). Because beets do have a good amount of sugar and they are naturally very sweet, a little goes a long way in juice. When you're creating your own juice recipes, start with a small amount of beet and then add more to taste.


SPICY TOMATO, GREENS, FENNEL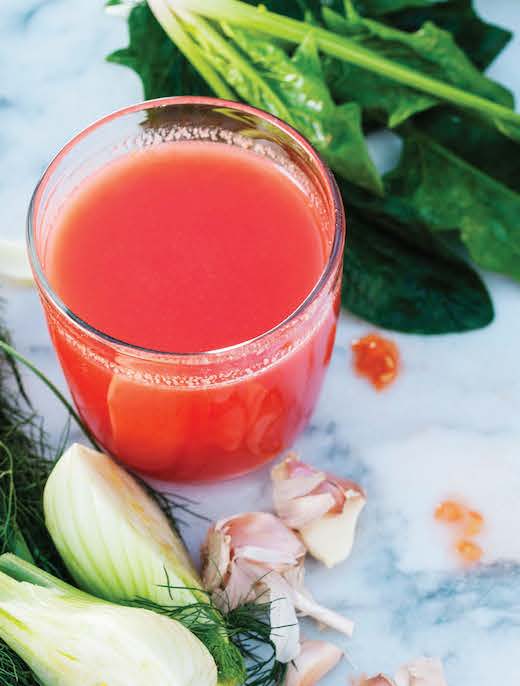 This tomato-based juice might sound a little bit like a V8, but we guarantee that this one is better for you, better tasting, and more natural. While we don't recommend that you eat tomatoes if you're doing a cleanse, tomatoes do have a lot of health benefits. Rich in lycopene, a carotenoid pigment, tomatoes are also an excellent source of vitamin C and manganese.

And in terms of phytonutrients, you can't do much better than tomatoes. They are incredibly antioxidant rich, which protects the cardiovascular system; they've been shown to regulate fat in the blood; and they are known for reducing the risk of heart disease. These are all great qualities for keeping your heart in tip-top shape.

MAKES 1 TO 2 (16-OUNCE) SERVINGS

2 large tomatoes
Handful of spinach
2 or 3 celery stalks, to taste
1⁄2 small fennel bulb, plus a few of the fronds
2 cloves garlic
1⁄2 teaspoon cayenne pepper
Do you have a passion for nutrition & natural healing?. Learn more about the Food Matters Nutrition Certification  Program here.