Eggplant & Tomato Curry With Millet (Recipe)
ADD TO MY RECIPES
Making a curry from scratch can be one of the most comforting things to do in your home... The flavors... The aromas... It's such a delicious experience for all of your senses. Packed with vegetables, flavors and served with millet, this curry recipe will give you exactly these feelings, without feeling 'heavy' after eating it.

This curry can be made vegan, simply by using olive oil in the curry and millet. Any leftovers will happily store in a covered container in the fridge for 2-3 days.

I left chili out of this so my kids would eat it, however 1 long red chili, de-seeded and finely chopped would be lovely in here. Just add it along with the garlic and ginger. I've given the basic method for cooking millet below, however I usually soak my millet grains overnight in cold water with a touch of apple cider vinegar, to help make it more digestible. The following day, strain off the water and rinse the millet. You can then continue on with the recipe as below, reducing the water to 1 1/2 cups (not 2 cups).

Serves around 3-4, as part of a larger meal. It's easily doubled to feed a crowd.
Ingredients
1 large eggplant (aubergine)

1 teaspoon fine sea salt

2 tablespoons olive oil or ghee

3 cloves garlic, finely chopped

1 tablespoon finely grated ginger

1 teaspoon ground cumin

1 teaspoon ground coriander

1/2 teaspoon turmeric powder

a good pinch ground cinnamon

3 large tomatoes, cores removed and finely diced

2-4 tablespoons water

the juice of 1/2 lemon

coriander (cilantro) leave, to serve

1 cup (210g) hulled millet

Butter, ghee or extra virgin olive oil
Method
Chop the top off the eggplant, then dice into 1cm pieces. Place in a large bowl, sprinkle over the salt and then mix well to evenly distribute. Set aside for 20-30 minutes. Meanwhile get all the ingredients ready for the curry (chopping garlic, grating ginger etc).

Place a saucepan over medium-high heat. Add a splash of olive oil or a little ghee then add the millet. Cook, stirring often for a minute or so, until toasty smelling. Remove from the heat and carefully add 2 cups cold water (or 1 1/2 cups if using soaked grains, see headnotes), it will splutter a little so be careful. Return to the heat, add a good pinch of sea salt and bring to the boil. Reduce heat to the lowest setting, cover with a lid and cook for 20 minutes. Remove from the heat and set aside for 5 minutes before fluffing it up with a fork. Add a good knob of butter/ghee/splash of extra virgin olive oil and set aside with the lid on until needed.

Squeeze as much liquid from the eggplant as you can (discard liquid). Heat a large frying pan over medium heat. Add olive oil/ghee, then the eggplant. Cook for 4-5 minutes, stirring often until golden and tender. Add the garlic and ginger and cook whilst stirring for 30 seconds, add the spices and cook 20 seconds or so until fragrant. Add chopped tomatoes and a touch of water (just enough to stop the base from catching and burning). Reduce the heat and partially cover the pan with a lid and cook for 10-12 minutes until the tomatoes have collapsed and formed a lovely thick sauce and the eggplant is meltingly soft. Taste and adjust seasoning and add lemon juice. Serve curry with buttered millet, scattered with coriander (cilantro) leaves.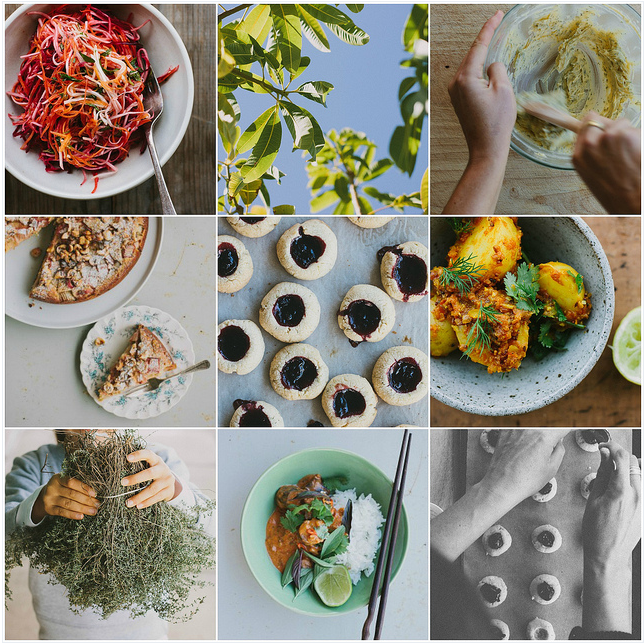 Emma Galloway (My Darling Lemon Thyme & Cookbook Author) grew up a as a vegetarian with her parents growing most of what they ate using natural, organic methods. She now, gratefully shares her knowledge from this life and from her time spent studying professional cookery.

Now as a mother she has further increased her knowledge of cooking even more after discovering herself and her two beautiful children were suffering from gluten and dairy intolerances. This was the turning point to their even healthier life allowing them to thrive. She now shares her recipes with the world. These are her stories, her life… her blood and her food!

Could you benefit from a guided juice detox? Don't worry, you're not in it by yourself - discover our exclusive Food Matters Juice Detox today.