What juicer should I buy?
It's a great question and one we are asked regularly. Since Food Matters launched all those years ago, we've continued to be inundated with questions about which juicer is the best you can buy, and why. We knew if there were this many people reaching out, there were probably just as many (if not more) sitting in their kitchen wondering the same thing. So, the 2020 Food Matters Juicer Buying Guide was born.
In the 2020 Food Matters Juicer Buying Guide, you'll discover the difference between cold press and centrifugal; where you'll find the best nutrient quality; what machine is the easiest to clean; how noisy or quiet they can be - and so much more.
So let's get into it.
---
Why Juice?
Fresh juice is the 15-minute nutrient express to health.

Many of us have impaired digestion which reduces our body's ability to absorb nutrients from vegetables. Fresh juices go directly into your bloodstream and are therefore considered a 15-minute nutrient express to health. Unfortunately, store-bought juices contain virtually no nutrients due to the pasteurization process.

Juicing lets you add a wide variety of fruit and vegetables to your diet.

Many of us eat the same vegetables and fruits every day or worse, don't even eat any on a regular basis! With juicing, you can enjoy a wide variety of vegetables that you don't enjoy eating whole. Juicing is also the perfect way to consume the recommended daily serving of vegetables.

Fresh juice offers incredible health benefits.

After regularly consuming freshly pressed vegetable juices, which are highly alkalizing, you will experience improved energy levels, digestion, and mental clarity, clearer skin, and an overall sense of wellbeing.
---
Centrifugal or Cold-Pressed?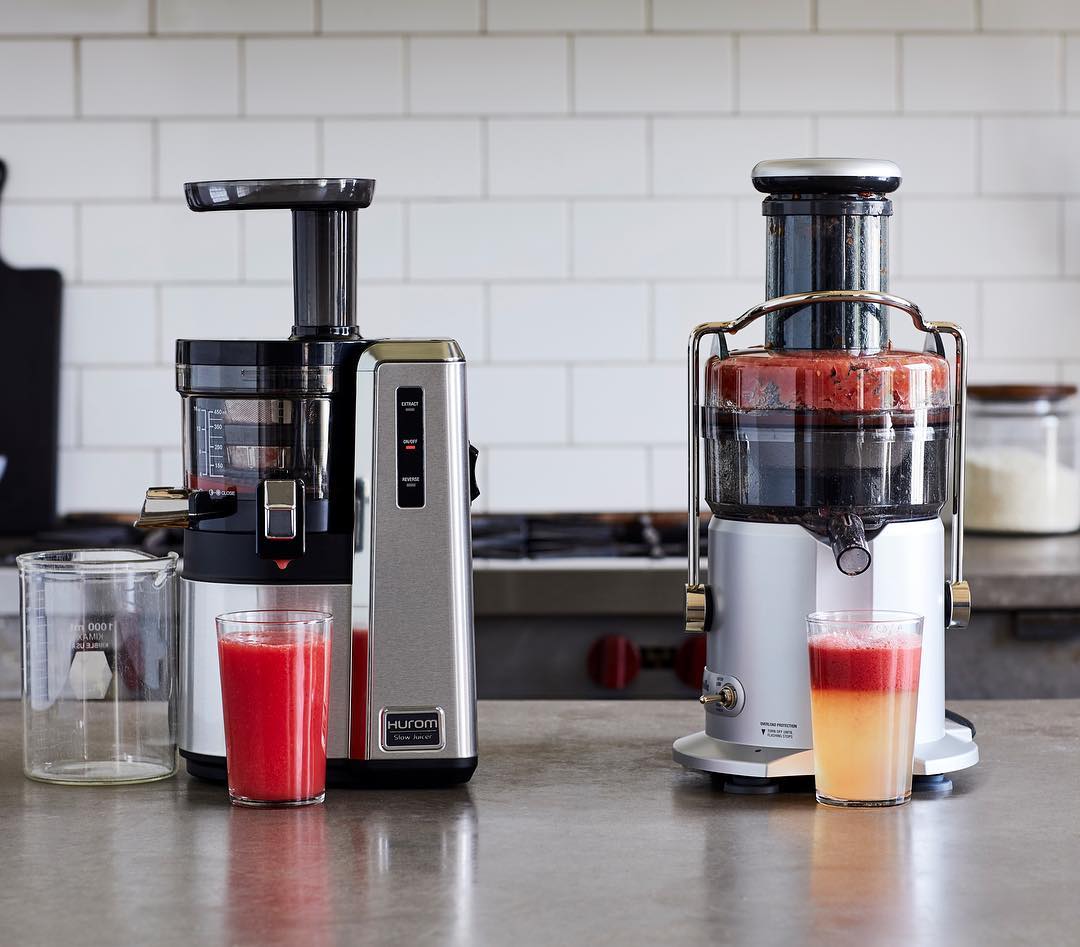 There are many types of juicers available, varying in both quality and price. A cheaper centrifugal juicer may be an okay place to start for beginners and certainly better than not juicing at all if other models are unaffordable.
However, a cold press juicer (also known as a masticating or slow juicer) will produce a superior quality juice and allow you to extract more from your fruit and vegetables, saving you money in the long-term.
Centrifugal Juicers

Centrifugal juicers are commonly available in retail outlets and are the cheapest type to purchase. These machines initially extract juice by pulverizing fruit and vegetables against a round cutting blade that spins very quickly against a metal strainer. The centrifugal force generated by the spinning motion of the cutting surface separates the juice from the pulp.

PROS

Easy to use.
Fast juicing time.
Cheaper to purchase.
Reduces food preparation time as many accept larger fruit and vegetable pieces.

CONS

Higher juice separation and foaming.
Yields less juice (produces a wet pulp).
Noisy because of the grinding and cutting action.
Not well-suited to juicing leafy greens, grasses, sprouts, and herbs.
Reduced juice quality due to fast-spinning blades producing heat that destroy beneficial enzymes.

Cold Press Juicers

These machines operate via a masticating (chewing) or cold press method to produce a superior juice to their centrifugal counterparts. In contrast to the rough extraction and high speeds of centrifugal juicers, cold press juicers operate at lower speeds and gently compress fruit and vegetables to 'squeeze' out their juice. While more costly, their slower and more thorough extraction rates produce a higher-quality juice, and more of it.

PROS

Higher juice yield.
Pressing action is quiet.
Minimal juice separation and foaming.
Well-suited to juicing leafy greens, grasses, sprouts, and herbs.
Juice lasts longer with enzyme integrity keeping for up to 72 hours.
Lower speeds mean less heat is generated, preserving more nutrients and enzymes.
Some models offer other food processing functions, such as being able to make nut milk, nut butter, sorbet, pasta, and ice cream.

CONS

Higher initial cost.
Slightly higher pulp in the juice.
Slightly longer food preparation, as smaller food pieces are required for their narrow chutes.

---

What Should I Look For?
When we are looking for the perfect juicer, these are our non-negotiables:
Able to make nut milks.
Easy to clean and low noise.
Cold-pressed, to produce superior juice.
Good to juice fruits, including soft varieties.
Able to easily juice all greens, herbs, and grasses (with a high yield).
Low speed (rpm), to minimize oxidation and produce a longer-lasting juice.
We've weighed it up, and all considered, cold-pressed masticating juicers are the most superior you can buy.
---
Which Juicer Is The Best Value For Money?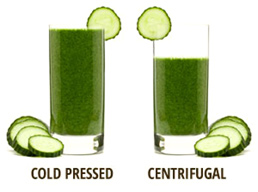 Here's an example: Say you spend $100 a week on fresh fruits and vegetables. Through a cold-pressed juicer, you can extract 35% more juice, meaning you save $35 more than with a centrifugal juicer. Say you do this for a year, you just saved $1820! You could buy more than one cold-pressed juicer with savings like those.
This major difference is because cold press juicers produce a drier pulp than centrifugal juicers, meaning that the highest possible amount of nutrients are extracted and there is less overall waste.
---
What About Nutrient Value?
We believe this is the most important consideration in buying a juicer. When you're serious about your health, consuming the highest quality, nutrient-dense foods becomes your first priority. This is the one thing we never compromise.
Cold-pressed juicers operate at lower speeds (usually around 40RPM's), keeping heat generation to a minimum. This produces a better-tasting juice with minimal foam and separation. It also means that all the beneficial enzymes and nutrients are retained. This is where the magic happens!
Nutritional tests* (between a cold press and centrifugal juicer) revealed that cold press juicers extract up to 42% more vitamin C, up to 60% more vitamin A, and yield between 35 - 50% more juice.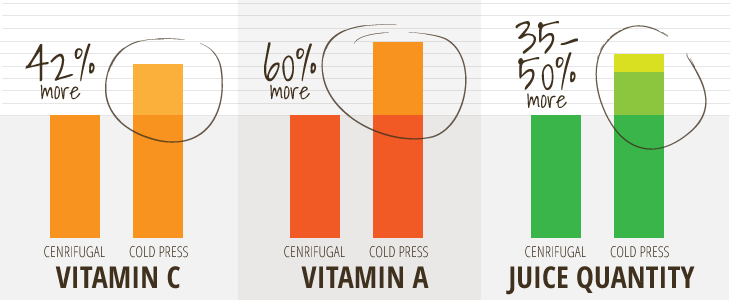 * Test results from Michelson Laboratories, Inc., Korean Food Research Institute (KRFI), and internal labs.
---
Which Juicer Do We Personally Use?:
The Hurom Cold-Press Juicer.
Why? Hurom is the global leader in slow juicers and is the original creator of the vertical cold-pressed juicer technology. They're so good that they actually make many of the cold-pressed juicers for other juice companies in the US. Their juicers naturally press fruit and vegetables without heat or friction to produce the healthiest, freshest blend that tastes like it came from a boutique LA juicery. They are the original, and undeniably the best, slow juicer on the market.
What Are The Benefits Of Hurom?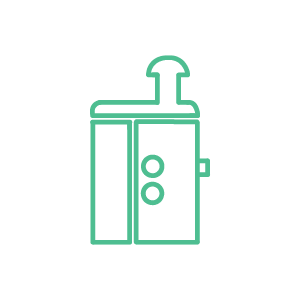 Slow Squeeze Technology
Rotating at a speed of just 43 revolutions per minute to mimic the motion of a hand squeezing juice.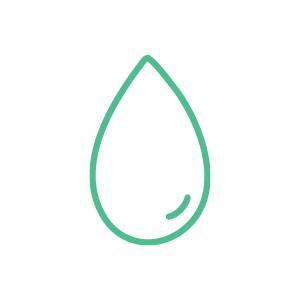 Taste & Pulp Control
The slow squeezing process ensures that your cold-pressed juice comes out gently without reducing nutrients.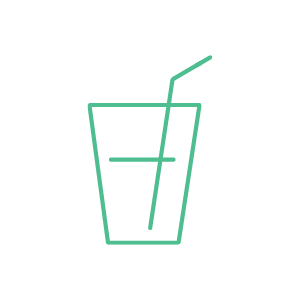 Yield
The unique low-speed auger squeezes every drop of juice, resulting in a greatly increased yield.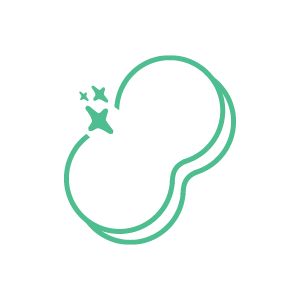 Easy to Clean
The Hurom is quick to disassembled and assembled, making cleaning a breeze.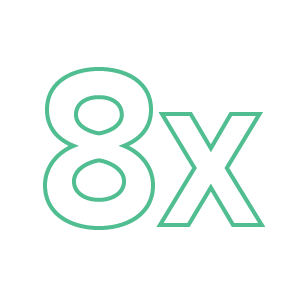 Quality
The heavy-duty Ultem strainer and auger are 8x stronger than traditional plastics allowing our slow juicers to handle years of daily use (Plus, BPA free!)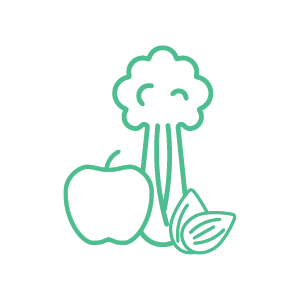 Versatility
Works wonderfully on fruits, cruciferous vegetables, leafy greens, nuts, and soybeans to create nutritious juices, milk, tofu, and more.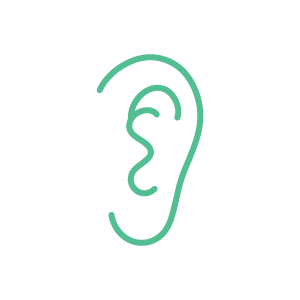 Works Quietly
A near-silent AC motor works efficiently using just 150 watts of power, meaning you can enjoy your juice at home without the noise caused by traditional juicers.
---
Unlock the Following Free Bonuses When You Buy a Hurom Juicer Today.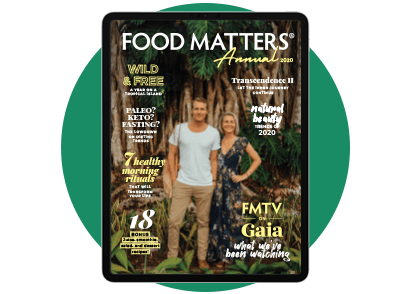 Bonus #1
2020 Food Matters Annual eBook
Fresh off the press, discover the 2020 Food Matters Annual filled with colorful expert interviews, recipe inspiration, the latest health and wellness news, plus much more.
Valued at $19.95 - Yours Free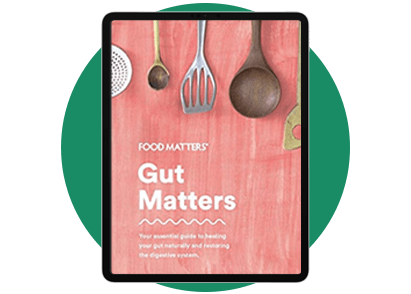 Bonus #2
Gut Matters eBook
Your gut is the center of your immune system. Learn how to continue to heal your gut, boost your immunity, and restore your digestive system naturally after detoxing.
Valued at $19.95 - Yours Free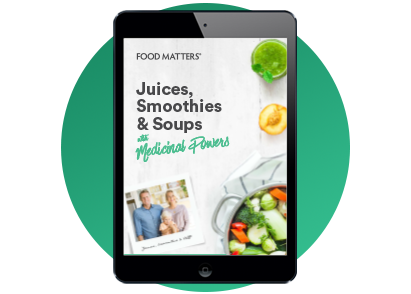 Bonus #3
Juices, Soups & Smoothies with Medicinal Powers eBook
Your companion and go-to guide for cleansing the body naturally. Discover pre-cleansing education, cleansing recipes to follow and post-cleansing information, tips and recipes.
Valued at $19.95 - Yours Free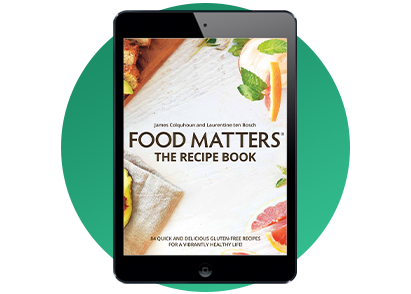 Bonus #4
The Food Matters Recipe Book
With over 84 gluten-free, nutritious recipes the Food Matters recipe book is the perfect kitchen companion. Recipes that suit a variety of diet styles, whether you're vegetarian, raw, gluten-free or otherwise. There's something for everyone.
Valued at $19.95 - Yours Free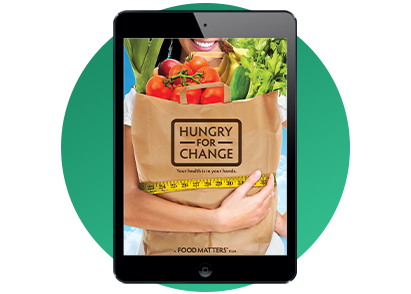 Bonus #5
Hungry for Change Film (MP4)
This film exposes shocking secrets the diet, weight loss and food industry don't want you to know about. Deceptive strategies designed to keep you craving more and more.
Valued at $24.95 - Yours Free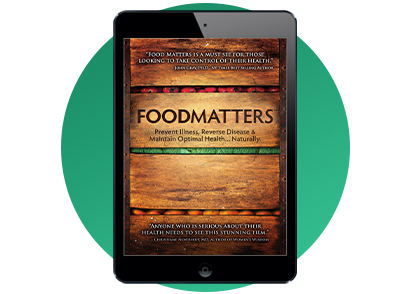 Bonus #6
Food Matters Film (MP4)
Food Matters examines how the food we eat can help or hurt our health. Nutritionists, naturopaths, doctors, and journalists weigh in on such topics as organic food, food safety, raw foodism, and nutritional therapy.
Valued at $24.95 - Yours Free
Total Value of Free Bonus: $114.70
---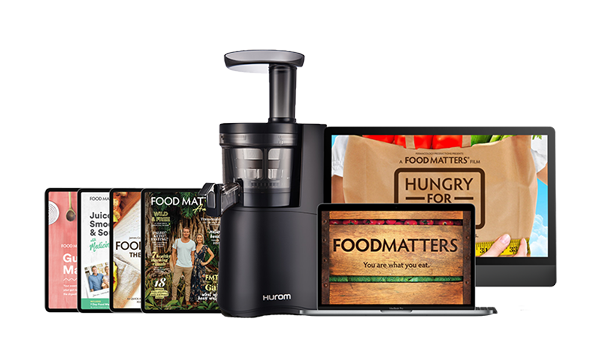 *ONLY SHIPS TO USA & CANADA
---
Do Others Recommend Hurom?
"It juices virtually everything perfectly! Peel the rind off a lemon and it juices better than a citrus juicer! It does greens VERY well, almost all pulp comes out dry without so much as a drop to wring out from it, and it looks gorgeous in a glass." - E. Tam
I have had a few juicers in my lifetime and I can say with all honesty that this is hands down my favorite. It's quiet, quick and really produces a good juice. This juicer would be good for anyone. You should tell people that." - Jason Dover
"Absolutely worth the money. I was nervous to spend this much at first, but this juicer turned out to be a great choice." - Monica D.
"I'm extremely happy with my Hurom juicer. To me, it's the best of both worlds between the fast juicing Breville and the slow juicing Green Star. The Hurom is a fast juicer, SUPER EASY cleanup, fun and easy to use, and I love it. I get plenty of juice in one session, which is great. It quickly and efficiently juices greens like kale and romaine while flawlessly juicing cucumbers, apples, and other "watery" fruits. The pulp varied from dry (hearty leafy greens, like kale) to semi-moist (romaine, apples, etc). The juice typically had little foam, but it would depend on what I juiced to determine that. I love the warranty, too." - Kristen Suzanne
How Long Does Juice Keep?
Shelf life will be affected by many variables outside of your juicer. Consider the type of produce and how you're storing it - there's no one answer. Our recommendation is always to make your juice as fresh as possible to enjoy maximum taste and maximum nutritional benefits.
But don't worry! Freshly prepared cold-pressed juices can be refrigerated. Fruit juices normally last 24-48 hours and vegetable juices 12-24 hours.
---
What About Cleaning Time?
Most newer, vertical models of cold press juicers have innovative self-cleaning systems that keep the juicing screen clear and prevent pulp build up while in use. Some even have brushes that clean the screen while you're juicing, so the hard part of cleaning is done for you.
In between juicing you can run some water through the juicer to rinse it. We always rinse and clean our juicer as soon as we've finished using it. When you get into a routine of cleaning your juicer it's quite easy to keep clean and ready to use.
---
What Else Can I Use a Hurom Juicer For?
Most of the newer, vertical models of cold press juicers are perfect if you want to juice leafy green vegetables, grasses, herbs, sprouts, and soft fruits. But they're more than just single-use appliances. You can also make nut milk, without having to spend money on two different juicers or a blender as well.
The cherry on top? Nut milk made in a cold press juicer typically lasts much longer than when made through the nut bag/blender method.
---
FAQs
Why do you recommend Hurom?

Hurom juicers naturally press fruit and vegetables without heat or friction to produce the healthiest, freshest blend of juice. They are the original, and undeniably the best, slow juicer on the market.

Is a Hurom easy to clean?

YES! During juicing, the inner spinning brush rotates to clean the chamber and strainer simultaneously, reducing clogging and increasing juicing efficiency. The Hurom slow juicers can also be quickly disassembled and assembled, making cleaning a breeze.

Is it true that juice doesn't have any fiber?

There are two types of fiber: soluble and insoluble. Fresh juices contain a very high level of soluble fiber which is more easily absorbed by your body. Because insoluble fiber is left behind in juice, your body can rest from the digestion process and focus on mineral/vitamin absorption. If you need more insoluble fiber, you're better off eating more whole grains and beans.

How long will it take to ship?

In the US, your Hurom juicer will be delivered by UPS in 5 - 10 days.

Is a Hurom worth the money?

Hurom is the global leader in slow juicers and is the original creator of the vertical cold-pressed juicer technology. Because the Hurom cold press juicer produces a drier pulp than a centrifugal juicer, you will be able to extract the highest possible amount of nutrients from your juice.

What is the warranty on a Hurom juicer?

Hurom USA offers a 10-year warranty on the motor and a 2-year warranty on parts for all Slow Juicer models. After purchase, register your Hurom at hurmon.com.
---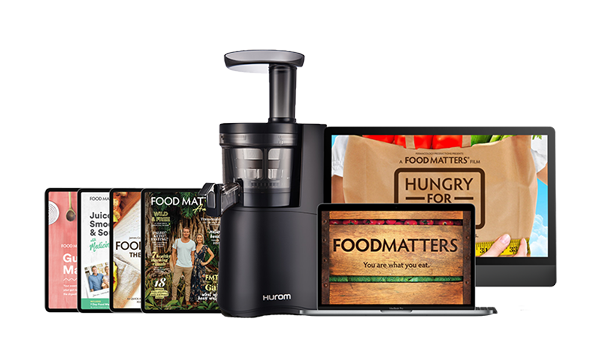 *ONLY SHIPS TO USA & CANADA