3 Techniques Every Overwhelmed Gardener Should Use
Does the idea of adding gardening into your already busy schedule overwhelm you? A beautiful vegetable garden doesn't require back-breaking labor, a big garden space, or, for that matter, much time! After decades of gardening on my family's organic farm I have found that a garden that is weed free, only takes 15 minutes a day to care for, and that is super productive can be boiled down to just three tips.
Would you like this high-performance garden?
Settle in, and I will share how to begin growing a weed free, productive, and easy organic garden.
Step 1: Build Great Soil
This is the greatest problem all gardeners face, the issue of finding good soil to grow their produce in. I know of gardeners who have spent 10 years trying to fix their soil with endless amounts of composts, fertilizers and garden "cocktails", and they still complain about the quality of their soil!
Plants prefer a soil that drains well and that contains plenty of organic matter for them to get nutrients from. For your sake, you will also want soil that is free of weed seeds that can make gardening so difficult.
To avoid the problems found in your backyard soil, the first thing I coach my garden students to do is to get out of the dirt and create a sandy loam soil in their raised garden beds. By doing this we can make sure that there are no expensive tools required to grow the garden.
Your sandy loam soil will allow you to immediately takes less time tending to the garden because there are no weeds and fewer problems with production. My family's secret soil recipe has allowed my 20,000 square feet of organic gardening space to thrive. Even with my family's incredible soil recipe, the garden can still take a lot of time without the proper care.
The soil we use is a sandy loam blend with plenty of organic matter. It is made of three ingredients: loam, sand, and food for the plants. There are many different combinations of these ingredients that you can use in your garden. The sand allows for nice drainage, the loam will retain water for the plants, and the feed will keep them well fed without the non-organic fertilizers that are so common in gardens.
Here are the varieties of each ingredient used at the farm. We use 3 different mixes throughout our different growing spaces:

By using equal amounts of each of these three types of ingredients, you should be able to build the sandy loam soil you have been dreaming of.
Step 2: Keep it Small
Every garden will take a little time. That doesn't mean that you should be spending hours a day weeding, watering and caring for a garden.
For the best results in your garden, you will need to create a smaller growing space. That idea is counter-intuitive isn't it? To go smaller for more produce? When you contain your sandy loam soil in a smaller garden, you can better tend to your plants in a smaller space instead of a garden twice the size.
It is better to experience success in a small garden instead of going to big and feeling so overwhelmed that you give up gardening altogether. In this size of garden, it is also much cheaper to feed the plants what they need because you will be concentrating the nutrition in one place instead of broadcasting in a larger area where you will feed the weeds as well as your plants! I recommend starting with no more than 12 plant varieties.
Here is a list of easy vegetables that work well in a first time small space:
Tomatoes
Cucumbers
Lettuce
Green beans
Kale
Swiss chard
Zucchini squash
Summer squash
Butternut squash
Pumpkin
The most important technique you can use when starting your own productive garden isn't some secret garden code - it comes down to community. Tweet - The most important technique you can use when starting your own productive garden isn't some secret garden code - it comes down to community.
Step 3: Garden Community
The most important technique for creating your productive garden is to find a community who can support you in your gardening journey. Even a perfect gardener will still have questions about how to care for their plants. By surrounding yourself with other gardeners who are a few steps ahead of you, you will have the support you need to create the garden of your dreams.
When searching for a community, make sure that you find other gardeners who are organic and enjoy their gardens. If you don't know any gardeners, invite a friend to grow alongside you! There are deep friendships to be grown in the garden. Sharing this enjoyable garden with your friends and family will only make the garden a better place.
If you want help building a garden system that is productive, there are plenty of online communities that can help you. My farm's High Performance Garden Community has a free garden show, weekly training videos, helpful articles and answers to your greatest garden questions. Are you ready to begin building a garden that is weed free, productive, and easy?
Come join our online community to begin building your productive garden today, and don't forget to bring your garden buddy along for the ride!
Do You Have Any Home Gardening Tips? Share Your Ideas In The Comments Below!
Do you have a passion for nutrition & natural healing?. Learn more about the Food Matters Nutrition Certification  Program here.
ENROLLMENT & BONUSES CLOSE IN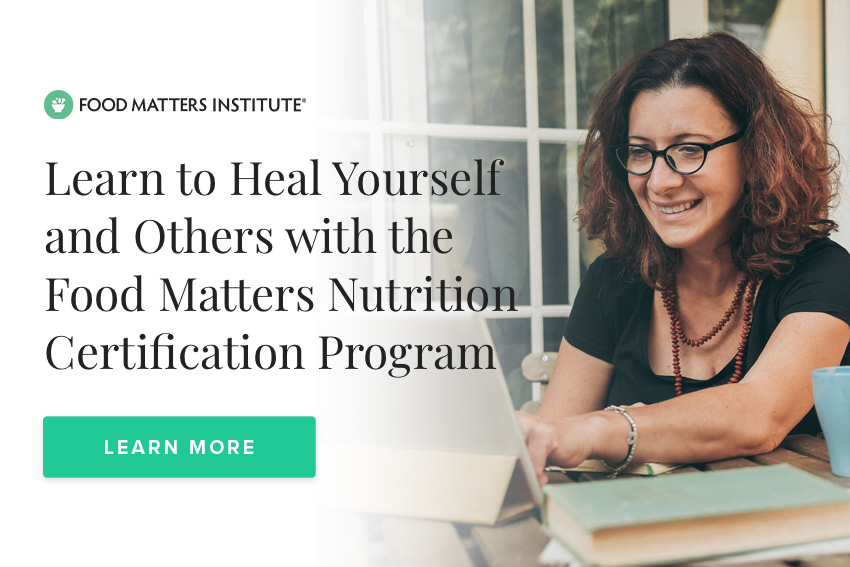 ---