5 Powerful Healing Benefits of Celery Juice
The humble celery is commonly used in combination with other ingredients to create highly nutritious, raw, fresh juices. But did you know that pure celery juice has unique regenerating and healing properties that are enhanced when it's juiced on its own?
No matter who you are, where you live, or what diet you follow, drinking celery juice will be an extremely beneficial practice to incorporate into your life. Here are 5 reasons why:
1. Heals The Gut
Celery contains special nutrients in its fibers which are realized when the vegetable is juiced. These nutrients promote optimal functioning of the digestive tract by acting as a natural laxative and relaxing the nerves that have been damaged by unhealthy lifestyle and food choices.
Celery juice is soothing and cooling to the digestive tract, which aids any inflammation in the gastrointestinal tract. This is perfect for anyone with IBS, Crohn's, colon cancer, etc.
The exceptionally high percentage of natural sodium in celery can really help you absorb and utilize the rest of the food you consume throughout the day. The enzymes in celery work to raise the hydrochloric acid in the stomach so that food digests easily and doesn't ferment.
Anthony Williams AKA Medical Medium states that celery is one of the best ways to alkalize the gut. The powerful varieties of sodium work together to eliminate toxins from every inch of your body, including your gut, helping to heal and regenerate your stomach lining. He states that drinking half a liter of fresh celery juice every morning on an empty stomach can transform your health and digestion in as little as one week.
2. Strengthens The Bones
Have you ever noticed that celery actually looks like bones? The Doctrine of Signatures conveys that the way a plant appears shows what part of the body it is particularly beneficial for. Is it coincidental that bones are 23% sodium and celery is also 23% sodium? I don't think so!
Celery is very high in calcium and silicon which helps to regenerate and strengthen damaged bones. Celery is also high in Vitamin K which plays an important role in bone metabolism and protection against osteoporosis.
The pioneer of vegetable juicing, Dr. Norman Walker, stated that calcium must be consumed organically and through vitally organic atoms. When food containing calcium is cooked or processed the calcium is automatically converted into inorganic atoms. This means they are not soluble in water and they cannot furnish the cells in our body with the nourishment they require for regeneration. So juicing fresh, raw celery is a perfect way to reap the bone-strengthening benefits.
A lack of natural sodium in your diet causes your body to pull it from your bones, making them weak and brittle over time. Nature has cleverly provided celery to help humans strengthen and replenish their body's skeletal system.
3. Purifies The Blood Stream
Celery contains a particular compound called coumarins which promotes the activity of white blood cells and assists the vascular system. This helps bloodflow, reduces blood pressure, and purifies the bloodstream.
Many diseases of the nervous and blood systems are due to the inorganic elements and salts taken in by the body in the form of dead processed products. The sodium in celery also maintains the fluidity of the blood and lymph and prevents them from becoming too thick. Celery is rich in Vitamin A, C, iron, and magnesium. This combination helps to nourish and rebuild red blood cells and aids those suffering from rheumatism, high blood pressure, arthritis, and anemia.
4. Highly Detoxifying
This magical juice is extremely hydrating and alkaline, making it effective for balancing the body's pH level and neutralizing any acidity in the body. This, in turn, helps protect healthy cells and balance essential mineral levels, lowering the risk of heart disease, protecting bone density, reducing inflammation, boosting the immune system, and helping to maintain a healthy weight.
The combination of sodium and potassium makes it a natural diuretic. It regulates the fluid in the body and promotes urine production. This makes celery incredibly good for flushing toxins out of the body while also enhancing weight loss. It has the ability to remove calcium deposits from joints and eliminate them safely through the kidneys.
Drinking celery juice by itself, compared to mixing it with other ingredients, simplifies digestion and elimination, helping the body to cleanse, detoxify and restore.
5. Anti-Inflammatory
Two special compounds in celery, polyacetylene and luteolin, make celery an anti-inflammatory powerhouse.
Luteolin is a potent bioflavonoid that has been shown to inhibit the effects of certain enzymes that activate genes responsible for inflammatory response. A study done by the Journal of Nutrition showed that brain cells exposed to this plant flavonoid showed a massive lowered inflammatory response. Luteolin shuts down the production of a key cytokine in the inflammatory pathway by a huge 90 percent!
Luteolin is a strong antioxidant helping to fight free radical damage and reduce oxidative DNA damage related to inflammation. Polyacetylene is also considered one of the best defenders against inflammation, working to lower levels of inflammatory tissues in the body.
Therefore, drinking celery juice can reduce symptoms associated with arthritis, osteoarthritis, heart disease, cancer, Alzheimer's, multiple sclerosis, gout, and more.
TIP: Celery is on the dirty dozen list, which means it is highly sprayed with chemicals and pesticides, so I highly recommend you to purchase organic if you can.
---
If you haven't already, join our free global challenge at www.GetOffTheGluten.com to receive daily recipes & health tips, access to our private group for support and inspiration, plus before and after testing to track your progress in key areas of your life such as weight, sleep, bloating, skin-conditions, mental health and more!
JOIN THE GROUP CHALLENGE STARTS IN: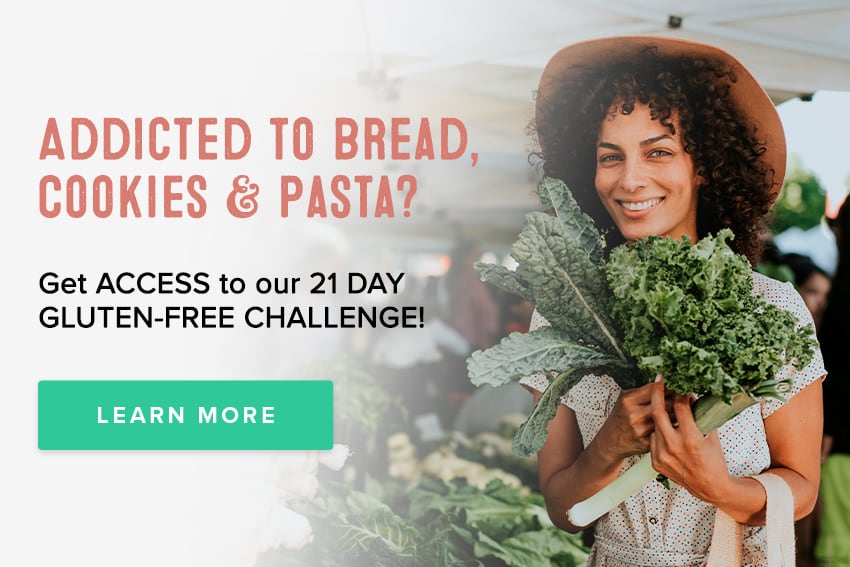 ---