3 Reasons Your Skin Will Love Avocado Oil
It took a while to convince the world that putting oil on your skin doesn't mean you're doomed to clogged pores and breakouts. People are starting to realize that oil is actually one of the best anti-aging secrets out there.
Now that facial oils are becoming "mainstream," we're getting flooded with information on which kind of oil is the best for your skin. So which is it?
WHY WE LOVE AVOCADO OIL
We're not one to play favorites, but today we're talking about a type of oil that your skin really likes: avocado oil.
Anti-aging and moisturizing, avocados are so much more than future guacamole. There's a lot of internet buzz about which oils do what, so we dug deep into the research out there on why avocado is such a uniquely skin-loving ingredient.
3 REASONS TO SWITCH TO AVOCADO OIL
Here are some reasons we're totally inviting avocado oil to the skin care party.
1. Avocado Oil Offers Enhanced Skin Penetration
I kept seeing people saying that avocado penetrates well into the skin, but sometimes the internet offers up well-meaning but unverified information. I wanted to know if avocado oil really offers better skin penetration than, say, grapeseed or coconut oil.
THE SCIENCE BEHIND IT
It turns out that it's true. Oleic acid is a fatty acid that enhances skin permeability, and avocado oil has a lot of it. Its fatty acid composition is comprised of 63% oleic acid, compared to coconut oil with 5-10% and grapeseed oil with 16.2%.
This makes avocado oil a great morning moisturizer, when you don't want your oil to sit on your skin and give it a greasy or shiny look. You can save the heavier oils for your nighttime regimen.
2. Avocado Oil Contains Chlorophyll
Avocado oil is uniquely rich in chlorophyll, so you can enjoy the appearance of brighter looking when you use it on your skin. Avocado oil is also good for sensitive skin.
THE PERFECT BALANCE
If you're looking for a facial oil that is moisturizing, and not too heavy, you should definitely consider avocado. You can even mash up the fruit itself and use it as a facial mask.
3. Avocados Are (Potentially) Local
For those of us in the United States, avocado oil is somewhat close to home. The US is the fourth highest producer of these green treasures, the first being Mexico.
REDUCE YOUR CARBON FOOTPRINT
Especially for those of us on the west coast, using avocado or avocado oil on our skin instead of tropically-grown coconut can greatly reduce the distance your skin care travels before getting to your face. (Indonesia, the Philippines, and India are the world's top producers of coconuts.) This translates into fewer fossil fuels consumed and less pollution created.
Have you used avocado oil? Tell us about your results in the comments below!
A NOTE FROM FOOD MATTERS:
Some of our favorite natural skincare products from Annmarie Skincare already use avocado oil in them, along with a combination of other unique and nourishing ingredients. They are dear friends of ours and we love using their organic and wild-crafted products! You can check them out here with a special offer for our Food Matters Community!
Take the stress out of cooking with 21-days of guided meal plans, shopping lists, and nutrition support. You'll find all of this, and more, in our signature Clean Eating Program.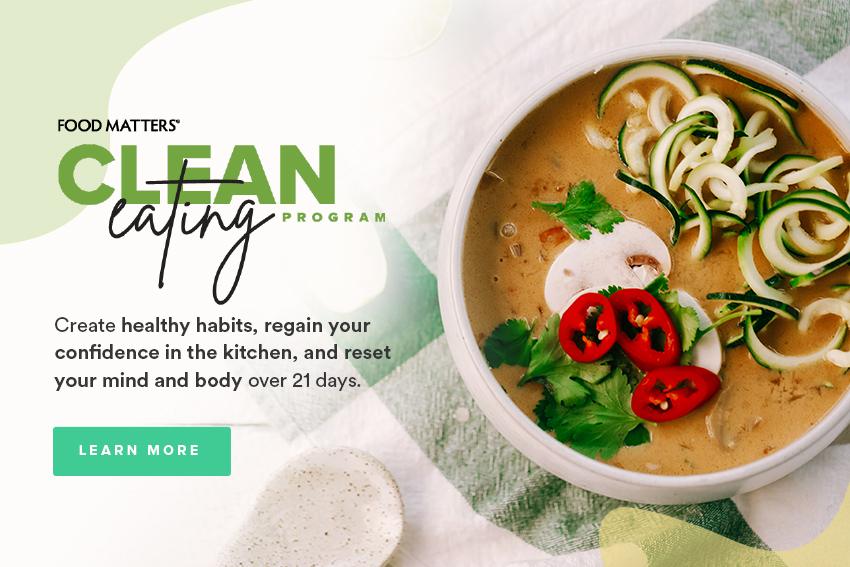 ---