37 Smart Uses Of Salt For Non-Toxic Cleaning Purposes
How many ways can you use salt? According to the Salt Institute, about 14,000! I can't think of another more versatile mineral. The use of salt to preserve food was one of the early cornerstones of civilization (preservation lessened the dependence on seasonal food, and provided sustenance for traveling over long distances). However, salt was very difficult to obtain. With modern production methods, nowadays salt is the most common and readily available nonmetallic mineral in the world; in fact, the supply of salt is inexhaustible.

Since at least medieval times salt (sodium chloride) has been used for cleaning–and ensuing generations have continued to rely on it for all kinds of nifty tricks around the house. (these were the days before toxic chemicals promised the convenience of an easy fix!) So with its non-toxic friendliness and top-dog status as an endlessly abundant resource, let's jump on the granny bandwagon and swap out some non-toxic solutions for ample, innocuous and inexpensive salt.

But first, let my inner science geek pipe in for just a second (although if I eat dinner with you, I promise not to ask you to please pass the sodium chloride). There is a whole class of chemical compounds called "salts," but the salt we're talking about is good old sodium chloride–an ionic compound with the formula NaCl. Sodium chloride is the salt most responsible for the salinity of the oceans and of the extracellular fluid of many multicellular organisms (which is why it is vital for us), and the major ingredient in edible salt.

There are a number of forms of salt produced for consumption (and by default, housekeeping!): unrefined salt (such as sea salt), refined salt (table salt), and iodized salt. The best salts for consumption are the most unrefined salts like sea salt and himalayan salt which are the highest in organic minerals. But for cleaning purposes you can use any type of salt. In case you're wondering Epsom salt is an entirely different animal: magnesium sulfate to be exact (which is a salt that I consider to be, essentially, miraculous).

Okay, lab coat off, Hints-from-Heloise hat on. Here are just a few of the many ways you can put salt to good use in your home:
Cleaning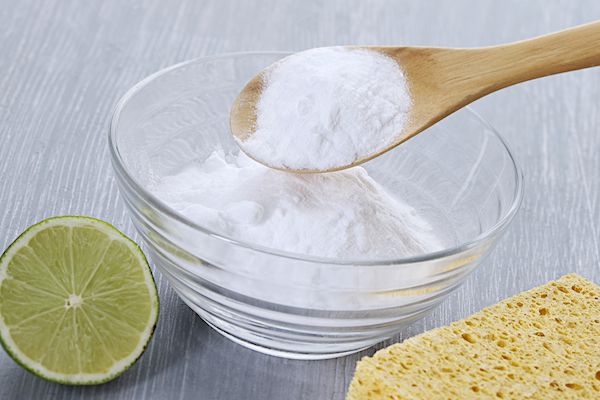 Salt works as an effective yet gentle scouring agent. Salt also serves as a catalyst for other ingredients, such as vinegar, to boost cleaning and deodorizing action. For a basic soft scrub, make a paste with lots of salt, baking soda and dish soap and use on appliances, enamel, porcelain, etc.

Clean sink drains. Pour salt mixed with hot water down the kitchen sink regularly to deodorize and keep grease from building up.

Remove water rings. Gently rub a thin paste of salt and vegetable oil on the white marks caused by beverage glasses and hot dishes, on wooden tables.

Clean greasy pans. Cast-iron skillets can be cleaned with a good sprinkling of salt and paper towels.

Clean stained cups. Mix salt with a dab of dish soap to make a soft scrub for stubborn coffee and tea stains.

Clean refrigerators. A mix of salt and soda water can be used to wipe out and deodorize the inside of your refrigerator, a nice way to keep chemical-y cleaners away from your food.

Clean brass or copper. Mix equal parts of salt, flour and vinegar to make a paste, and rub the paste on the metal. After letting it sit for an hour, clean with a soft cloth or brush and buff with a dry cloth.

Clean rust. Mix salt and cream of tartar with just enough water to make a paste. Rub on rust, let dry, brush off and buff with a dry, soft cloth. You can also use the same method with a mix of salt and lemon.

Clean a glass coffee pot. Every diner waitress' favorite tip: add salt and ice cubes to a coffee pot, swirl around vigorously, and rinse. The salt scours the bottom, and the ice helps to agitate it more for a better scrub.

Attack wine spills. If your tipsy aunt tips her wine on the cotton or linen tablecloth, blot up as much as possible and immediately cover the wine with a pile of salt, which will help pull the remaining wine away from the fiber. After dinner, soak the tablecloth in cold water for thirty minutes before laundering. (Also works on clothing.)

Quell oversudsing. Since of course we are all very careful in how much detergent we use in our laundry, we never have too many suds. But if…you can eliminate excess suds with a sprinkle of salt.

Dry clothes in the winter. Use salt in the final laundry rinse to prevent clothes from freezing if you use an outdoor clothes line in the winter.

Brighten colors. Wash colored curtains or washable fiber rugs in a saltwater solution to brighten the colors. Brighten faded rugs and carpets by rubbing them briskly with a cloth that has been dipped in a strong saltwater solution and wrung out.

Remove perspiration stains. Add four tablespoons of salt to one quart of hot water and sponge the fabric with the solution until stains fade.

Remove blood stains. Soak the stained cloth in cold saltwater, then launder in warm, soapy water and boil after the wash. (Use only on cotton, linen or other natural fibers that can take high heat.)

Tackle mildew or rust stains. Moisten stained spots with a mixture of lemon juice and salt, then spread the item in the sun for bleaching–then rinse and dry.

Clean a gunky iron bottom. Sprinkle a little salt on a piece of paper and run the hot iron over it to remove rough, sticky spots.

Set color. Salt is used commonly in the textile industry, but works at home too. If a dye isn't colorfast, soak the garment for an hour in 1/2 gallon of water to which you've added 1/2 cup vinegar and 1/2 cup salt, then rinse. If rinse water has any color in it, repeat. Use only on single-colored fabric or madras. If the item is multicolored, dry-clean it to avoid running all of the colors together.
Around The House
Deter ants. Sprinkle salt at doorways, window sills and anywhere else ants sneak into your house. Ants don't like to walk on salt.

Extinguish grease fires. Keep a box of salt near your stove and oven, and if a grease fire flares up, douse the flames with salt. (Never use water on grease fires; it will splatter the burning grease.) When salt is applied to fire, it acts like a heat sink and dissipates the heat from the fire–it also forms an oxygen-excluding crust to smother the fire.

Drip-proof candles. If you soak new candles in a strong salt solution for a few hours, then dry them well, they will not drip as much when you burn them.

Keep cut flowers fresh. A dash of salt added to the water in a flower vase will keep cut flowers fresh longer. (You can also try an aspirin or a dash of sugar for the same effect.)

Arrange artificial flowers. Artificial flowers can be held in place by pouring salt into the vase, adding a little cold water and then arranging the flowers. The salt becomes solid as it dries and holds the flowers in place.

Make play dough. Use 1 cup flour, 1/2 cup salt, 1 cup water, 2 tablespoons oil and 2 tablespoons cream of tartar. Stir together flour, cream of tartar, salt and oil, and slowly add water. Cook over medium heat stirring frequently until dough becomes stiff. Spread onto wax paper and let cool. Knead the dough with your hands until it reaches a good play dough consistency. (Read about juice dyes here.)

Repair walls. To fill nail holes, fix chips or other small dings in white sheetrock or plaster walls, mix 2 tablespoons salt and 2 tablespoons cornstarch, then add enough water (about 5 teaspoons) to make a thick paste. Use the paste to fill the holes.

Deter patio weeds. If weeds or grass grow between bricks or blocks in your patio, sidewalk or driveway, carefully spread salt between the cracks, then sprinkle with water or wait for rain to wet it down.

Kill poison ivy. Mix three pounds of salt with a gallon of soapy water (use a gentle dish soap) and apply to leaves and stems with a sprayer, avoiding any plant life that you want to keep.

De-ice sidewalks and driveways. One of the oldest tricks in the book! Lightly sprinkle rock salt on walks and driveways to keep snow and ice from bonding to the pavement and allow for easier shoveling/scraping. But don't overdo it; use the salt sensibly to avoid damage to plants and paws.

Tame a wild barbeque. Toss a bit of salt on flames from food dripping in barbecue grills to reduce the flames and calm the smoke without cooling the coals (like water does).
Personal Care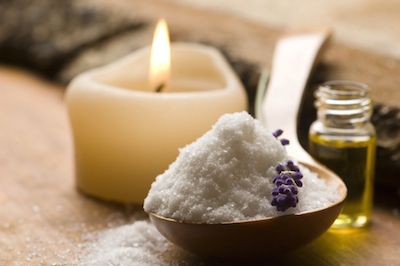 Extend toothbrush life. Soak toothbrushes in salt water before your first use; they'll last longer

Clean teeth. Use one part fine salt to two parts baking soda–dip your toothbrush in the mix and brush as usual. You can also use the same mix dissolved in water for orthodontic appliances.

Rinse your mouth. Mix equal parts salt and baking soda in water for a fresh and deodorizing mouth rinse.

Ease mouth problems. For cankers, abscesses and other mouth sores, rinse your mouth with a weak solution of warm salt water several times a day.

Relieve bee sting pain. Ouch? Immediately dampen area and pack on a small pile of salt to reduce pain and swelling. More bee-sting tips here.

Treat mosquito bites. A saltwater soak can do wonders for that special mosquito-bite itch–a poultice of salt mixed with olive oil can help too.

Treat poison ivy. Same method as for treating mosquito bites. (Salt doesn't seem to distinguish between itches.)

Have an exfoliating massage. After bathing and while still wet give yourself a massage with dry salt. It freshens skin and boosts circulation.

Ease throat pain. Mix salt and warm water, gargle to relieve a sore throat.
---
If you haven't already, join our free global challenge at www.GetOffTheGluten.com to receive daily recipes & health tips, access to our private group for support and inspiration, plus before and after testing to track your progress in key areas of your life such as weight, sleep, bloating, skin-conditions, mental health and more!
JOIN THE GROUP CHALLENGE STARTS IN: