5 Fall Foods And The Reason To Love Them
Fall is the perfect calm after the heat waves of summer and before the freezing temperatures of winter. The particular beauty of the changing leaves and gorgeous weather make fall a favorite for many. But, besides the picturesque nature, fall also brings many comforting foods – pumpkins, squash, apple cider are just a few that make fall feasts so spectacular. These foods don't just bring a variety of colors to the table, they also have many medicinal and health benefits. In this article we are going to take a look at some of the fall superfoods and reasons why you should love them.

1. Pumpkin
Pumpkins are believed to be anti-inflammatory, anti-parasitic, anti-diabetic, anti-oxidant, and anti-microbial, and may even offer protection to the liver. The seeds are low-fat and protein-rich. They also contain essential fatty acids and amino acids. The fruit is a good source of beta-carotene and has moderate amounts of carbohydrates, vitamins, minerals and essential amino acids. The fruit of the pumpkin plant also contains various biologically-active components such as polysaccharides, para-amino benzoic acid, fixed oils, sterols, peptides and carotenoids.
2. Apples
Does an apple a day keep the doctor away? This question may not have been answered yet, but there may definitely be some health benefits to eating apples. Apples are a rich source of phytochemcials, which are non-nutrient, plant-based compounds such as carotenoids, flavonoids, and phenolic acids. In fact, apples are a significant source of flavonoids and, in the U.S., they are the largest source of phenolics. When compared to other commonly consumed fruits in the U.S., apples had the second highest level of antioxidant activity. Epidemiological studies have linked apple consumption with reduced risk of some cancers, cardiovascular disease, asthma, and diabetes. Apples are often at the top of the Environmental Working Groups dirty dozen, which is a list of the most pesticide-contaminated fruits and vegetables. So if you are going to enjoy an apple a day, try to make it organic.
3. Sweet Potatoes
Sweet potatoes are a staple food source for many indigenous populations throughout Central and South America. Like pumpkin, the deep orange color of sweet potato means that it has high levels of carotenoids. Sweet potatoes are an excellent source of Vitamin A in the form of beta-carotene. Beta-carotene may act as an antioxidant. Carotenoids aren't the only beneficial nutrient found in sweet potato, though. It's also rich in vitamin C, manganese, potassium and fiber. Purple-fleshed sweet potatoes are rich in anthocyanins, which are the natural pigments responsible for the intense color of many fruits and vegetables. While berry anthocyanins have been researched heavily and found to offer benefits against many chronic and age-related diseases, the anythocyanins in sweet potato may differ and need further investigation. Another reason while you should love this fall superfood is because it can be used as a natural food colorant, which is a healthier alternative to synthetic coloring agents. Lastly, sweet potatoes can be used to make starch and flour, which offer a naturally gluten-free baking alternative along with some added nutritional value.
4. Winter Squashes
Squash varieties that are harvested in the fall are known as winter squash. Winter squash include spaghetti squash, acorn squash, butternut squash, and pumpkin. Since we have already talked about pumpkins, above, in this section we are going to focus on the other members in the winter squash family. One of the first reasons to love spaghetti squash is because it is a nutritious, low-calorie and naturally gluten-free replacement to pasta. Sure, it may not taste like pasta, but it definitely looks like it when cooked properly. Other reasons to love winter squash include the fact that they are an excellent source of vitamin A, C and dietary fiber. Winter squashes are also rich in carotenoids such as lutein and zeaxanthin, which have been studied for their benefit in protecting the eyes and helping to maintain healthy cells in the eyes.
5. Cauliflower
Cauliflower is a versatile cruciferous vegetable. It can be steamed and added to a food processor to create a healthier alternative to mashed potatoes. It can also be used as a naturally gluten-free replacement for traditional pizza crust, or even used to make cauliflower rice. Cauliflower contains high concentrations of a class of phytochemicals known as glucosinolates; a group of sulfur-containing chemicals. Glucosinolates, which are broken down into indoles, nitriles, thiocyanates and isothiocyanates, are believed to have anti-cancer properties. One last reason to love cauliflower, and, for that matter, other cruciferous vegetables, is because a high intake of cruciferous vegetables such as cauliflower was shown to reduce the risk of death from cardiovascular disease by 31% according to a study published in the American Journal of Clinical Nutrition.
What Warming Foods Will You Be Enjoying This Fall? Share Your Thoughts In The Comments Below!
Take the stress out of cooking with 21-days of guided meal plans, shopping lists, and nutrition support. You'll find all of this, and more, in our signature Clean Eating Program.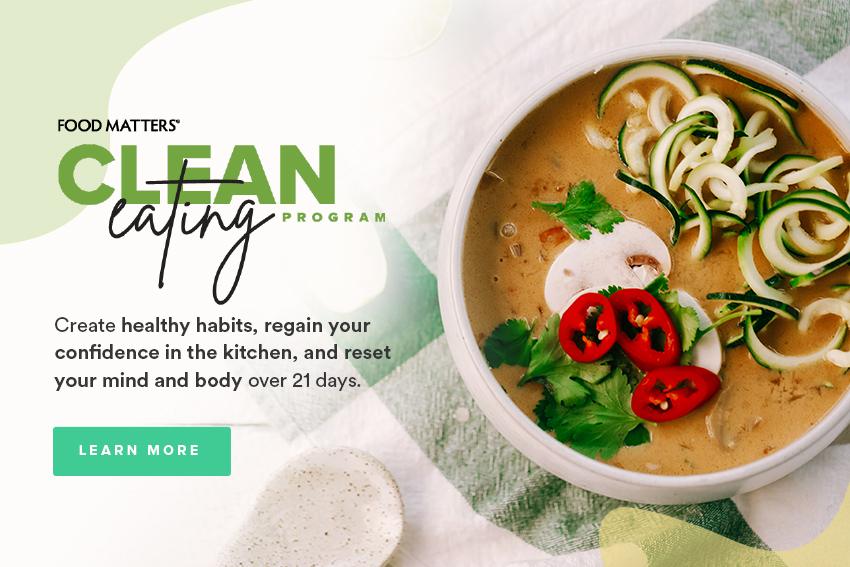 ---