Emotions Making You Reach For Cookies? Try This Mindful Eating Meditation
By practicing mindfulness while enjoying a meal, eating becomes a true joy, you are able to fully appreciate every single bite and savor every flavor.
Observing your food - every part of the meal - food, napkin, drink - and paying attention to the different colors, you allow yourself to be present and aware. As you take your first bite, take note of how the food feels inside your mouth. And as you chew slowly, observe what you taste. But by bite, encourage yourself to slow down and savor what you taste.
This meditation is from the Meditation Studio App Mindful Eating Collection. These were designed to help us slow down as we prepare and eat our meals and to help us explore our relationship with our food and our bodies. Our experts use breath, body and visualization styles. Try this free mindful eating meditation below and notice how you feel:
Did you enjoy this short meditation? Check out the full series, plus, 100's of other meditations inside Food Matters TV. It's more than just an online-streaming channel. Start your FREE 10 Day Trial here.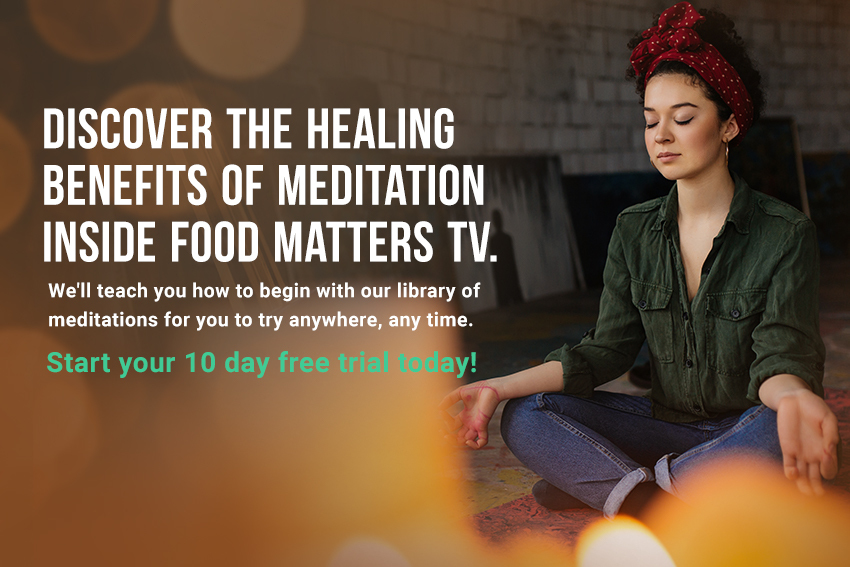 Take the stress out of cooking with 21-days of guided meal plans, shopping lists, and nutrition support. You'll find all of this, and more, in our signature Clean Eating Program.