Healthier Alternatives To Plastic Tupperware
When tupperware launched in the 1940's, it created a food storage revolution. Durable, airtight and ultra-convenient, tupperware quickly become a kitchen essential.

The trouble is, plastic containers don't just last for their limited lifetimes in the kitchen. Once created, plastics are here to stay on Mother Earth for good. They may be downcycled or recycled to another form, but standard plastics never, ever truly biodegrade.

And it's pretty scary to think of our tupperware collections floating around in landfill 500 years from now, isn't it?

Thankfully, there are so many practical, eco-friendly solutions for storing your food these days. Check out these ideas to be plastic-free in the kitchen!
Cotton Reusable Sandwich Wraps
Skip the plastic wrap and keep your sandwiches fresh with these cute little eco sandwich bags. They are non-toxic, cleanable and will serve you for many, many lunches. Whilst the initial outlay is a little higher than a roll of cling wrap, they pay for themselves several times over in the course of their lifetime.
Paper Snack & Sandwich Bags
Remember the good ol' days when you took your lunch to school in brown paper bags? Whilst we don't think paper's the #1 best option, it still beats toxic plastic wrap. So if you're really stuck or need a disposable food storage option, opt for some eco-friendly brown paper bags. Perfect for transporting cookies, snacks, muesli bars or muffins if you can't use a reusable container!
Cotton Muslin Produce Bags
These produce bags look super sweet lined up in the pantry! I love to fill each bag with different dried beans, legumes and lentils. Plus, they're great for keeping your potatoes and onions separated. These bags can also be easily rolled up and taken with you to the Farmer's Market, and they will protect your green leafy's from moisture damage in the fridge!
Beeswax Wraps
Honestly, once you've had the pleasure of using these beautiful bee wraps, you'll never want to work with cling wrap again! These gorgeous cloths have been soaked in a special beeswax mixture, to form a naturally soft but protective film against your food. There's something deliciously relaxing about feeling the wraps soften under the heat of your hand. I use them to wrap avocado halves, muffins, slices and uncovered bowls of food. Plus, they will degrade once their service is up!
Glass Jars
I'm a bit of a Glass Jar Junkie… Any glass jars leftover from pasta sauce, tahini and honey are soaked, scrubbed and rinsed before removing the sticky label residue with a little Eucalyptus oil. These jars are fantastic for storing bulk grains, seeds, fresh picked herbs, salad dressings, soaked nuts and leftover frozen soups. So please do reconsider before recycling these jars… Recycling is great, but optimizing their potential use first is even better!
Glass 'Tupperware' Alternatives
There's no doubt that a good supply of food storage containers, preferably in a wide range of shapes and sizes, is super handy! Instead of plastic options that traditionally contain BPA, leach pthalates and contribute to non-biodegradable landfill, glass containers will lockable lids such as the glasslock range offer the same convenience - at no cost to your health, or the Planet!
Shower Caps
Yes, I know this sounds ridiculous but please hear me out. In the course of a week, just think about how many times you unfurl a roll of plastic wrap to cover plates of leftover food or salad bowls? Although a shower cap is still made of plastic, it is washable, reusable and can be stretched over food containers. Simply wrap a large rubberband around the bottom if you need something a little more airtight!
Compostable Cling Wrap
Compostable cling wrap really exists! Technology has uncovered many alternatives to plasticizers, including polylactic acid (PLA) which is produced via starch fermentation during the wet milling of corn. These corn-based plastics biodegrade within two months in compost and require up to 20 - 50% less fossil fuels to produce.
Insulated Tumbler Cups
These Healthy Human tumbler cups are simply brilliant for drinks, smoothies and soups on-the-go. I also use them to store a bit extra from my morning juice to enjoy later in the day. Plus, if you pop a couple of ice cubes into this quality tumbler, it will supply you with a refreshingly frosty beverage all day long!
Biodegradable Garbage Bags
Of course, the first step is to reduce waste as much as you can in the kitchen. And truthfully, your waste will more than halve once you start composting at home! However, there always seem to be a few odds and ends that need to be thrown. If you're not comfortable throwing waste directly into your bin and washing it out regularly, I'd recommend using biodegradable garbage bags to cut down your plastic footprint.
Whilst these are my favorite tips to avoid using plastic, I'd love to hear yours! What's your plastic-free preferences in the kitchen?
Discover how to lose excess fat from your belly, face & thighs in less than 7 days with this simple ancient practice. Watch the Detox Masterclass here. Playing for a limited time!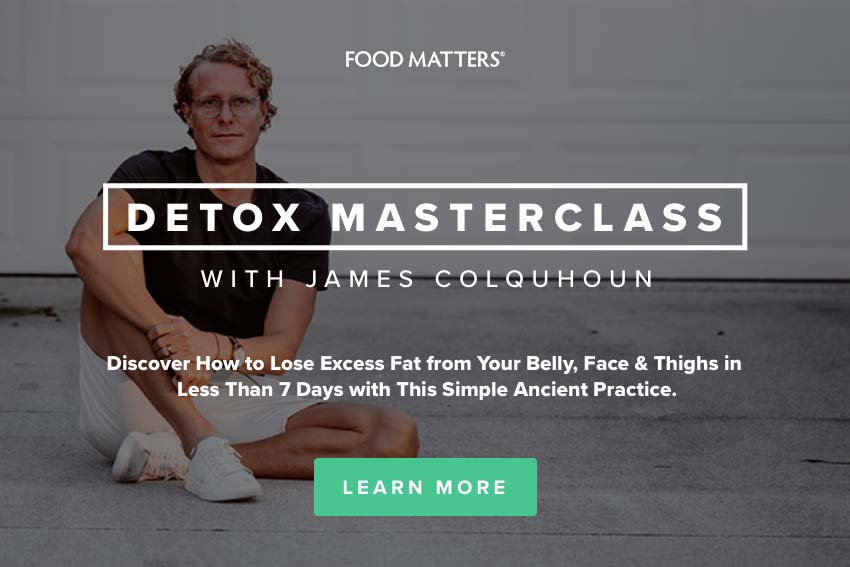 ---