How to Make Exercise Fit Into Your Workday
While "digital offices" continually offer new opportunities for efficiency and communication, they may actually harm the health of their employees. A recent study added to evidence that sitting for long periods of time leads to a higher mortality risk; this is especially true if an individual sits for hours without getting up to move.
"We tend to think of sedentary behavior as just the sheer volume of how much we sit around each day," said study author Keith M. Diaz, PhD, certified exercise physiologist and Assistant Professor of Behavioral Medicine at Columbia University Medical Center. "But previous studies have suggested that sedentary patterns—whether an individual accrues sedentary time through several short stretches or fewer long stretches of time—may have an impact on health."
Unfortunately, for many professionals, sitting during the day is inevitable. So, how can you control your risk?
Diaz suggests getting up every half hour to move around.
Sounds simple, right?
Despite your best intentions, when you sit down at your desk and log on to your computer, you're likely to get comfortable and forget about your resolution to be more active during the workday.
This guide gives you some pointers on how to set yourself up to be more active when you're in a sedentary job (particularly when you're in an environment that doesn't energize you or inspire you to get up and move around).
Prepare Your Workspace
Before you plan your new routine, it's important to make your office space an energizing environment. Here are some ways that you can revamp your office area to serve your fitness goals.
Create incentives to move. If you've got your coffee and a supply of snacks within arms reach, you can settle in for quite a while. Put your food and drinks (healthy ones of course!) in the kitchen if possible, so you have to get up to get that "reward".
Dress comfortably. Even if you have to wear traditional office attire to work, you can find pieces that are made from fabrics that allow you to move. The key is to wear things that allow you to stretch and move comfortably. If you need help figuring out how to pull together an office appropriate "flexible" outfit, many retailers provide personal shopping services and can help you find outfits that accommodate both your style and your company's dress code. If you are concerned about footwear specifically, stash a comfortable pair of shoes under your desk.
Bring the right gear. You might consider using an exercise ball, yoga mat, or other fitness gear during your movement breaks. Bring these in ahead of time so you can be ready to go.
Set reminders to get up. If you are worried about getting caught in your work zone and forgetting to move, set calendar reminders. By scheduling in your breaks, and setting up an "alarm" you'll be less inclined to skip them.
Add energizing elements. You might be unmotivated to move at work because your workspace is not supporting your energy. Add plants, photos that bring you joy, and other decorative elements that make you feel happy.
Go toward the light. Office lighting is often

harsh and debilitating

. Natural light is energizing. If you aren't seated close to a window, be sure to spend time near a window or get outdoors as much as possible during your workday.
Once you make your desk a more supportive environment for your energy and wellness goals, you can begin experimenting with different types of exercise.
Let's Go!
Remember that there is no perfect formula for incorporating exercise into your workday. Your ideal routine will depend on what suits you. Start small and build up to more strenuous activities. If on day one you plan to go for a long run or to a killer class at a gym, there probably won't be a day two.
Any time you're sitting at your desk you can do desk yoga. Pay particular attention to your hips, neck, wrists, shoulders, and back, since these parts of your body tend to stiffen up while you sit at a desk. You can find ideas for office yoga here. If you don't have time to do an entire sequence, that's OK! Just a simple stretch can be enough to give you a little burst of energy.
When you have longer periods of time to move, take a brisk walk around the office, walk or jog in the office stairwell if you have one, or walk outside. Better yet, invite your colleagues to have a "walking meeting" instead of meeting in a conference room or at a table. That requires a bit of planning, so read up on how to do walking meetings right.
Some of the moves in this thing called "deskercise" might be a little difficult to pull off in an office setting, particularly high intensity moves like split squat jumps and the fist pump. Perhaps you can find an empty conference room or a space away from your office mates. OR! Be the leader of your office fitness crusade. Rally your office mates and get them to join you in a round of "deskercise." Use your judgment on this one though (i.e., not appropriate for all office settings).
If you have time and want a more strenuous workout, go for a run or to a nearby gym. That may seem like too much to handle on any given workday but with some pre-planning, you might be able to do it. Pack your gym bag the night before, dress in clothing that's easy to change, and pack a lunch that you can eat at your desk. If you don't have access to shower facilities, or time to shower, pack baby wipes, deodorant, and dry shampoo.
No matter how you choose to move at work, be sure to hold yourself accountable. This is why getting your co-workers on board is beneficial—you can remind each other to take periodic breaks or workout sessions. Don't wait for someone else to be the office fitness cheerleader— you're it!
How Do You Get More Movement In Your Workday? Please Share In The Comments Below.
Take the stress out of cooking with 21-days of guided meal plans, shopping lists, and nutrition support. You'll find all of this, and more, in our signature Clean Eating Program.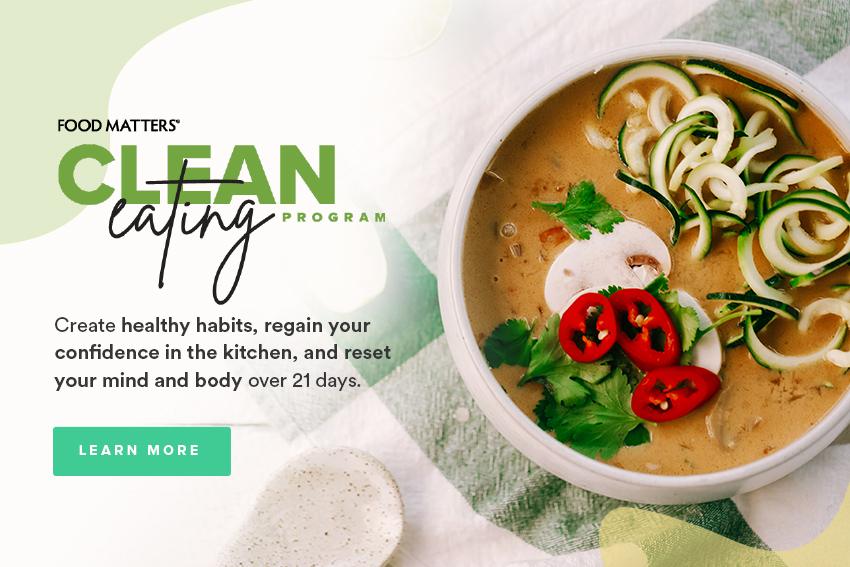 ---