Looking For Strength, Endurance And Libido?
Native to the mountainous regions of Peru, maca is grown as high as 4300 meters above sea level, making it the highest altitude crop on Earth. The indigenous people have used it for more than 3500 years.

Legend has it that during the height of the Incan empire, Incan warriors would consume maca before entering into battle to make them fiercely strong. However, after they were done conquering a city, the Incan soldiers were prohibited from using maca, in order to protect the women from their excessive sexual desires (aka, relentlessly getting hit on). This is a clear indicator of maca's most touted benefits – strength, endurance and heightened libido.
What Is This Almighty Maca?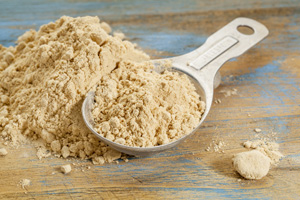 Maca is a member of the cruciferous family, which includes turnips and radishes. Maca is rich in calcium, magnesium, phosphorous, potassium, sulfur, sodium, and iron and contains trace minerals including zinc, iodine, copper, selenium, bismuth, manganese, tin and silicon. It is also rich in vitamins B1, B2, C and E and contains antioxidants, such as catechins, which are found in green tea, and sterols found in Echinacea.
More Benefits...
As mentioned above, Peruvians have used maca to promote endurance, stamina and to enhance sexual desire. However, the herb is also used to enhance mental acuity, physical vitality, oxygen in the blood, neurotransmitter production and increase fertility in men and women.

Maca is a powerful adaptogen, which means it has the ability to balance and stabilise the body's glandular-hormonal system, nervous system, cardiovascular system and musculature. It supports the endocrine system (win for hormones), the adrenals (win for stress management), and the thyroid (win for your metabolism), and is known to improve your overall mood. Due to its ability to balance hormones, maca is particularly beneficial to counteract menopausal and premenopausal symptoms.
According to David Wolfe, maca is great if you suffer from:
Anaemia
Chronic fatigue
Depression
Infertility and sterility
Lack of libido
Malnutrition
Menopausal symptoms
Menstrual discomfort and disorders
Poor memory
Stomach cancer
Stress tension
Tuberculosis

Note: Maca is not recommended if you suffer from breast cancer, prostate cancer, ovarian cancer or any other hormone-related cancers.
What, Where And How Much?
You should be able to find dried, raw, organic maca powder on the internet or at your local health or organic food store. Only buy reputable, organic brands of maca root (not other parts of the plant).

Add a tablespoon of maca powder to your fresh juice, smoothies or nut milk.
Have you ever tried maca? Have you felt the benefits of this powerful super food?
Do you have a passion for nutrition & natural healing?. Learn more about the Food Matters Nutrition Certification  Program here.
ENROLLMENT & BONUSES CLOSE IN