The Most Important Thing You Can Do For Your Health Every Morning
If you're looking for one of the easiest morning rituals to transform your health, look no further than a glass of filtered water with freshly squeezed lemon juice.
In addition to it being a delightfully refreshing drink, there's a myriad of health benefits you'll receive from this simple daily dose, whether you drink it warm or cold. Here are our top 9 life-changing health benefits of drinking lemon juice and water daily.
9 Health Benefits of Lemon Water
1. It's Full of Antioxidants and Antibacterial Properties
Lemon water is a great source of plant compounds known as flavonoids, many of which have antioxidant properties. Consuming this wonder drink each morning can help protect your cells from damage, support your blood circulation, insulin sensitivity and other aspects of metabolic health.
2. Supports the Immune System
Rich in vitamins and minerals including Vitamin C and B-complex, riboflavin, iron, calcium, magnesium, copper, folate and potassium, lemon water supports immune function, allergy alleviation and stopping free radical damage. With an extremely high level of Vitamin C (187% of the daily value) it's also a superinfection fighter.
Taking a glass of lemon water every day can protect you from falling ill and can help you more quickly recover from colds, coughs, sore throats, ear infections and even more serious conditions such as arthritis, heart disease, diabetes, autoimmune disorders, and cancer.
3. Reduces Inflammation
Lemons contain hesperidin, which inhibits inflammation and the production of reactive oxygen species (ROS), according to a study from Mediators of Inflammation.
The reason we want to keep inflammation low is due to the potential havoc it can cause in our body. Inflammation is associated with most diseases, including diabetes, obesity, cardiovascular, neurogenic, arthritis and macular degeneration, inflammation reduction should be a priority for most people.
4. It Contains Anti-Cancer Properties
Studies have shown that lemons could potentially be beneficial in the treatment of cancer and breast cancer patients undergoing chemotherapy.
Limonene, found in lemons, is effective in blocking both the initiation of cancer as well as progression and induced regression of existing tumors according to studies of animal models.
5. A Great Detoxing Tonic
Lemon juice is a wonderful tonic that can help to cleanse the entire body by gently detoxing the liver and supporting bile production and flow for better removal of neutralized toxins and waste. This can improve many functions in the body but can also deliver glowing skin.
A more intense detox that involves halting the consumption of all solid food for a few days and solely consuming lemon water has been observed to trigger an anti-aging mode in cells and can jumpstart the system to improve insulin sensitivity.
6. It Helps The Body Maintain a Balanced pH
Although acidic in taste, lemon juice becomes alkaline inside the body, and an alkaline body is important to good health.
Excess acids lead to inflammation, an over-active immune system, candida overgrowth, chronic fatigue, poor digestion, weight gain and more. By fuelling our body with pH balancing foods we give it those nutrients it needs to thrive, and in return, it will make you feel amazing.
7. Contains Beneficial Acids
The body often needs compounds that can only be derived from foods, such as pantothenic acid (Vitamin B5) and folates which lemons provide. Pantothenic acid is very important as it helps to convert the food you eat into energy.
Lemons also provide citric acid that aids in digestion as well as dissolving kidney stones, and of course ascorbic acid (Vitamin C) which boosts the immune system.
8. Can Improve Blood Pressure Control
A 2014 study found researchers linking regular lemon intake in conjunction with walking with better blood pressure regulation.
Results are thought to be linked with the citric acid found in lemons and their impact on magnesium absorption and improvement of calcium.
9. Supports Fresh Breath and Fights Bacteria
The citric acid in lemons encourages the salivary glands to produce more saliva, which is the mouth's natural defense against bacteria and bad breath, it also supports better digestion!
Lemons are known to help destroy putrefactive bacteria in the mouth and intestines which can help alleviate flatulence, indigestion, and constipation.
How Do I Make Lemon Water?
The amount of lemon you put in your lemon water is up to your personal preference and you may wish to add some mint, cucumber slices or honey for added flavor. Some people use cold water, room temperature or even hot water, all of which produce great health benefits.
Personally, I have the juice of one lemon in 500mL of lukewarm filtered water first thing in the morning on an empty stomach. This is when you'll feel the most benefits. Here's a simple recipe to get you started if you are just a beginning to lemon water:
INGREDIENTS
1/2 lemon
16 ounces room temperature or warm filtered water
METHOD
Squeeze half a lemon into 16 ounces of water and drink in the morning. You can also drink more throughout the day to flush and hydrate the body.
Tell us in the comments below how you like your lemon water and what benefits you've experienced.
Do you have a passion for nutrition & natural healing?. Learn more about the Food Matters Nutrition Certification  Program here.
ENROLLMENT & BONUSES CLOSE IN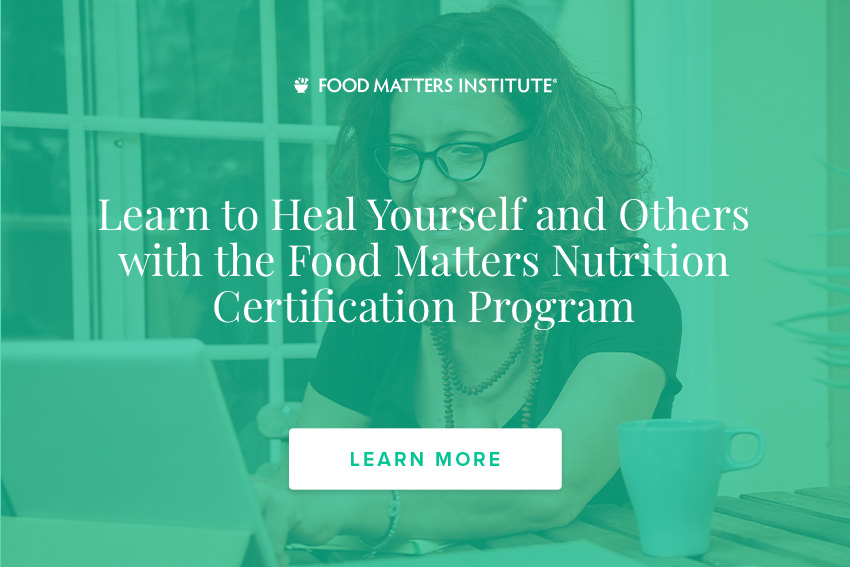 ---