Natural Alternatives To Toothpaste
Do you like to look after your body and care for your health? Perhaps you already eat organic food, drink green juices, wash your body in pure essential oils and practice yoga, or take other proactive steps to feel your very best.

Whilst these are all wonderful ways to create abundant health, have you ever wondered about the other things that enter our body each and every time we brush our teeth?

How often do we treat ourselves to a nourishing meal, before heading to the bathroom to brush our teeth with a chemical-laden toothpaste? Most people simply brush their teeth out of habit, not realizing that your average tube of toothpaste is laden with all kinds of chemicals that spell bad news for our health.

Discover why natural toothpaste is a better for you and simple, natural options you can easily use instead.
So What Is Really In My Toothpaste?
Some of the harmful ingredients that might be in your toothpaste include:
Sodium Lauryl Sulphate: used as a foaming agent,

Triclosan: added as an antibacterial,

Glycerin: prevents mineralization of the bone.
What About Fluoride?
Fluoride is the first mineral that comes to mind when we think dental. And it should be. Fluoride helps to make our bones strong, prevents cavities, and is essential for our teeth. But the form of fluoride and amount we are exposed to is vitally important and impacts our health.

We are exposed to fluoride in our environment through air pollution, toothpaste, and mouthwashes. But did you know the fluoride in our toothpaste and the fluoride added to our water is a very toxic element, especially when it accumulates?

We are warned if you consume too much fluoride it is dangerous. However, we still use it twice daily on a brush. Since the mouth is a very vascular area, we absorb whatever goes onto our gums.

(An interesting note: Ninety-eight percent of Western European countries rejected fluoridation in the water on the grounds that forcing an entire population to consume a medication through the water is unethical.)
Healthy Alternatives To Chemical Toothpastes
Coconut Oil
Rich in lauric acid, which your body converts into a compound that has antiviral, antimicrobial, antiprotozoal and antifungal properties, coconut oil makes a perfect fluoride-free toothpaste replacement. Research is even suggesting that coconut oil can help slow the growth of some bacteria that lead to tooth decay.

You can also practice oil pulling with coconut oil for additional dental hygiene support. To oil pull, simply use 2 tablespoons of warmed coconut oil directly in the mouth and swirl for 5-20 minutes. I prefer oil pulling in the shower, as then I don't notice the time go by. For extra bacterial support, add 1-3 drops of food-grade oregano oil to the coconut oil.

Bicarb Soda

You can easily make homemade toothpaste by combining coconut oil, baking soda, and some peppermint oil. Bicarb soda will also naturally whiten your teeth - just don't apply too much pressure with your toothbrush when using it, as it is gently abrasive.
Activated Charcoal

Did you know that many ancient cultures used charcoal to naturally whiten their teeth and create good oral hygiene? Charcoal binds with toxins and may possibly reduce the bad bacteria that cause decay. It's very important to only use a food-grade, activated charcoal to brush your teeth and rinse your mouth thoroughly afterwards. (A kind warning - this is messy but the results are well worth it!)
Sea Salt Mouth Wash

Wave goodbye to toxic mouthwashes with this cheap, non-toxic and natural alternative! Simply dissolve a couple of teaspoons of sea salt in a glass of warm water then gargle for 20 seconds. Your mouth will feel cleansed, clean and fresh!
What Do YOU Use Instead Of Chemical Toothpastes?
---
If you haven't already, join our free global challenge at www.GetOffTheGluten.com to receive daily recipes & health tips, access to our private group for support and inspiration, plus before and after testing to track your progress in key areas of your life such as weight, sleep, bloating, skin-conditions, mental health and more!
JOIN THE GROUP CHALLENGE STARTS IN: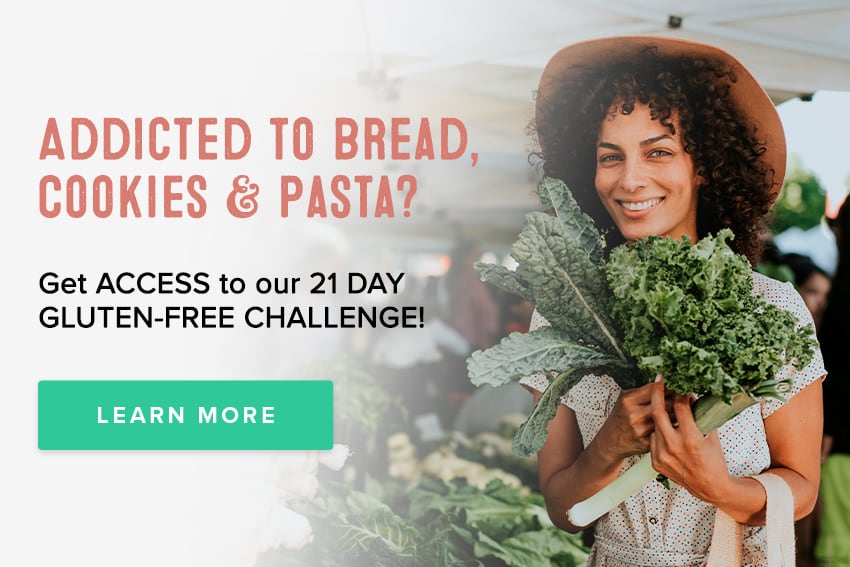 ---