When A Microwave Is Running, You Should Be Too!
Hardly ever is there a human being on Earth who doesn't know that microwave ovens irradiate food, destroy nutrition and are hazardous to your health, but for so many, the convenience of them wins the battle, and you can find a "nuker" (radiation oven) in more than 90% of U.S. homes and in most office "break rooms" across the globe. Having a microwave oven is almost as common place as having a television.

What hardly any person knows is that metals in the body, including in dental fillings, can expand and cause chronic pain and damage, in ways nobody is even thinking about, including doctors. Plus, when those metals expand, they can release toxins into the blood, like mercury. This is worth considering.

Where do you stand when something is cooking in a microwave oven? How close are you to it? Do you wait for say, the last 20 to 30 seconds, right in front of the door, ready to pop it open, as if it's safe as long as the door is closed? Who told you that?

To appreciate the damage that's being done to humans by microwave ovens, one first must understand how microwave ovens actually work, and then you can apply that to the effects on your mercury amalgam dental fillings, your rods, pins, screws and metal plates that repaired broken bones and, of course, pacemakers.
How Microwave Ovens Work And Why You Shouldn't Even Be In The Room...

"Nukers," as many call them, produce microwave radiation that interacts with molecules in food. That wave "energy" changes the polarity of those molecules from positive to negative with each cycle of the wave, at millions of times per second. This severe agitation (and friction) bombards the food and forcefully deforms it. The scientific name for this is "structural isomerism."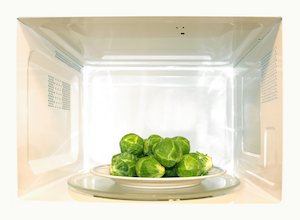 You've heard of radiation from the conventional treatments, especially in the USA, that are given to cancer patients to attempt to destroy cancer cells. Yet, radiation itself is the result of nuclear decay. A microwave oven decays the molecular structure of food, and the packaging of that food leaches toxins into the food, like BPA, and that's just the beginning of the damage being inflicted. Think about what happens outside of that oven, within 10 to 20 feet, to a person's "organic" self, including metals that can expand from those "rays." Do you think the cheap plastic door on your microwave oven is protecting you, containing all of that activity? Do you get headaches and body aches in specific places from "hanging around," waiting for your food to finish being nuked? Does your jaw hurt on the side where you have mercury amalgam fillings? Do your bones and muscles hurt where you've broken them in the past and had reconstructive surgery, especially with metal rods and pins? Maybe you got titanium and you think you're safe. It's time to figure it out!
Aluminum And Silver Expansion

Composite dental fillings often contain acrylate, aluminum, formaldehyde, hexane, polyurethane, strontium, mercury and copper. Aluminum makes the composite filling last longer. These composites bind to the tooth structure. Amalgam is just the generic term applied to the silver-mercury type of filling, which is still very common in 2014. Silver has been used for over 150 years and is inexpensive for dentists to use. The materials alone only cost about one dollar. Your nerve tissue and your kidneys are at high risk from exposure to mercury, which could be releasing from your fillings when the aluminum expands in your teeth while you're camped out next to the running microwave oven. Mercury has been proven to cause brain damage in children and is linked to neurological and gastrointestinal problems, not to mention Alzheimer's disease. Plus, since the 1970s, non-gamma-2 (high copper) fillings release many more times mercury vapor than the older style of amalgam.
Run From The "Nuker"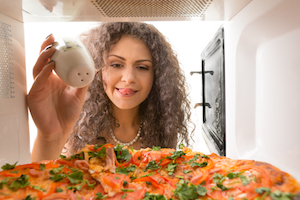 Studies already show that simply brushing and chewing can cause the release of significant amounts of mercury from fillings, so when microwave ovens are expanding your fillings, think about the repercussions. This mercury can build up in the brain, pituitary and adrenal glands, and other parts of the body. Do you have IBS and use a microwave? Does someone you know have Parkinson's disease after having owned and used a microwave oven for years? Are you pregnant and living in a home with a nuker?
Alert! Amalgam Fillings (Mercury) React To Microwave Ovens!

If you have mercury amalgam fillings, have them removed safely by a holistic dentist as soon as possible and replace them with biocompatible materials. There are safe alternatives. Then, throw away the microwave oven; that way, you won't have to run the other direction every time it's running. Remember, rods, pins and steel plates react to microwave ovens, and people with pacemakers should never be even remotely near a radiation oven. Use common sense and heat your food in a safe pot or pan. Trust me, it's worth the wait.
What Are Your Thoughts On This Common Household Appliance? Share Your Thoughts In The Comments Below!
Discover how to lose excess fat from your belly, face & thighs in less than 7 days with this simple ancient practice. Watch the Detox Masterclass here. Playing for a limited time!