10 Quick and Easy Snacks to Grab and Go!
Healthy snacks don't need to be time-consuming or boring. Whip up these nutrient-rich delights in 10 minutes or less!
1. Green Smoothie
Blend 1 banana, 1 cup of nut milk, 1 tsp cinnamon, 1 cup of spinach and 1 tsp of Superfood Greens.

2. Berry Parfait
In a small glass, add organic plain or coconut yoghurt, top with mixed berries and sprinkle with nuts and seeds or homemade granola.
3. Avocado Smash with Carrot Dippers
Mash half an avocado with 1 tsp of lemon juice and a little sea salt and cracked black pepper. Chop carrots into sticks and enjoy!
4. Peanut Goji Crackers
Spread a large flaxseed cracker with some peanut butter and sprinkle with goji berries and shredded coconut. Hunger pangs busted!
5. Papaya Wedges
Slice papaya into wedges, drizzle with lime juice, and serve with a dollop of coconut yogurt. It's a tropical delight!
6. Banana Split
Halve a banana lengthways, fill with a dollop or two of cashew cream, and top with chopped nuts, seeds and your favorite superfoods!
7. Stuffed Dates
Take 2 dates, remove the pit and cut them down one side. Mix ½ tbsp of almond butter with 1 tsp of desiccated coconut. Fill the dates with the mixture.
6. Strawberries & Chocolate Sauce
In a small bowl, combine 1 tbsp of coconut oil with 2-3 tsp of cacao and ¼-½ tbsp of maple syrup. Place in the freezer for 2-5 minutes to firm up slightly. Use fresh strawberries to dip! Tip: It may help if you skewer the top of the strawberry with a toothpick.
9. Cucumber Towers
Cut one large cucumber into approximately 5 pieces. Top with cashew cream cheese and pesto, or try our Beetroot hummus and Basil Spinach Cashew Dips.
10. Berry Ice Cream
For a delicious frozen treat, try our vegan Berry Ice Cream with only two ingredients!

There's so many delicious options available for natural, nourishing snacks. All you need is a little creative thinking and some wonderful fresh produce!
What's your favorite go-to snack when you're in a hurry?
---
If you haven't already, join our free global challenge at www.GetOffTheGluten.com to receive daily recipes & health tips, access to our private group for support and inspiration, plus before and after testing to track your progress in key areas of your life such as weight, sleep, bloating, skin-conditions, mental health and more!
JOIN THE GROUP CHALLENGE STARTS IN: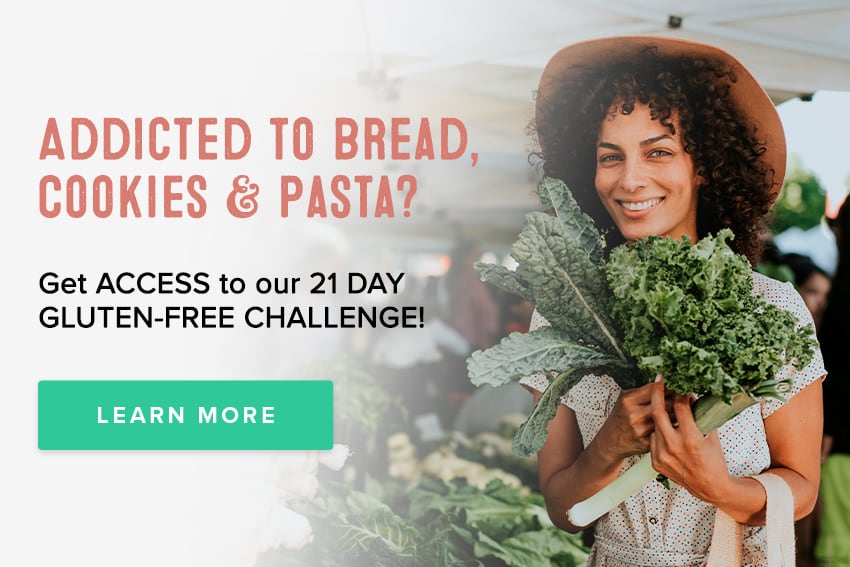 ---