25 Uses For Your Cacao Nib Obsession
There's a reason why we are inclined to throw these delicious and crunchy superfoods into every possible recipe we can think of. Theobroma cacao became "food of the gods" after we figured out a way to extract the beans from their pod and make them edible. By drying, fermenting, and other forms of processing, we've created a crave-worthy, complexly-flavored, and deliciously bitter substance we refer to as chocolate.
This little bean was transformed into the famed aphrodisiac, mood-elevating, cholesterol-lowering, antioxidant-rich superfood we know and love today. Containing over 300 different compounds including: antioxidants, phytochemicals, mood-enhancing phenethylamine (PEA), amino acids, essential fatty acids, iron, magnesium, calcium, along with a host of other vitamins and minerals, pure cacao beans and nibs are potent superfoods with huge benefit, and it's in this pure, fermented form that they maintain their nutritional integrity. With that in mind, here are 25 ways to incorporate this prized superfood in the form of the versatile cacao nibs you may not have tried yet.
25 Uses For Cacao Nibs:
Blend a couple tablespoons in with your smoothie for an antioxidant boost and rich chocolate flavor.
Use in place of chocolate chips in recipes for a sugar-free and nutrient-rich alternative.
Process nibs even further. Think nut butters to create a rich and smooth chocolate spread.
Add to ice creams for a chocolate crunch, like mint chip.
Add to granolas for additional crunch and flavor.
Add to overnight oats or chia pudding.
Create your own chocolate extract by adding nibs to vodka or brandy for a few months to extract flavor.
Add to fudge recipes for an extra crunch.
Grind finely to add to bath scrubs to exfoliate, stimulate and tighten skin.
Throw into trail mixes for a boost of energy.
Incorporate into savory stews and chilis.
Try flavoring your own DIY kombucha.
Blend them into savory sauces to add depth and flavor – think moles.
Grind finely to rim the glass of a seasonal cocktail.
Add to your morning brew to create a café mocha.
Add to pancakes or muffins instead of chocolate chips.
Candy nibs with coconut sugar for a sweet chocolate treat.
Top icing or whipped cream for texture and a pop of flavor.
Swirl into peanut or other nut butters with a drizzle of honey for a simple, high protein snack.
Blend and add to red meat or poultry marinades.
Create your own guilt-free cacao nut milks or hot chocolate.
Blend and incorporate into raw nut crusts for pies and cakes.
Blend into savory BBQ sauces.
Blend with dates and avocado for an all natural and raw icing or pudding.
Last but not least, straight out of the bag. One ounce provides 9 grams of dietary fiber, 4 grams of protein, and a substantial portion of the daily recommended allowance for iron and magnesium.
Share With Us Below How You Like To Enjoy Cacao Nibs!
Do you have a passion for nutrition & natural healing?. Learn more about the Food Matters Nutrition Certification  Program here.
ENROLLMENT & BONUSES CLOSE IN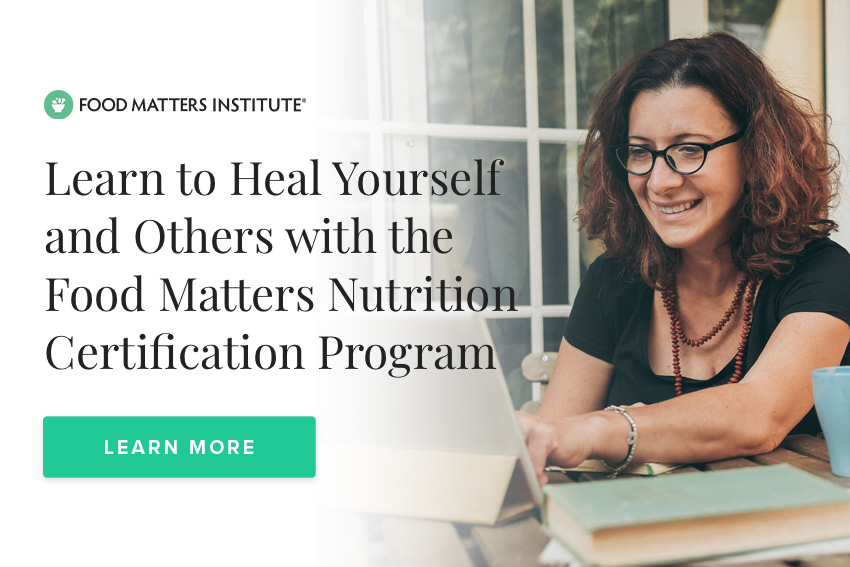 ---