5 Of The Best Drinks For Your Health
As our bodies are made of up to 80% water, it's critical that we get enough during the day to function properly! Water is a great foundation, but our top 5 drinks combine hydration with added health benefits!
1. Lemon Water
Waking up to a glass of warm water with fresh lemon aids digestion and supports natural detoxification by helping the bowel to flush out waste more efficiently. It also provides a gentle immune system boost with vitamin C, and helps to freshen your breath by acting as a natural antiseptic killing off bad bacteria in the mouth. Sayonara chemical-laden mouthwash!
2. Herbal Tea
Drinking herbs and spices in tea not only helps to cut down on caffeine, it boosts your nutrient intake! There are so many amazing herbs with all kinds of health benefits including antibacterial, antiviral, immune-strengthening, energy-boosting or calming properties. Many are rich sources of antioxidants fighting free radical damage in the body too! Each herb has unique health benefits but we love peppermint, lemongrass and ginger for settling the tummy; chamomile to calm, and lemon myrtle, spearmint, turmeric and cinnamon to ward off cold and flu symptoms. It's medicine in a teacup!
3. Kombucha
A fermented tea beverage rich in probiotics. Consuming a delicious glass of kombucha each day comes with a myriad of benefits! The natural healthy bacteria in kombucha helps to aid digestion, fight candida overgrowth, manage bloating, and due to the gut-brain link, even improve mental clarity and help stabilize your mood! Add in turmeric or ginger for even more gut soothing, anti-inflammatory benefits!
4. Green Juice
A cold-pressed green juice is the quickest way you can load your body with easily absorbed nutrients that your body's cells crave. Rich in phytonutrients that nourish your body, naturally energize, support detoxification and cleanse your body. It all comes down to what you put in the blend! Our general guide is 3-4 vegetables per 1 piece of fruit to make sure you're not just getting a sugar rush. We love kale, cucumber, zucchini, celery, spinach, and broccoli thrown into our mixes!
5. Coconut Water
Coconut water is nature's natural rehydration drink. It's an isotonic beverage providing the electrolytes calcium, magnesium, phosphorus, sodium and potassium. Pure coconut water has no artificial additives or sweeteners and is low in naturally occurring sugars. It also contains a variety of vitamins and minerals including zinc, selenium, iodine, sulfur, manganese, boron, molybdenum, ascorbic acid and B-group vitamins! Perfect post-workout, or for rehydrating anytime of day!


Discover the 16 Health Benefits of Drinking Lemon Water!

10 Herbal Teas We Love as Healers and Stress Relievers!



What's Your Favorite Way To Enjoy These Healthy Drinks?
Take the stress out of cooking with 21-days of guided meal plans, shopping lists, and nutrition support. You'll find all of this, and more, in our signature Clean Eating Program.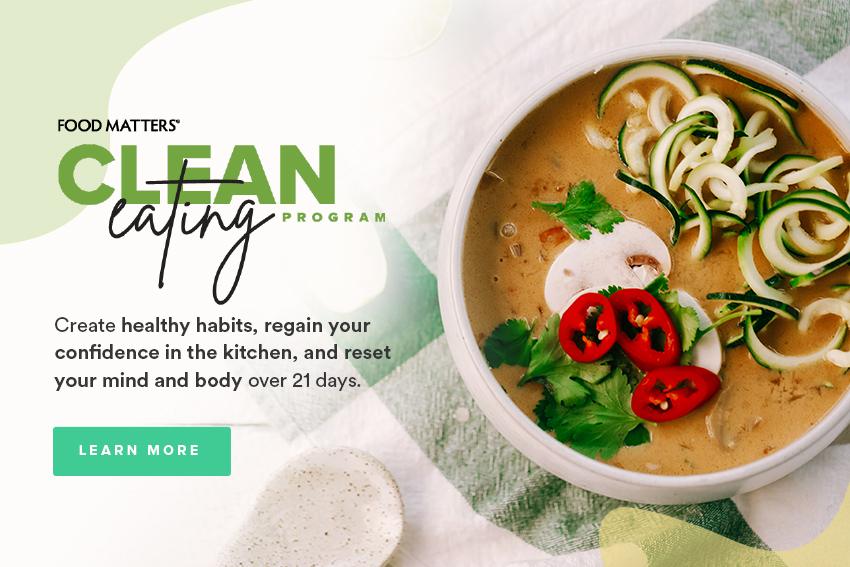 ---