6 Foods You Should Add To Your Smoothie (That Aren't Green!)
Short on time, but still want to pack nourishing, healthy foods into your day? Making a smoothie is one of the fastest ways to get an array of healthy ingredients into one meal, with little preparation required and little clean up involved. We'll let you in on a secret; smoothies don't always have to be green to be nutrient dense. The sky is the limit when it comes to smoothie flavour combinations, but here are 6 nutrient dense ingredients we love adding to our non-green smoothies.
Ginger
What makes ginger so good for us? Well ginger contains potent antioxidant and anti-inflammatory components and its rich in potassium, magnesium and phosphorus. Ginger is an effective digestive aid and a natural remedy for nausea, bloating, constipation and other gastrointestinal disorders. By adding fresh or powdered ginger to your smoothie, it will help to curb these stomach disorders. Why not try and orange and ginger combination for your next smoothie.
Turmeric is a natural source of curcumin which has potent anti-inflammatory properties. Turmeric also contains antioxidants which help to neutralise free radicals in the body, it's antibacterial, it assists with liver problems and digestive issues, and it contains manganese, iron and copper (to help the body use iron) and potassium to aid in fluid and electrolyte balance. Try mango and turmeric together for a delicious, nourishing smoothy.
Cinnamon has been used for thousands of years as a medicinal spice. Cinnamon was, and still is used to treat colds, sugar metabolism, digestion, high cholesterol and can also be used in both sweet and savoury foods. Cinnamon contains Vit K, iron, calcium, manganese and antioxidants. We love banana and cinnamon smoothy's.
Chia seeds have a significant amount of protein, Omega 3's, vitamins, and minerals such as calcium, iron and antioxidants. Chia seeds are also packed with fibre which absorbs liquid and makes your smoothy thicker when adding a couple Tablespoons to it, or even more if you want to make a chia pudding. This will help to stabilise your blood sugar levels, reduce inflammation, prevent cravings, improve digestion, relieve constipation and increase your energy. Try any seasonal fruit with chia seeds as they have a mild taste and absorb the flavour of whatever they're combined with.
Camu Camu Powder
Camu Camu is packed with 460x more Vitamin C than an orange. Vitamin C is linked to increasing immunity and protection against viruses to help your body fight off colds and flu's to improve your skin, energy and mood. Camu Camu is also packed full of bioflavonoids, amino acids, B Vitamins and is bound with other micro and macro nutrients. Add ½ - 1 teaspoon to your smoothie to achieve that perfect combination of tart and sweet and to get the many health benefits. Try a berry and camu camu flavour combination for your next smoothie, it's seriously delicious.
The health benefits of all parts of a coconut are incredibly far reaching. Coconut oil has been shown to have antibiotic, anti-inflammatory, antiparasitic, antibacterial, antifungal and antiseptic properties. Coconut oil also has medium chain fatty acids which support healthy metabolic function by speeding up metabolism and prevent the formation of fat. Add a Tablespoon to your morning smoothie to enjoy a subtle coconut flavour, this will help to keep you satiated for longer, keep your blood sugar levels stable, curb sugar cravings as well as many other health benefits.
So there you go, 6 ingredients we love adding to our smoothy's to add a nutritional punch to our morning meal or snack. Get as creative as you like with your flavour combinations and enjoy!
Discover how to eat your medicine to heal your gut, eliminate bloating, skin issues and hair loss as I share seven nutrition principles in this free masterclass. Running for a limited time only.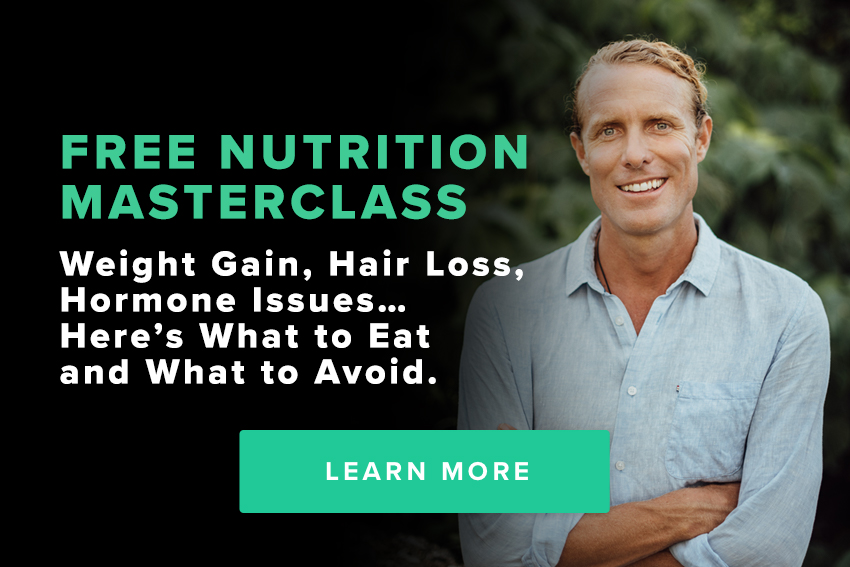 ---