Anti-Aging Benefits of Bone Broth
Aging gracefully is something many of us hope for, am I right? We want to ward off those fine lines and wrinkles for as long as possible. We spend a fortune on the latest beauty secret to try to reduce sagging skin and restore a youthful glow. When our hair begins to thin or fall limp and lifeless, we pay big bucks for a solution that will conceal it, color it, and lift it.
So, what if I told you that your best defense against the signs of aging is natural, delicious, and ridiculously easy?
Bone Broth: Your Skin's Best Friend
In case you haven't heard, bone broth offers cleansing, soothing, and healing benefits for your entire body. It even can heal inflammation in your gut and decrease the pain in your joints. But it doesn't stop there. Bone broth contains the essentials your skin needs to restore elasticity, radiance, and hydration. It revives your hair's luster and beautiful bounce. By adding bone broth to your beauty regimen, you take a giant leap towards fighting off and diminishing the signs of aging that have tried to take over.
Bone Broth's Secret Weapon
The natural production of collagen begins to slow in our twenties (yep, I said twenties), leading to wrinkles, sagging, and that dreaded cellulite. The good news is, bone broth is packed full of collagen, that magical weapon that maintains your skin's elasticity. By adding bone broth to your diet, you begin to flood your system with the essential building blocks of collagen and support the health and youthfulness of your skin. When you provide your cells with collagen, you arm them with the power they need to blast away wrinkles, soothe acne-causing inflammation, and breathe life back into dull skin tone. Bone broth delivers these wrinkle-fighting doses of collagen directly to your skin cells. Your skin regains its firm, gorgeous state through safe, natural, and incredibly effective means. No needles necessary here!
Bone Broth Results You Just Can't Deny
Add in a variety of powerhouse veggies, modify to your Keto or Vegan lifestyle, or include bone broth in a variety of your usual recipes. Your skin will take on a whole new look in a matter of days. That's how robust this nutrient-rich bone broth is. Soon, you'll notice a smoother texture and hydrated, brightened tone returning to your skin. You'll be amazed by your reflection as your skin returns to its supple, youthful state, and wonder why you didn't opt for this natural Botox effect sooner. As your skin cells fill with vitamins and nutrients, those lumpy areas of unwanted cellulite, we try so hard to hide will begin to vanish. Skin irritations and discolorations, including eczema, and rosacea, will start to fade as inflammation throughout your body begins to heal. All I can say is, get ready to welcome your sexy, confident self back!
Who knew that fighting the signs of aging could be both tasty and fast-acting? It really makes you stop and reflect on how many countless hours and dollars you've spent trying to rid your skin of the fine lines and tired bags under your eyes.
By merely adding bone broth or committing to a collagen-rich 5-day cleanse, you can reclaim control over your skin's health and ward off future signs of aging with ease!
New to making bone broth? Check out our beginner's guide to making your own!
---
If you haven't already, join our free global challenge at www.GetOffTheGluten.com to receive daily recipes & health tips, access to our private group for support and inspiration, plus before and after testing to track your progress in key areas of your life such as weight, sleep, bloating, skin-conditions, mental health and more!
JOIN THE GROUP CHALLENGE STARTS IN: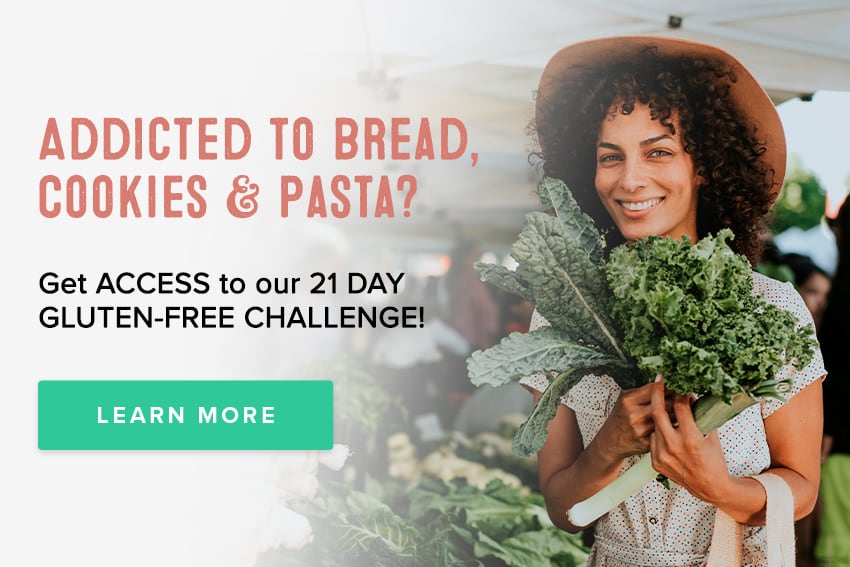 ---