Berries In Apple Cider Vinegar With Cashew Nut Cream
This breakfast bowl of deliciousness is perfection and by happy co-incidence it also makes a wonderful dessert. Whip it out at a sunny Sunday brunch.

Simple and understated, the addition of apple cider vinegar ensures the perfect collision of ingredients in a spectacular balancing act of flavours.

Scoop it up by the spoonful, knowing with every bite you are treating not just yourself but your body to a meal that's scrumptious yet secretly saintly.

Berries in Apple Cider Vinegar with Cashew Nut Cream
Serves Two

Ingredients
440 g (151/2 oz/2 cups) fresh berries
2 teaspoons apple cider vinegar
45 g (11/2 oz/1/3 cup) slivered almonds
Cashew Nut Cream
Ingredients:
155 g (51/2 oz/1 cup) raw cashew nuts
170 ml (2/3 cup) filtered water
8 drops stevia liquid
1 teaspoon alcohol-free vanilla essence (optional)
Method
1. To make the cashew nut cream, place all the ingredients in a food processor and whizz until smooth and creamy.

2. Add a little water if the mixture isn't smooth. Divide the berries between two small bowls.

3. Pour 2 teaspoons of apple cider vinegar over each, top with slivered almonds and cashew nut cream, and serve.





Supercharged Tip: Make the cashew nut cream the night before. It can be stored in the fridge in a covered container for up to one week. You can substitute the same quantity of almonds, sunflower seeds, macadamias or hazelnuts for the cashews.

For more delicious anti-inflammatory recipes, checkout Lee's new book Eat Yourself Beautiful!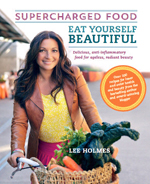 Lee Holmes is a mum on a mission, author of Supercharged Food and Supercharged Food for Kids and founder of www.superchargedfood.com an altruistic website to help people expand their range of healthy food choices and plan ahead to create and maintain a satisfying, wholesome and nourishing diet. Lee is a Certified Health Coach (Institute of Integrative Nutrition) and Whole Foods Chef. She created a petition to improve food in hospitals in Australia and as a result a healthier menu has been introduced by the Minister for Health. In addition to passionately creating change at government and policy level, Lee recently won the title of Health Influencer Blog of the Year. Lee's favorite recipe is Smashed Sardines and Avocado on Chia and Flaxseed Loaf.
Do you have a passion for nutrition & natural healing?. Learn more about the Food Matters Nutrition Certification  Program here.
ENROLLMENT & BONUSES CLOSE IN