The Books That Changed Our Life
If you're a bookworm like me, you'll no doubt have been using your time at home to plow through the pile of half-started and abandoned, dog-eared novels on your nightstand and you'll be ready for something new. You've had your nose tucked into all The New York Times Bestsellers and you've embodied every self-help book you've set your eyes on. We're a literary bunch at Food Matters who love a lifechanging read, so I asked the team to share a few of their bibles.
"A transformational must-read for diminishing ego, working with spirit and being present in the power of now." - Daniel Brunet, Web Developer
"Ahh, Daniel you got to it first. I was always thinking too much, seeking, wanting, wishing too much. It changed my perspective on what I thought was anxiety to realize that my ego was just getting in the way! In fact, I don't search for happiness anymore… I could go on and on…" - Nadine Brown, Customer Service Manager
"Beautiful Nadine. You're onto it! I had A New Earth on my bookshelf since about 2007 or something when The Power of Now really took off and just didn't really go deep with it at the time. I then picked it up to give it another try last year and it has been a huge eye-opener for me - the teacher will appear when the student is ready, right?" - Daniel Brunet, Web Developer
"It's definitely a worthwhile read and life-changing. It's about life priorities, positivity and genuinely connecting with people to gain happiness as opposed to trying to climb the corporate ladder. I recommend to everyone." - Steph Kennerson, Designer & Developer
"Big Magic reframed the idea of creativity for me and spoke of ideas as these magical thoughts flying around the world waiting for the right time to land. If the landing is 'missed' it'll move on to the next best person who's open and ready for landing." - Tessa Vale, Marketing & Communications Manager
"It was one of the first nutrition books I read - it really summed up how we as a society overcomplicate health. How we just need to get back to basics, use our common sense, and find food and eat food available in abundance to us and where we live. It also introduced me to the work of Michael Pollan, who explained the idea of fresh over-processed foods in a scientific, but succinct way that confirmed all my scattered thoughts around how one should eat. A reaffirming read if you're lost in the wormhole of nutrition advice in the 21st century." - Ivette Rieksts, Social Media & Content Curation
"For me, it taught me how something as simple as de-cluttering my home helped not only simplify the way I lived, but it also gave me a lot of mental clarity." - Grace Mora, Head of Content & Acquisitions
"This book changed the way I make decisions in my life. Understanding what is actually essential in my life and what really isn't was a big step forward. I now make decisions based on what is truly essential to me and the life I want to live." - Nicky Thompson, Online Advertising Coordinator
"It helped to shift my money mindset and helped me figure out more about myself and what drives me in my life, even in the smallest ways. I had so many beliefs about how to lead, how to earn more money, & what success should be, it helped me shift all of that." - Rachel Morrow, Content Marketing Manager
"Okay, I know this isn't technically a book, but if there's one piece of prose that has shaped my life it's definitely this. It was my grandad's favorite poem, our dean read it to the school at my high school graduation, and it was the piece I chose to perform to obtain my ATCL in Speech & Drama. It's been a constant in my life and that's no surprise, the poem is literally hundreds of years old. It's so wise and timeless, the flow and rhythm weave together the story, and it has been a piece of divine moral guidance I always come back to, in good times and bad. It has taught me calm, kindness, reflection, and the simplicity of existence." - Tessa Patrick, Writer & Communications Support
Sometimes it's easy to fall into the trap of negative emotions and thinking. During times like these, it may seem our possibilities, potential and power to make things happen is somehow limited. Faced with unprecedented changes to our world and daily lives, we can lose our mindset and motivation if we're not careful. That's why it's more important than ever to recognize and actively work on the greatest asset we have, our brain - and our ability to focus, learn, remember, adapt and perform in uncertain times. Author Jim Kwik is the world's elite trainer when it comes to your brain. His new book (his first ever) is Limitless: Upgrade Your Brain, Learn Anything Faster, and Unlock Your Exceptional Life. This book is an owner's manual for your best brain. Improve your brain and your mind (and everything else) will follow!
What books have changed your life and why? Let us know in the comments below...
---
If you haven't already, join our free global challenge at www.GetOffTheGluten.com to receive daily recipes & health tips, access to our private group for support and inspiration, plus before and after testing to track your progress in key areas of your life such as weight, sleep, bloating, skin-conditions, mental health and more!
JOIN THE GROUP CHALLENGE STARTS IN: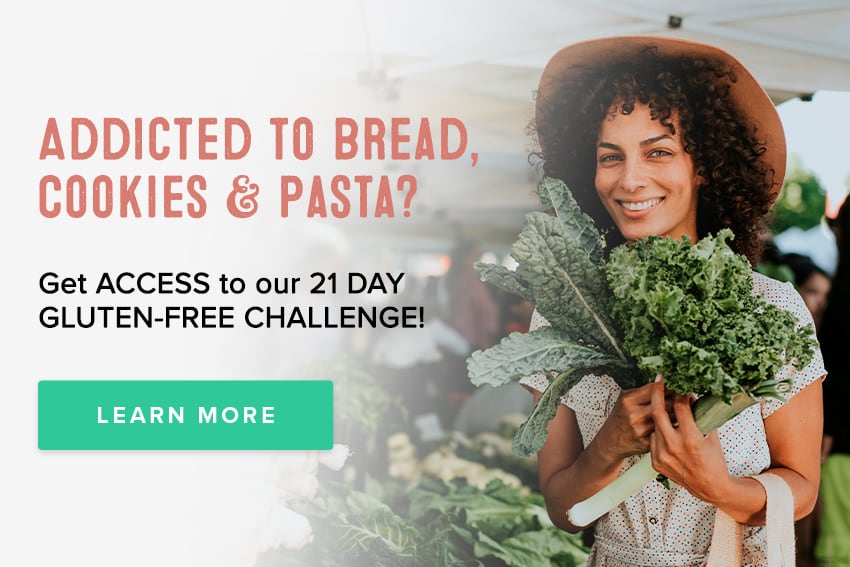 ---