Breaking News: Monsanto Weedkiller Roundup Was 'Substantial Factor' in Causing Man's Cancer
A jury has unanimously determined that Roundup Weedkiller is responsible for causing cancer. This time in Federal court, it sets a precedent for thousands of more cases like this that have yet to be heard.
Edwin Hardeman of Santa Rosa, California, was the first person to challenge Monsanto's Roundup in a federal trial and alleged that his exposure to Roundup caused him to develop non-Hodgkin's lymphoma (NHL), a cancer that affects the immune system. The jury has yet to award damages.
During the trial, the 70-year-old Santa Rosa man testified that he had sprayed the herbicide for nearly three decades and at one time got it on his skin before he was diagnosed with cancer. He used the chemical to control weeds and poison oak on his properties, starting in 1986.
Monsanto has continued to argue that Roundup is safe to use and does not cause NHL.
Even though the World Health Organization's International Agency for Research on Cancer deemed glyphosate a probable carcinogenic to humans, Roundup has NOT been banned.
This chemical continues to be used on food crops, parks, playgrounds, and by homeowners everywhere. It is now so rampant in our environment that it's found in honey, cereals, meat, drinking water, breast milk, infant formula, chips, cookies, air samples… the list goes on.
How can you protect yourself?
The best way to protect yourself right now is to choose organic food because Roundup is prohibited on organic crops. Although contamination is a real threat, the levels on organic foods are minimal compared to what's been found on conventional foods. It's been shown that people who eat organic foods have less glyphosate and other synthetic pesticides in their system.
How much longer do you think Roundup will be allowed on the market? Tell me your opinion in the comments!
Read the full article from The Guardian here.
---
If you haven't already, join our free global challenge at www.GetOffTheGluten.com to receive daily recipes & health tips, access to our private group for support and inspiration, plus before and after testing to track your progress in key areas of your life such as weight, sleep, bloating, skin-conditions, mental health and more!
JOIN THE GROUP CHALLENGE STARTS IN: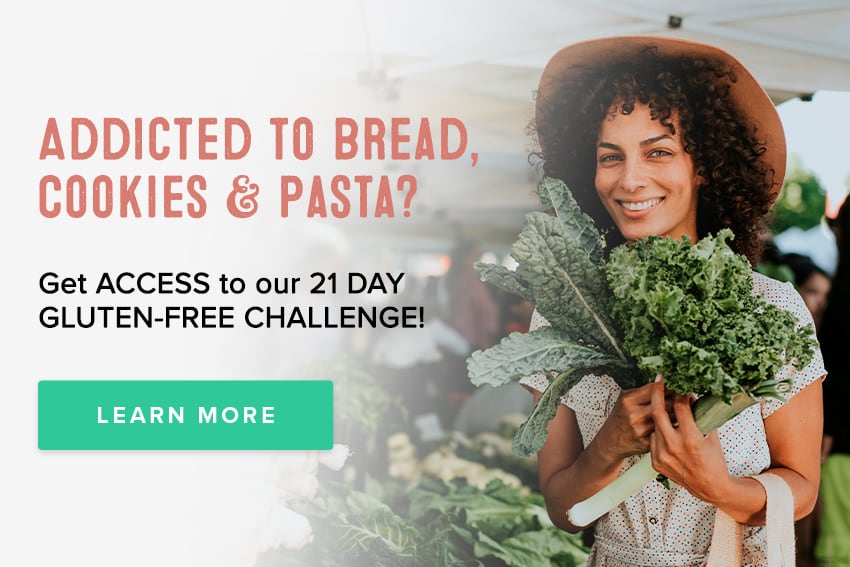 ---