Can You Reverse Diabetes In 30 Days?
World Diabetes Day - 14 November, 2009

Typically what happens on World Diabetes Day is that you are encouraged to wear blue and contribute to helping companies find a cure for Diabetes. While the majority of the people involved in this campaign no doubt have good intentions and want to make a difference, statistics prove that their approach simply isn't working.

Here are some quotes from World Diabetes Day organizers:


"Our purpose is to help all people affected by diabetes and those at risk
and to contribute to the search for a cure." - Diabetes Australia


"marks the birthday of Frederick Banting... who was was instrumental in the discovery
of insulin... a life-saving treatment for diabetes patients." - WHO Website

These are the companies behind the global promotion:



Should we really be trusting these companies with our money and health?

What seems strange to us is that these organizations are raising money for a disease for which there is already a cure. To us here at Food Matters this does not make much sense and so for our version of 'World Diabetes Day' we are offering a film which shows you how you can reverse Diabetes naturally without relying on the pharmaceutical industry.


Here Is Our Take on World Diabetes Day
"Not only is type 2 diabetes completely preventable, but it is virtually curable
for anyone who is willing to put in the hard time and work..."
- Dr Joseph Mercola

It's clear that we are in the midst of a diabetes epidemic. Nearly 20 million people in the US have type 2 diabetes and another 45 million have pre-diabetes. More than 50% are not even aware that they have this disease that can rob them of some of the most enjoyable years of their life.


So how You Can "Cure" Type 2 Diabetes Inexpensively? Start by watching this film.


Simply Raw: Reversing Diabetes in 30 Days is an independent documentary film that chronicles six Americans with diabetes (one with Type 1) who switch to a diet consisting entirely of vegan, organic, uncooked food in order to reverse disease without pharmaceutical medication.

These stories and resources can help you permanently remove the devastating consequences of diabetes. Please understand that these are simple inexpensive lifestyle adjustments that do not require costly medications. You will also see that David Wolfe, who featured in Food Matters, also appears in the film.


What is covered in the film:
The basics to reversing Diabetes

The benefits of eating organic raw foods for your body and mind
How to get off insulin using this type of diet
The science behind raw food nutrition from some of the Nations leading doctors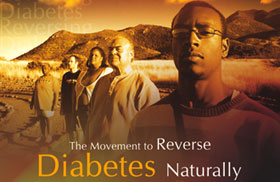 Simply Raw reveals, with startling clarity, that diet can reverse diabetes and change the quality of people's lives. The film captures the human drama and struggle of these courageous individuals making a quantum leap of faith from a traditional junk food diet to a raw vegan diet and it shows revealing moments of nurturing, compassion, and human spirit.


Additional wisdom is provided throughout the film by Morgan Spurlock, Woody Harrelson, Anthony Robbins, Rev. Michael Beckwith, and Doctors Fred Bisci, Joel Furman, and Gabriel Cousens.
---
Related Products


{module_webapps,5354,i,270145}{module_webapps,5354,i,612805}{module_webapps,5354,i,291934}
---