Clean Beauty Products We Can't Live Without
Our skin is our body's largest organ. It protects us from damage and bears the brunt of the outer world. At Food Matters, we're all about nourishing our inner self, so the same should apply for the outer self too. Much like our diets, a step away from harsh chemicals and in-organic ingredients is needed to give our skin the royal treatment it deserves. Thankfully, natural alternatives in skincare are plentiful and readily available, so we've done the lovely but lengthy job of testing the masses and letting you know our must-have clean beauty products that we can't live without.
1. Aloe Herb Cleanser
Like anything in life, you have to start with a good foundation. Cleansing forms the basis of all miraculous skincare routines, and the wrong cleanser can send you down a slippery slope - no matter how nourishing the rest of your routine is. Regardless of your skin type, opting for a gentle cleanser will work wonders for every beautiful face. Annmarie Gianni's Aloe Herb Cleanser is a pH-balanced, aloe vera-based cream cleanser, designed to lift oils and gently remove makeup. Calendula, lemon and coconut oils, aloe vera.... the soft product is infused with beautifying herbs and a light blend of natural oils containing essential fatty acids, to keep your skin naturally hydrated and leave it feeling nourished, plump, and refreshingly clean.
2. Anti-Aging Serum
We love to feel beautiful in the skin we're born in while treating it to a life of nourished longevity. Annmarie's Anti-Aging Serum is a delightful blend of active nutrients to firm and tightens skin. While the hyaluronic acid (from a non-GMO vegetable source) hydrates, the buddleja davidii and edelweiss extracts protect skin from the environmental stressors of day-to-day life. Life everlasting flowers are an abundant source of high-quality fatty acids to soothe and refresh. The gentle addition of a fragrant rose oil soothes redness and the soft aromas bring harmony to mind, body, and spirit.
3. Kaolin Micro-Exfoliant
Sometimes our faces need that extra push to make way for greatness. By removing the top layer of dead skin cells, we make way for new skin cells to refresh and rejuvenate our complexion. Like servicing a car or doing a juice cleanse, a good exfoliation is a way for your skin to stop, check-in, and deal with any problems that may be arising. There are different types of exfoliants for everyone, but we love Annmarie's Kaolin Micro-Exfoliant. The formula is gentle enough for the most sensitive skin types and the blend of diatomaceous earth and kaolin green clay exfoliate, cleanse, and smooth skin to replenish minerals and remove any impurities. This is the treatment to start anew.
4. Anti-Aging Facial Oil
From time-to-time, we need a little extra to give our skin a wholesome top-up. Oils are a lovely way to treat our faces to a rich treatment of nutrients and restoration. Annmarie's Anti-Aging Facial Oil is one of our must-haves for skins of all ages. This luxurious formula keeps skin supple and dewy thanks to the blend of chia, goji berry, and broccoli oils, also preventing the formation of fine lines. Jojoba oil softens and conditions and plantago soothe dryness, tones, and comforts. The perfect harmony for the skin you feel at home in.
Annmarie Skin Care is offering the Food Matters community the opportunity to get radiant skin in just 7 days. For $9.99 USD, this limited edition kit offers a travel-sized Aloe Herb Cleanser and Anti-Aging Serum, with Kaolin Micro-Exfoliant and Anti-Aging Facial Oil samples. Step into your greatest skin yet, today >>
Free shipping applies to U.S. and Canadian addresses only.
---
If you haven't already, join our free global challenge at www.GetOffTheGluten.com to receive daily recipes & health tips, access to our private group for support and inspiration, plus before and after testing to track your progress in key areas of your life such as weight, sleep, bloating, skin-conditions, mental health and more!
JOIN THE GROUP CHALLENGE STARTS IN: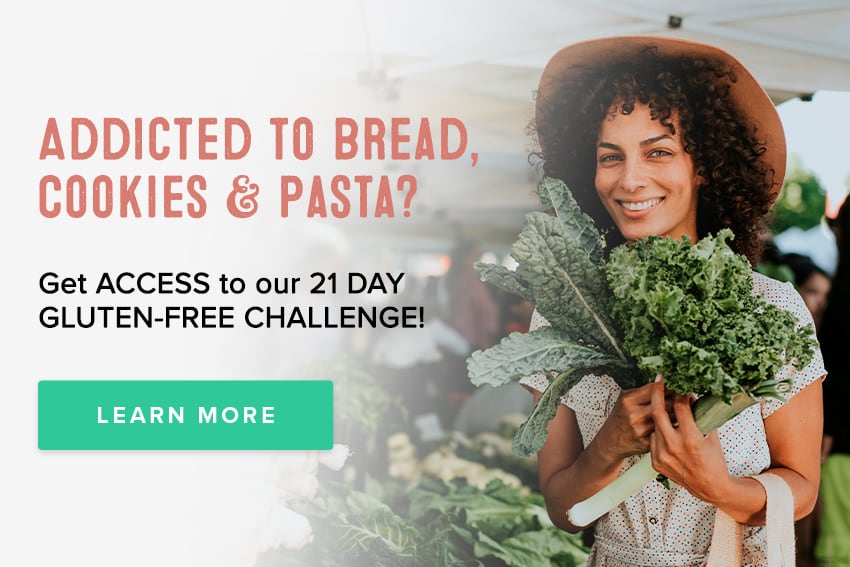 ---