How to make a Low FODMAP meal
If you've arrived at this article, you're most likely following or thinking about following a low-FODMAP diet to help ease your symptoms of Irritable Bowel Syndrome (IBS). The good news is, you may benefit from more than just easing uncomfortable and anxiety-ridden symptoms. You will be eating more whole foods and less processed or prepared foods, which could mean an even healthier you!
If a whole foods diet is not part of your health regimen now, call it luck that you're following the low-FODMAP diet. Why? Now you will need to avoid many processed foods that are high in FODMAPs. You can have gluten-free products as long as they do not include high-FODMAPs, but consider adding as many whole foods into your diet as possible. Instead of focusing on what you can't have anymore, use your new dietary needs as a way to make positive changes to how you nourish your body!
Choose low-FODMAP and organic vegetables, fruits, nuts, seeds, meat, fish, organic, unsweetened and pasture-raised dairy and lactose-free dairy, plus healthy fats. Make it your new commitment to cooking and prepping your own nutritious meals.
A Brief Overview Of FODMAPS
The FODMAPs acronym stands for Fermentable Oligosaccharides, Disaccharides, Monosaccharides and Polyols. Learn more about the diet here.
FODMAPs, Good and Bad
After you've completed all phases of the diet, you may be able to enjoy some FODMAPs that are actually good for you. As long as the following foods are not found to be triggering your symptoms of IBS, you can enjoy their prebiotic benefits: asparagus, garlic, Jerusalem artichoke and leeks are just a few examples. Examples of FODMAPs that are not nutritious are Polyols found in sugar-free products; and high fructose corn syrup (HFCS), found in many processed foods such as condiments, candies, cakes, cookies, cereals, cream sauces, sodas, cough syrups, sports drinks and more.
How to Make a Whole Low-FODMAP Meal
Oftentimes, we are so busy that the thought of preparing a meal seems like a huge, tiring task. And if you are also following the low-FODMAP diet or any elimination diet, it can be overwhelming knowing what to make. Below is a guide I like to use when educating clients on how to build a nutritious low-FODMAP meal. Just pick and choose the ingredients from each category that you like best and you'll be on your way to a satisfying and flavorful meal. I've also listed recipes for dressings, marinades and dipping sauces. The possibilities for meals are truly endless.
The list of "Low-FODMAP Whole Foods" below does not include all the low-FODMAP foods you can enjoy. A full list of low-FODMAP foods can be found here as well as on the Monash FODMAP and FODMAP Friendly Apps.
Quick Tips
1. Remember to stick to one low-FODMAP serving of fruit per meal.
2. If you are going to buy something packaged or prepared, take your time to properly read labels to make sure no high-FODMAP ingredients have been used.
3. Follow serving size suggestions as larger serving sizes make some foods become moderate or high in FODMAPs. The other reason for serving sizes is to ensure you have a balanced plate!
4. Add in some stress relief – taking a dietary approach to minimizing symptoms of IBS is key, as are activities that can help soothe your nervous system and gut.
Low-FODMAP Meal Ideas
Here are some examples on how I quickly put together meal ideas from the below list of Low-FODMAP Whole Foods:
Baked chicken + 2 cups spinach sautéed with + garlic-infused olive oil + over quinoa flavored with + lemon juice, rosemary and thyme
Baked tofu + bok choy sautéed in + soy sauce + and sesame oil over + brown rice
Grilled/Baked Fish topped with + chopped pineapple + small low-FODMAP salad + quinoa
Pork chops + toasted buckwheat + roasted carrots
Salad – lentils + swiss chard + feta or goat cheese + extra virgin olive oil + pepper + salt
Salad - buckwheat + red bell pepper + shredded carrots + broccoli florets + chopped walnuts + cumin + fresh cilantro + lime juice + olive oil + rice wine vinegar
Bowl – cooked millet + grilled tempeh + chopped bell pepper + spinach + marinade (see below)
Breakfast – 3/4 cup raw buckwheat groats, soaked overnight, drained, and rinsed. Then pulsed in food processor with + ½ can coconut milk + 1 tbsp maple syrup + ½ tsp cinnamon + ½ tbsp flaxseeds + ½ tsp vanilla extract + dash sea salt. Process until mixture has a smooth consistency. Top with + ½ ripe banana, slivered + 10 blueberries
Breakfast – omelet + Swiss chard + red bell pepper + cheddar cheese
Side - Quinoa + pine nuts roasted with + extra-virgin olive oil + dash of asafetida powder + pepper + salt
Roll up – collard green wrap + tofu + shredded carrots + bean sprouts + avocado + see dressing recipe below
Roll up – wrap a nori sheet with + smoked salmon + avocado + cucumbers + shredded carrots + plus tahini dressing below
Smoothie – 5 medium frozen strawberries + ½ medium frozen ripe banana, peeled + 1 tbsp peanut butter + 2 tsp chia seeds + small tub lactose-free yogurt + ½ cup ice
Salad – romaine + papaya + macadamia nuts + goat cheese (choose dressing below)
Dressings, Dipping Sauces:
Salad/quinoa bowl dressing -1 tbsp each - olive oil + rice wine vinegar + maple syrup
Salad/quinoa bowl dressing - 1 tbsp olive oil + oregano + rosemary + thyme + salt + pepper
Salad/quinoa bowl dressing - 1/8 cup maple syrup + 1 ½ tbsp apple cider vinegar + 1 tbsp lemon juice + 1/2 tsp lemon zest + 1/8 tsp salt + 1/4 cup extra virgin olive oil + 1/4 cup coconut oil, heated just until liquid (5 servings)
Tahini dressing – 1 tbsp tahini + 1 tbsp fresh lemon juice + 1 tbsp extra virgin olive oil + ¼ tsp ground turmeric + 8 tsp cayenne pepper + dash sea salt and freshly ground black pepper
Collard wrap dressing or dipping sauce – 1/3 cup creamy natural peanut butter + 1/3 cup water + 1 ½ tbsp soy sauce + green tips of spring onions + 3 tbsp maple syrup + 3 tbsp lemon or lime juice (heated in pot, stir until smooth) (6 servings)
Marinade - 1 tbsp tahini, ¼ cup canned coconut milk, ½ tsp curry, ¼ tsp cayenne, ¼ tsp ground ginger, 2 tsp maple syrup, 1 tsp miso paste
For all recipe ideas above, where not noted, please see low-FODMAP foods below or my list
Low-FODMAP Whole Foods
Easily make a salad, a bowl, stir fry, an omelet or other meal combinations by picking and choosing the low-FODMAP foods you like best below: and use the appropriate servings listed.
Choose Your Protein
Poultry
Pork
Beef
Fatty fish (healthy fats)
Eggs
Vegan/Vegetarian protein options
Tofu
Tempeh
Buckwheat groats
Polenta
Quinoa
Choose Your Vegetables &/Or Fruit
Bean sprouts (1/2 cup)
Bell pepper, red or green (1/2 cup)
Bok choy (1 cup)
Broccoli (stick to a 1/2 cup)
Carrots (1 medium)
Collard greens (1 cup chopped) *Use as a wrap to add in typical sandwich ingredients
Green beans (12 beans)
Kale (1 cup)
Lettuce (most types)
Seaweed, nori (2 sheets)
Spinach (1 cup)
Spring onions (green tips only)
Sweet potato (stick to a 1/2 cup)
Swiss chard (1 cup chopped)
Tomatoes, cherry (4)
Blueberries (20 berries)
Raspberries (10 berries)
Strawberries (10, chopped)
Banana (1 medium, ripe)
Cantaloupe (1/2 cup)
Coconut (1/2 cup)
Cranberry (1 tbsp dried NSA)
Grapes (1 cup)
Kiwi (2 small, peeled)
Papaya (1 cup, chopped)
Pineapple (1 cup, chopped)
Pomegranate (stick to 1/4 cup seeds)
Choose Your Whole Grains
Brown rice
Buckwheat
Millet
Oatmeal
Quinoa (is a seed, but grouped here as it serves as a base for a meal)
Choose Nuts & Seeds
Almonds (up to 10)
Almond butter (1 tbsp)
Brazil nuts (10)
Macadamia nuts (20)
Peanuts (up to 32)
Peanut butter (2 tbsp)
Pine nuts (1 tbsp)
Chia seeds (black/white 2 tbsp)
Pumpkin seeds (2 tbsp)
Choose Organic Pasture-Raised Dairy
Cheese
Camembert
Cheddar
Feta
Goat
Mozzarella
Pecorino style
Yogurt
Lactose-free, plain
Greek (small amounts)
Milk
Lactose-free
Coconut milk (canned, ½ cup)
Homemade almond milk (1 cup)
Choose Healthy Fats & Flavors
Coconut Oil (in moderation)
Garlic-infused olive oil
Olive oil
Safflower Oil
Sunflower Oil
Flaxseed (up to 2 tbsp)
Peanut butter (2 tbsp)
Walnuts (10 nut halves)
Avocado (1/8th slice of medium avocado)
Butter
Ghee
Salt, pepper
Asafetida powder (wheat-free)
Rice wine vinegar (2 tbsp.)
Sesame oil
Maple syrup (1 tbsp)
Miso paste (2 sachets)
Soy sauce
Lemon juice
Lime juice
Basil
Cilantro
Lemongrass
Parsley
Pesto sauce (1/2 tbsp)
Rosemary
Thyme
Allspice
Cardamom
Chili powder
Cinnamon
Cumin
Curry powder (onion/garlic-free)
Nutmeg
Turmeric
Have You Tried The FODMAP Lifestyle? Share Your Thoughts In The Comments Below!
---
If you haven't already, join our free global challenge at www.GetOffTheGluten.com to receive daily recipes & health tips, access to our private group for support and inspiration, plus before and after testing to track your progress in key areas of your life such as weight, sleep, bloating, skin-conditions, mental health and more!
JOIN THE GROUP CHALLENGE STARTS IN: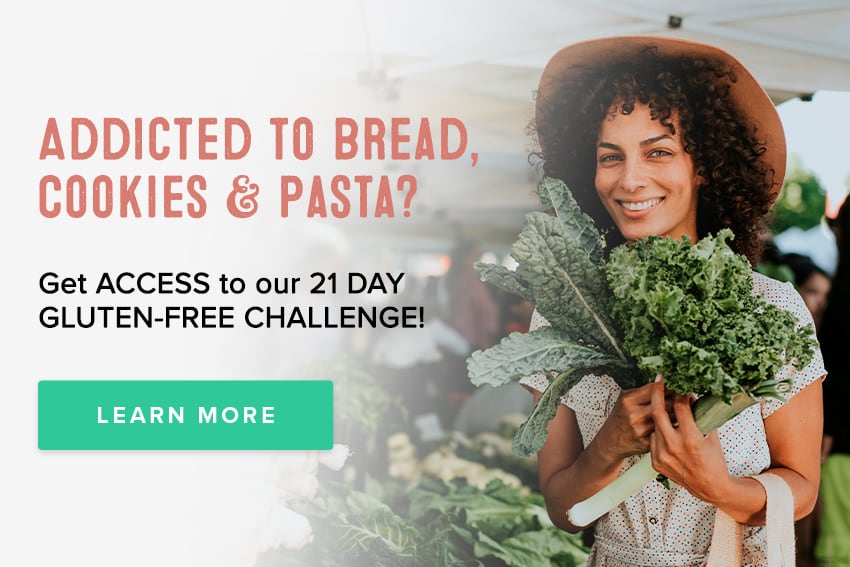 ---