How to Start Yoga At Home
There is a belief in our society that we have to get away somewhere exotic to restore and rejuvenate, but the truth is you can do it in the comfort of your own home with the right mindset. It's no secret that I believe in the transformative power of yoga. But there is one thing that I think has the power to take your practice (and the benefits) to a whole other level... developing your own home practice.

Here are a few tips for creating a beautiful space and principles of a home practice so it's inviting and something you actually want to do each day. With repetition, the mind will become attuned to dropping into the zen space you create each time you roll out your mat around your favorite inspiring things. Some of these are:
Create a beautiful space
It is important to give yourself an environment where you can practice and totally express yourself.
Invest in a MAT (I love Jade mats or why not have a custom embroidered mat with your name on it?)
Choose a room or area in your home where you can be undisturbed and find some quiet time.
Decorate your space with what inspires you. Some examples might be photos, quotes, crystals, indoor plants, or other objects that center your attention and intention for your practice.
Evoke the power of aromatherapy and scent by bringing a lit scented candle or diffuser filled with essential oils (my favs are lemongrass, grapefruit, orange, lime, and lemon). James and Laurentine's favorites, along with tips on what to look for in an essential oil, can be found in the Essential Oils Guide here.
You may like to pull an affirmation card beforehand or afterward.
You may like to use a Tibetan singing bowl beforehand or afterward to seal the practice.
Your sacred space might contain a single object such as a special crystal, sculpture, or private alter you deliberately place in a special place.
Play some music (My favs are Sacred Earth, Herrin Larkin, Deva Premal, Mantra in Motion, Krishna Das, Mannesh De Moor, Craig Pruess).
Keep it simple and ensure you feel comfortable.
Principles Of A Home Yoga Practice
Begin simply with the intention of getting on your mat for "five minutes to see what happens".
Always listen to your breath, follow your breath, pay attention to your breath.
Always listen to your body and never go into anything that is painful
Begin with a warm-up posture, maybe in child pose or simply in Savasana on your back. Next come into a few sun salutations, moving very mindfully while your body starts to warm up
Once you're feeling warm from the sun salutations start to come into the standing series of postures. Examples would be lunges, the warrior sequence, chair pose, etc. These poses really start to build up the heat in the body. Throughout the standing series, a vinyasa or flow is an option to transition from one pose or sequence to the next. Just be sure to listen to what your body is craving.. and if it's more heat then add in a few vinyasa's and if you're feeling more mellow.. a child pose might be perfect for you
Balance postures come after the standing series. Options are tree pose, lord of the dance, warrior 3… find the freedom here to express yourself!
The floor series can have many variations. Core and spine strengthening is always a good way to start it. Again, placing no expectation on yourself and "what you should do". Really just listening to your body and letting go of your ego is the most important of all. You can finish with any pose either sitting or laying on your back.
Finally making your way into an inversion: legs up the wall, a block under your low back, or a shoulder stand. Followed by supported fish pose. Place a block along the spine and between the shoulder blades. Be sure to let your upper body completely round over top of the block.
Finish each class in Savasana or final meditation. Simply allow yourself to be still, to let all the benefits of your class to sink in, whether it was 5 minutes or 60 minutes. It's all yoga :)
Enjoy yourself! This is YOUR practice, it's joyful.
Explore the internal landscape of your body. Smile when you're in postures, congratulate yourself for getting on your mat, and give yourself a big hug when you've finished.
How Do You Enjoy Yoga At Home?
If you're looking to develop a home yoga practice but need further guidance, we've got you covered over on the Food Matters Youtube Channel.
Take the stress out of cooking with 21-days of guided meal plans, shopping lists, and nutrition support. You'll find all of this, and more, in our signature Clean Eating Program.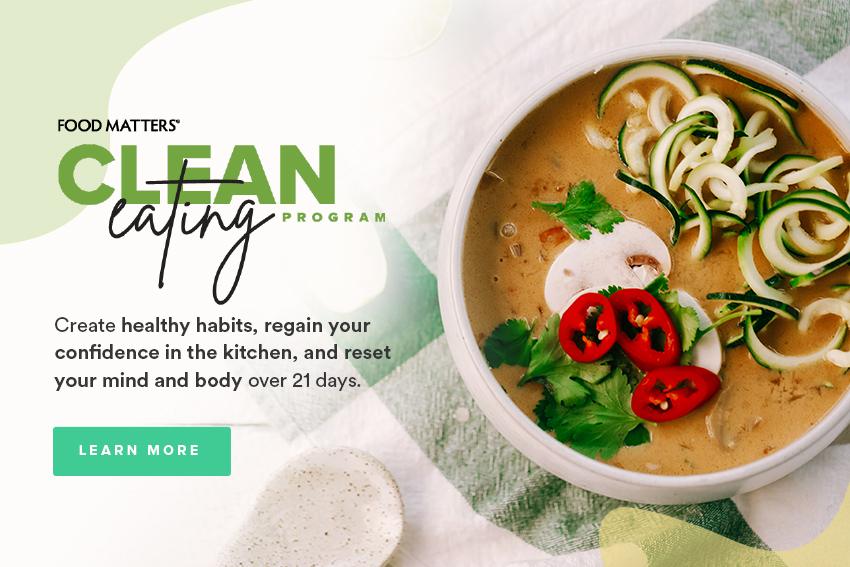 ---