I'm a Writer and These Are My Favorite Journaling Prompts for Creativity and Self-Discovery
As a writer, I can truly appreciate the beauty of the written word. Not just for reading and entertainment, but as much for the cathartic release the process of writing brings. However, the irony is that even as a full-time writer, I rarely put pen to paper. As it turns out, just 10 minutes of journaling each day helped me improve my life just as much as it did my writing.
Even the most ardent writers know that one of the more challenging parts of our craft is doing the actual writing itself. It's the carving out space, finding the inspiration, and sitting down with a blank notebook that becomes a burdening task. Inspiration is always everywhere, whether it's for the next great novel or a simple self-discovery practice to dive deeper into our personal journeys. So that's why last year, I committed to a journaling practice to improve my relationship with writing.
An unexpected thing happened. Not only did my work improve, but so too did many other parts of my life. I was able to have more honest conversations and relationships with the people around me, I committed to practices that helped to heal my inner child, I expressed gratitude more easily, I ticked off goals that were truly only ever pipeline dreams, I felt more accomplished each day as I worked through my lists, and I witnessed the background chatter fall away. Journaling became a daily meditation for me; a chance to check-in, to reflect, to unload, and to re-align with my creativity.
Journaling is one of the most powerful and profound tools we have in our toolkit, not just as creatives, but as human beings. Last year, despite the ride that it took me on, I experienced it firsthand. The process in itself seemed daunting at first, but there's a series of exercises and writing prompts that have shown to turn even the most begrudging writer into a self-healing Hemingway. The following six are good for any stage of a journaler's journey, so make yourself a cup of tea and let the words flow.
Stream of Consciousness Freewriting Practice
Freewriting is perhaps the most anxiety-inducing but soon becomes the most appreciated skillset in your journaling practice. It's essentially like a big brain dump, a catch up with a long-lost friend over coffee, only you're not boring your friend with endless thoughts. The process of freewriting is simple - you start writing and you don't stop. Not to think, not to cross out words, not for anything; even if there's nothing to write about.
If there's a particular issue you're trying to work through, use this as a prompt to begin. Otherwise, find inspiration in your present surroundings. Some writers commit to a time limit, I personally like to commit to three pages, as a mentor once told me that you spend the first two still trying to make sense of the words, and by page three you're writing absolute nonsense - but this is where the real magic happens. For this reason, I love to freewrite as soon as I wake each morning, but I know others who see the benefits of doing so before they go to sleep each night - it's a beautiful way to shake off the day. Try both times of day and commit to the one that works best for you.
Daily Future Self Journaling
This practice is less about creative indulgence (or you can make it so if you choose), and more about taking the steps to recover from childhood trauma, the small incidents that shaped you, or any limiting beliefs that are holding you back. This type of journaling works in a similar way to affirmations, where statements are written and questions are answered as if this state of 'self' already exists. There are many different prompts and programs you can follow, but a favorite of mine (where I have witnessed profound changes within a month), was developed by The Holistic Psychologist and uses neuroplasticity to change the pathways in our brain. You can download her journal prompts here.
Haiku Series
Haiku is like the anti-freewriting. These small poems are created from a set of specific rules for their beauty. The three-line poems are written with syllables in mind; the first line must have 5, the next must have 7, and the final must have 5. This extremely structured style of writing may seem limiting initially, but within these parameters, a lot of creativity can be found. I personally use haiku to reflect on people who come and go in my life, or about small and seemingly insignificant things and objects - I find it a great and challenging way to consider the world around you, and more often than not you'll find yourself with endless thoughts and not enough space to put them.
Lists, Lists, Lists
It might be a Type A thing, but I find lists incredibly therapeutic. They're not always to-do lists (although these are great to get on top of), but sometimes I like to just write lists for fun. Consider some of the most unlikely topics, and get to work. I like to begin each January with a 'More Of & Less Of' list, to set the tone of the year to come, whenever I'm faced with a challenging decision I begin a Pros & Cons list, or other times I take a leaf from Rupi Kaur and use the inspiration of lists as a starting point for a poem.
Expressing Gratitude
The undeniable research is showing us the profound effects of expressing gratitude on our life. It's a simple, underrated tool that allows us to take stock and reflect on the good things, and a journal is the best place to do it. Each morning, after spilling out some freewriting, I like to pause, reflect, and note down the three things that I am the most grateful for. Researchers at Berkely have spent time attempting to discover why exactly expressing gratitude makes us feel good, and they found that gratitude often has long-lasting effects on the brain, with a simple letter still sending happy signals three months after being written. The gratitude we express in our journals doesn't have to be anything out of the ordinary; it can simply be the breakfast on your table and a sunny day outside (or a rainy day, if that makes you grateful too) but it's the writing down of these small things that affirms how grateful we truly are.
Goal Setting
If it were up to me, I would tell everyone to set some goals this year - no matter how big or small. I finally took goal setting seriously for the first time last year and let me say, having a clear vision coupled with achievable steps allowed me to propel myself into the direction I had always hoped, and chick in along the way. Unsurprisingly journaling helped me hugely with this process. Once a month I take the opportunity to look back at all that has passed, conduct a mini-review, and see where I need to go in the future. These goals don't necessarily have to be career or health-related either. One goal last year was to read a book a fortnight and another was taking steps to push past my limiting beliefs, but ensuring I'm on the right path helped me to achieve them.
Letter Writing
Sometimes you've got to get something off your chest, but you can't bring yourself to say the words to the person who needs to hear them most. Why not write them a letter instead? The best part is, you don't have to send it - so you can be 100% honest. I find this exercise is a great way to begin a poem, just as it is to release any stagnant thoughts that are holding you back. Letter writing doesn't always have to be a cathartic exercise either. I like to create an imaginary character or reflect on someone I love in my life, and write a letter to them every now and then too!
I never could have imagined 12 months ago that journaling would be one of my best support tools; through the year that was 2020, all of my creative blocks, and as a means to discover my innermost workings of self. It may be your resolution to develop a daily practice, and if you're not sure where to begin, try one of these prompts to dive a little deeper.
---
If you haven't already, join our free global challenge at www.GetOffTheGluten.com to receive daily recipes & health tips, access to our private group for support and inspiration, plus before and after testing to track your progress in key areas of your life such as weight, sleep, bloating, skin-conditions, mental health and more!
JOIN THE GROUP CHALLENGE STARTS IN: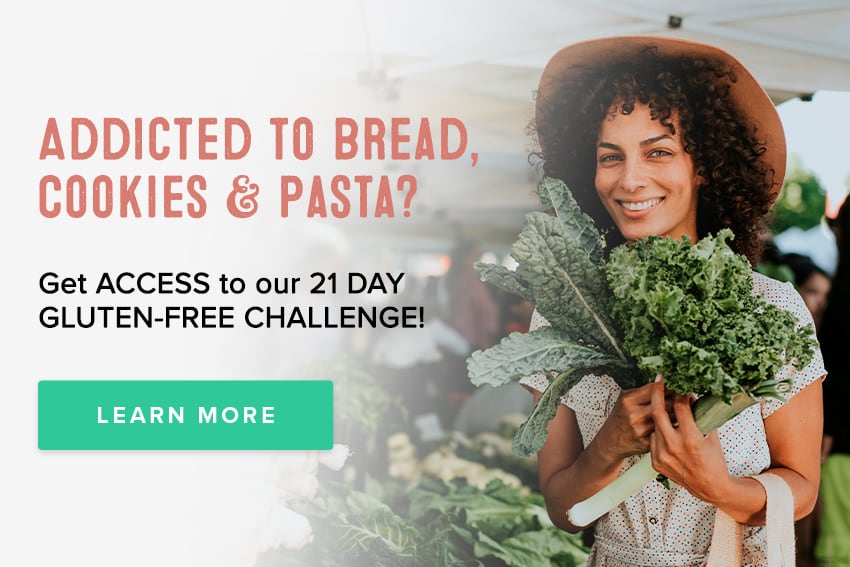 ---