It Takes 21 Days To Change A Habit
Earlier this year we hosted a community run of our 21 Day Program, where we start and finish the program together as a group. We were absolutely blown the energy and support of the community who participated in the 21 days. Amongst all the amazing feedback we received after completion of the program, there was one story that stood out. This story from one of our community members hits the nail on the head to what happens during the 21 Days, how your body changes and what new habits a formed during the process.
Sue's Story
"I've Completed the 21 Day program a month ago. The second week of the program was the trickiest, with tummy upsets, nausea, headaches and lightheadedness. I think these symptoms were a combination of the detoxifying process and struggling with the constant heat and humidity that we've been having in this part of the world for the past few weeks.
After finishing the program, I've spent the past week modifying some of the recipes, and also 'indulged' in a Valentines Day dinner which included GF low carb bread (I'm coeliac), chips and a couple of glasses of wine. While I did really enjoy the meal, I couldn't finish it, and my body felt heavy and washed out for the next 24 hours.
Yesterday, I included goat feta in a salad, and, again, while I enjoyed the taste, felt heavy and nauseated afterwards.
This morning, had breakfast out with my Dearest Darling, and had a corner of the GF bread that came with the otherwise plant based meal. Dear me! An eye opener in how tastes have changed in such a short time!
I have not had a coffee in four weeks, and, while I am curious to see what it would now be like, I'm not desirous of it.
So, I'm intending on repeating the 21 Day program to embed plant based eating, commencing tomorrow, and this time modifying recipes taking FODMAPs into consideration to address some of the nausea and bloating and rumbly tummy I've experienced at times with fermented foods and onion and garlic. I'll also include fish and the occasional chicken, as I do seem to have more energy when I eat these a couple of times a week.
My aim in commencing with Food Matters was to work towards being the healthiest version of me as I enter my 60th year.
Without doing anything else too much differently in my lifestyle other than change towards eating mostly fresh/raw plant based meals, I have lost 2 kilos. I do need to be aware of the high risk of diabetes, osteoporosis and anemia considering my stage of life and my celiac condition, so I choose to regularly meet with my trusted dietician, choose to take supplements, and choose to include some weights and Pilates alongside my regular hilly walks and yoga practice to address and avoid these conditions.
Thank you Food Matters. I'm glad I've found you. I will be one of those 'silent' members (I've already used up a week's worth of word quota on social media in writing this.)"
Do you have a passion for nutrition & natural healing?. Learn more about the Food Matters Nutrition Certification  Program here.
ENROLLMENT & BONUSES CLOSE IN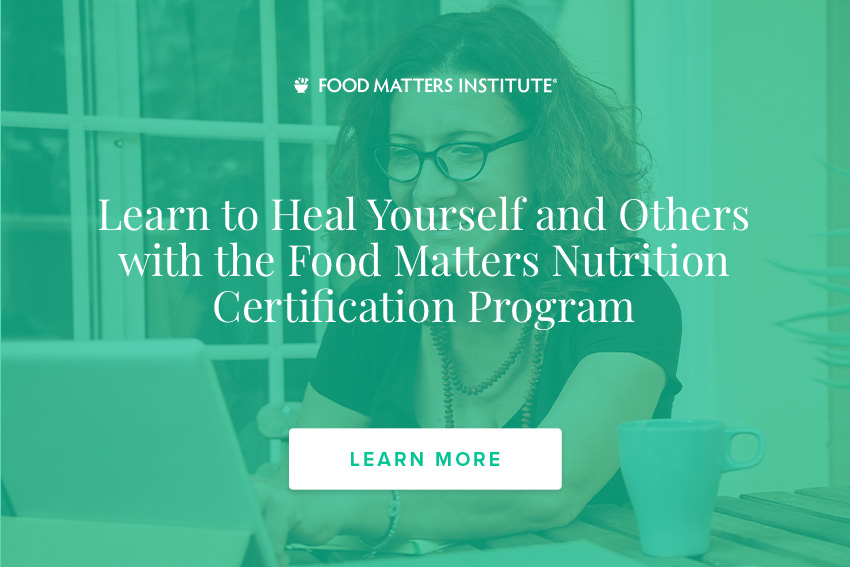 ---