UK's First Plastic-Free Supermarket Zone & How You Can Help
A north London supermarket is ahead of the game in becoming Britain's first Supermarket to introduce plastic-free zones. How long until we see giant chains following the lead?
We've seen the #BanTheBag movement grow in Australia but we are still living a world of plastic. Plastic cups, bottles, straws, vegetable bags, food packaging. So while single-use plastic is on the decline, what's next in the changing our wasteful habits?
The Telegraph states, Thornton's Budgens in Belsize Park plans to become 'virtually plastic-free' by 2021. In the meantime, it has converted almost 2,000 product lines to plastic-free packaging, including vegetables and crisps. It's a good start!
Campaigners hope the store, which describes the move as a 'public experiment' will inspire larger chains to follow suit. It follows the introduction of the world's first plastic-free aisle to a Dutch supermarket in Amsterdam last February.
Andrew Thornton, who owns the Budgens franchise, said: "We're hoping that what we're doing here will challenge the likes of Sainsbury's, Tesco and others.
As soon as one of them turns round to the big producers such as Coca-cola, Heinz or Unilever and says "unless you stop sending us products in plastic, we're not going to stock them", change will come very quickly.
5 Ways You Can Do Your Part From Anywhere in The World
1. Cut Back On Processed & Processed Foods
Avoiding buying plastic packaged products where possible - when shopping at smaller grocers and eco stores you can often find nuts and grains dispensed from larger containers rather than packaged on the shelf.
2. Reusable Fruit and Veggie Bags
The recent bands of the single-use plastic bags in many locations is a positive step towards plastic-free supermarkets but how many other pieces of single-use plastic are you leaving the supermarket with? Get your hands on some cotton mesh reusable fruit and vegetable bags to collect your goods in, these are also great for helping to organize your fruit and vegetable drawer of the refrigerator.
3. Reusable Shopping Bags
You've most likely already heard this one and are hopefully practicing this step as part of your regular shopping habits. If not, grab yourself a Food Matters Farmers Market Bag and keep it in your car for when you hit the Supermarket or markets. Hands down, the best size bag!
4. Store Food in Glass
Forget the plastic bags when selecting your favorite dry goods. Most stores will allow you to bring your own jars to refill on the staples like coconut oil, nut butter, nuts, and seeds.
5. Choose Natural Fibers
When making the switch to plastic-free, do your best to choose natural fibers. Reusable alternatives aren't always plastic-free either, so it's important to try and find ones that are natural fibers. This will help keep your beautiful fruit and vegetable fresher too!
Simple Ways to Start Minimizing in Your Own Home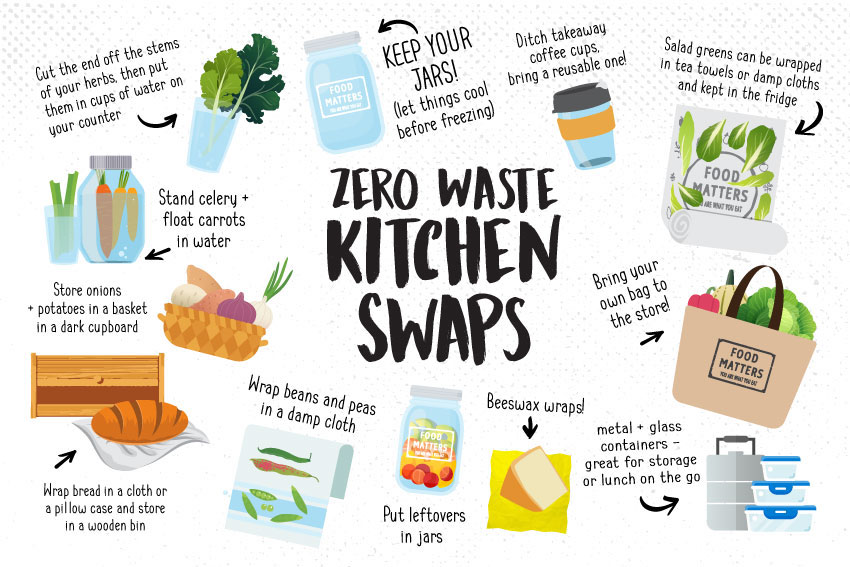 Do you have a passion for nutrition & natural healing?. Learn more about the Food Matters Nutrition Certification  Program here.
ENROLLMENT & BONUSES CLOSE IN