Q&A With Nutrition Stripped's McKel Hill
McKel Hill, founder of Nutrition Stripped, has just released a shiny new recipe book! We couldn't be more excited, as McKel is such an awesome example of bloggers making their mark on the health and wellness industy. We had some burning questions for McKel. Keep reading to hear what she had to share...
Q1. Tell us a little about yourself. Who you are, what you do, how "Nutrition Stripped" got started, & why the cyber-foodie world is loving you…
First off, thank you. You're too kind! You can read all the nitty gritty by clicking here, but in a nutshell, I started NS 3 years ago as a creative outlet to share my recipe ideas and nutrition expertise in a simple way so people could start learning how to truly nourish their bodies and strip the nutrition confusion away- for good! My mission has stayed constant and NS has grown leaps since I started. It's now a global community with one goal in mind - to feel healthier, happier, and eat delicious, whole foods at the same time. Honestly, I like to just keep it real. I'm just like everyone else when it comes to wanting to feel my best, look my best, and reach optimal wellness. I'm simply sharing my experiences with clients, tools, and expertise along the way to help others manifest their health potential. Beyond the NS Blog, I'm a Dietitian Nutritionist so I coach 1-1, I work with high profile brands aligned with NS for campaigns, media/TV; I have a line of ebooks and courses, NS merch like t-shirts, etc.; and I've just released my debut cookbook called "Nutrition Stripped". I can't wait to share what's in store for 2017, but I feel incredibly grateful to wake up daily merging my passions with my gifts to better serve others.
Q2. What is the biggest health myth that you would like to debunk for good?
That it's a one-size-fits-all; or that just because XYZ diet works for 1 person that it'll work for everyone else. We're all unique, and that's the beauty of it. Embrace your uniqueness and find something that works for you. Stick with that and pay no mind to others' lifestyles or comparisons. Tweet - Embrace your uniqueness and find something that works for you. Stick with that and pay no mind to others' lifestyles or comparisons.
Q3. Natural beauty obsessions…
Coconut oil! From eating it for inner beauty health that radiates out, to using it as a makeup remover, face wash/oil cleanser, and body moisturizer-- it's my favorite! Also, I love RMS makeup and Honest Beauty makeup.
Q4. If you could make dinner for anyone, who would it be and why? And what meal would you create?
I'd love to have a dinner table attended by Jamie Oliver. Jamie Oliver seems like such a genuine and humble guy, and I adore his message of trying to get people back to basics by cooking healthier foods with the family. I'd make a smorgasbord from my favorites in the "Nutrition Stripped" cookbook like the Beetroot Burgers with Maple Mustard and Buns, 5 ways; Bhel Puri for snacking, Acorn Squash Rounds with Dill Cashew Cream, a simple Massaged Kale Salad, Turmeric Broth with Corona Beans and Walnut Gremolata, and top of off with Salted Caramel Brownies.
Q5. What would you do to boost your energy if all you had was 5 minutes?
Meditate.
Q6. What advice would you give to someone about to embark on their journey to a healthier life?
Meet yourself where you are-- meaning, if you're not the person to change habits overnight and do a huge overhaul, then don't! Start as small or big as you like. Also, don't be too hard on yourself. You're already whole.
Q7. What's your favorite recipe from the new recipe book?
I love them all, truly! But if I had to pick a favorite at the moment, it's the Beetroot Burgers with Maple Mustard (and 5 buns including my gluten-free Sesame Buns) with the side of Sweet Potato Wedges and Curry Ketchup!
If You Could Make Dinner For Anyone Who Would It Be? Share Your Thoughts In The Comments Below!
Do you have a passion for nutrition & natural healing?. Learn more about the Food Matters Nutrition Certification  Program here.
ENROLLMENT & BONUSES CLOSE IN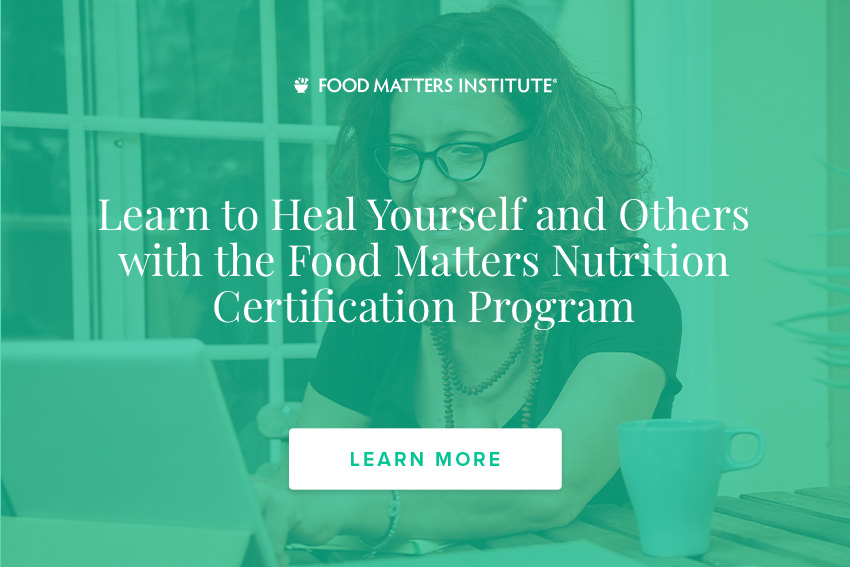 ---