Raw Cacao vs Cocoa: What's The Difference?
Cacao and cocoa are kinds of the same thing... they're also very different! We don't want to confuse you, but we do want you to discover the truth about their differences. Luckily, Sarah Wilson has the facts for you!

Firstly, Sarah's Story...
Almost four years ago I quit sugar. What started out as just a new year experiment became something more. Giving up sugar was easier than I thought, and I felt better than ever, so I just kept going and going.
One of the hardest things, though, was finding healthy alternatives to satisfy my sweet tooth. I started experimenting with cacao, but found some folk were confused about the difference between raw cacao and cocoa. So, I thought I'd clear a few things up for you.
Is There A Difference Between The Two Aside From A Few Vowels?
The studies that boast of chocolate's amazing health benefits are not referring to your average store-bought chocolate bar (damn misleading researchers). The chocolate that they're referring to is raw cacao.
Raw cacao is made by cold-pressing un-roasted cacao beans. The process keeps the living enzymes in the cacao and removes the fat (cacao butter).
Cocoa looks the same but it's not. Cocoa powder is raw cacao that's been roasted at high temperatures. Sadly, roasting changes the molecular structure of the cacao bean, reducing the enzyme content, and lowering the overall nutritional value.
What Are The Health Benefits Of Raw Cacao?
Lowers insulin resistance
Protects your nervous system: Cacao is high in resveratrol, a potent antioxidant also found in red wine, known for its ability to cross your blood-brain barrier to help protect your nervous system
Shields nerve cells from damage
Reduces your risk of cardiovascular disease
Reduces your risk of stroke
Reduces your risk of cardiovascular disease: The antioxidants found in cacao help to maintain healthy levels of Nitric Oxide (NO) in the body. Although NO has heart benefiting qualities, such as relaxing blood vessels and reducing blood pressure, it also produces toxins. The antioxidants in cacao neutralize these toxins, protecting your heart and preventing against disease.
Guards against toxins: as a potent antioxidant, cacao can repair the damage caused by free radicals and may reduce the risk of certain cancers. In fact, cacao contains far more antioxidants per 100g than acai, goji berries, and blueberries. Antioxidants are responsible for 10% of the weight of raw cacao.
Boosts your mood: Cacao can increase levels of certain neurotransmitters that promote a sense of well-being. And the same brain chemical that is released when we experience deep feelings of love – phenylethylamine – is found in chocolate.
It is rich in minerals: magnesium, iron, potassium, calcium, zinc, copper, and manganese.
If Cacao Is More Beneficial Than Cocoa Because It's Raw, What Happens When We Cook It?
Very good question and we're glad you asked… unfortunately, there is no science on whether or not heating raw cacao destroys its antioxidant level making it more akin to its heated and processed cousin cocoa. BUT we figure if you start off with the product in its raw form, it has to be more beneficial than starting with an already heated and processed equivalent.
Let's End With An Interesting Tid-Bit…
Research shows that dairy inhibits the absorption of antioxidants from raw cacao.
So if you're making a cacao shake you're better off using non-dairy milk like almond or coconut in order to reap all of the antioxidant benefits. Fact!
---
If you haven't already, join our free global challenge at www.GetOffTheGluten.com to receive daily recipes & health tips, access to our private group for support and inspiration, plus before and after testing to track your progress in key areas of your life such as weight, sleep, bloating, skin-conditions, mental health and more!
JOIN THE GROUP CHALLENGE STARTS IN: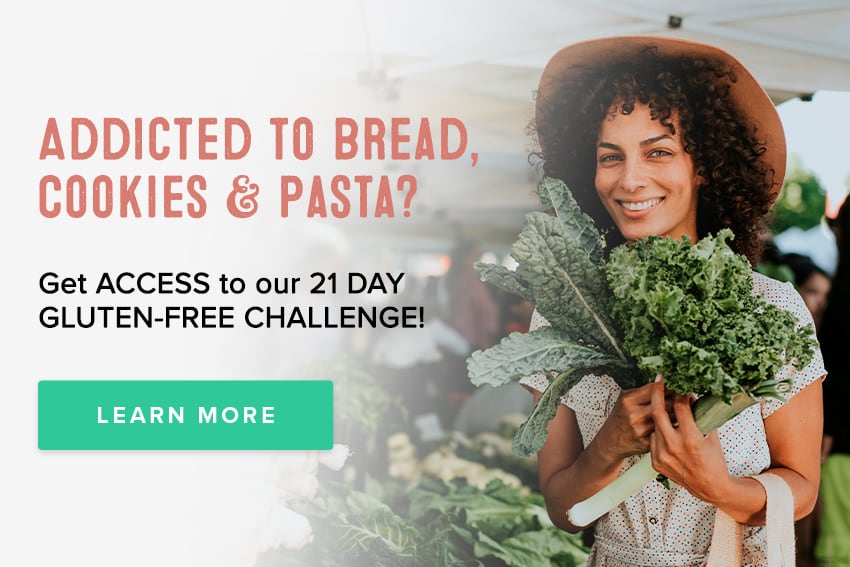 ---