How To Avoid Toxic Cleaning Chemicals!
Spring is right around the corner, and as the weather warms up, it's the perfect time for the age old ritual of spring cleaning your home.

This article focuses on spring cleaning your home, as this is an area where many unwittingly introduce more unnecessary toxins into their lives.

The typical American home contains about three to 10 gallons of toxic materials in the form of household cleaning products. Indeed, the very things you use to clean your house are actually among the primary sources of toxins and indoor air pollution you expose yourself to on a regular basis.

Even "green" alternatives can contain harmful ingredients. It's unfortunate, but the terms "green" and "natural" are really nothing more than marketing terms, and they do not automatically equate to safety.

Moreover, many ingredients do not even have to be listed on the label in the first place, which makes it even more difficult to discern what you're being exposed to. The manufacturers have conveniently lobbied the government to exempt them from this requirement, so they can purposely omit any ingredient that is considered a secret formula from its label. Not surprisingly, many of these non-disclosed ingredients are actually toxic.
Which Are the Worst Offenders?

Of particular concern are chemicals known or suspected to be carcinogenic. Others can disrupt your endocrine system and/or may cause reproductive harm—both of which are serious concerns if you have young children in your house.

When the chemicals in common household products such as cleaning sprays and laundry detergents hit your skin and lungs, they go directly into your bloodstream, bypassing your liver and kidneys, which are your body's natural defense system against toxins. Just one application of a typical household cleaner can leave dangerous chemicals lingering in your indoor air for hours on end.

Ammonia is perhaps the most well-known offender when it comes to making your home "unlivable" during and for several hours after its use. It's extremely irritating to your skin, eyes, and lungs by itself, and can be lethal if haphazardly mixed with other chemicals.


Please beware that you should NEVER mix ammonia with any product containing bleach. Mixing ammonia and bleach together will cause extremely toxic vapors capable of rendering you unconscious. More than a few people have had to hang their heads out the window, gasping for air, after making this mistake...

Other ingredients in common household cleaners, laundry detergents, and even "green" cleaners that can create a toxic indoor environment include but are not limited to the following. For additional hazardous chemicals found in common household products, please see the below list:

Glycol Ethers: Widespread use in paints, perfumes, soaps, cosmetics, and foods. Cause fatigue, lethargy, nausea, and possible liver and kidney damage.

Phosphates: Manufacturers have reduced eliminated phosphates from laundry products, but no action has ever been taken on dishwasher detergents. Causes widespread environmental damage.

Volatile Organic Compounds (VOC): Including 1,4-dichlorobenzene – Cause nose and throat irritation, dizziness, and asthma.

Phthalates: Cause reproductive harm, endocrine disruption, cancer, and organ damage.

Nonylphenol Ethoxylates (NPEs): Common ingredient in laundry detergents and all-purpose cleaners, is banned in Europe, and known to be a potent endocrine disrupter, causing male fish to transform into females.

Petroleum Solvents: In floor cleaners may damage mucous membranes.

Perfumes: Cause headaches, sinus problems, and asthma.

Formaldehyde: Found in spray and wick deodorizers, is a suspected carcinogen.

Butyl Cellosolve: Found in many all-purpose and window cleaners, may damage your kidneys, bone marrow, liver, and nervous system.

Chlorine: Irritating to your skin, eyes, and lungs.

Ethanolamines: Irritating to the skin, eyes, and lungs.

Sodium Lauryl Sulfate: Skin irritant, eye irritant, and potentially carcinogenic.
Spring Clean Your Home the Non-Toxic Way

Common household items such as vinegar and baking soda can usually cut through dirt and sanitize just as well as their toxic counterparts. In some instances, you may need to use a bit more elbow-grease, but all things considered, I believe it's well worth it. Other times, you may be shocked to discover that such simple ingredients will do an even better job.

Here's a simple starter list of non-toxic recipes for do-it-yourself cleaning, which will allow you to make a wide variety of your own all-natural, non-toxic cleaning products, either individually or in various combinations. For example, vinegar combined with hydrogen peroxide works exceptionally well as a disinfectant and sanitizer:
Baking Soda—An Age-Old Champion of Cleaners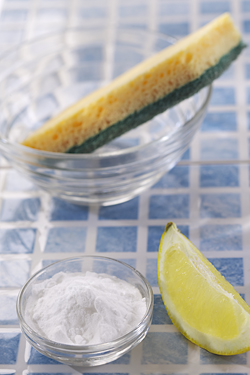 1. Use as a safe non-scratch scrub for metals and porcelain.

2. To clean your oven: simply sprinkle a cup or more of baking soda over the bottom of the oven, then cover the baking soda with enough water to make a thick paste. Let the mixture set overnight. The next morning, the grease will be easy to wipe up because the grime will have loosened. When you have cleaned up the worst of the mess, dab a bit of liquid detergent or soap on a sponge, and wash the remaining residue from the oven.

3. To unclog a drain: pour 1/2 to one cup of baking soda down the drain, then slowly pour 1/2 to one cup of vinegar in after it. Cover the drain and let it sit for 15 minutes. If it bubbles like a volcano, it means it's working as planned. Flush with a gallon of boiling water.

4. Deodorize dry carpets: by sprinkling liberally with baking soda. Wait at least 15 minutes, then vacuum.

5. To clean your silver: boil two to three inches of water in a shallow pan with one teaspoon of salt, one teaspoon of baking soda, and a sheet of aluminum foil. Totally submerge silver and boil for two to three minutes more. Remove silver from the pan and wipe away the tarnish with a clean cotton cloth.
Easy-Breezy DIY Cleaning Recipes

This recipe list is well worth printing out or bookmarking for future reference, as it covers virtually every cleaning situation you can think of.
Bathroom

Deodorizing toilet scrub: Pour 1/2 cup of baking soda and about 10 drops of tea tree essential oil into the toilet bowl, followed by 1/4 cup of vinegar. Scrub with toilet brush.

Tub and shower scrub: Combat mildew by spraying straight white vinegar onto the area. Let sit for 30 minutes. Scrub with sponge if needed, and rinse with warm water. For more heavy-duty grime, mix baking soda with a small amount of liquid castile soap. Scrub and rinse. Soap scum can also be cleaned using a small dollop of coconut oil on a damp cloth. Spray the area with white vinegar and wipe dry with a lint-free cloth.

Antibacterial disinfectant: Bathrooms are breeding grounds for germs of all kinds, but antibacterial products such as those containing triclosan can do more harm than good. For a homemade antibacterial solution, mix two cups of water with three tablespoons of castile soap and 20-30 drops of tea tree oil. Spray onto the surface (such as toilet seat and sink), then wipe off.
Kitchen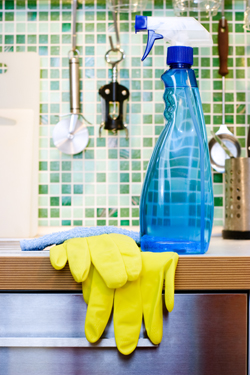 All-purpose countertop cleaner: Mix equal parts vinegar and water. Spray on and wipe off. For stone counters, use rubbing alcohol or vodka with water instead, as the acidity may harm certain surfaces like marble and granite.

Cutting board sanitizer (wood or plastic): Cut a fresh lemon in half and rub it across the surface in question. Let the juice sit for 10 minutes, then rinse. You can also use coconut oil to clean, sanitize, and condition your wooden cutting board. Use whenever the wood starts to look dry.

Homemade dishwasher detergent: Mix equal parts of liquid castile soap and water. You can add lemon if you like. Use about two teaspoons of lemon juice to a mixture of one cup water and one cup soap. Store in a glass jar. Pour the mixture into the detergent compartment in your dishwasher, and add plain white vinegar to the rinse compartment.
Laundry

Homemade fabric softener: Add 20-30 drops of essential oil to a one-gallon jug of white vinegar. Add 1/3 cup to each load of laundry. (Shake before use.)

Non-toxic fabric freshener/dryer sheets: Stuff a sachet bag with dried herbs of your choice and use in lieu of commercial fabric fresheners sheets. Another option is to dab a few drops of essential oil on a lint-free rag. Both are, of course, reusable. Simply add new herbs, or a few more drops of essential oil when you feel it's losing its scent.
Multi-purpose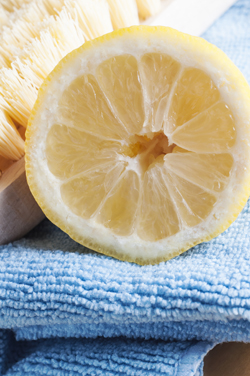 Non-toxic tile floor cleaner: For tile floors, mix one part white vinegar with two parts warm water in a bucket. Scrub as usual, using either a mop or rag. No need to rinse. Beware that vinegar is not recommended for either varnished wood or other wood flooring.

All-purpose mirror and window cleaner: Mix one part white vinegar with four parts water. Add lemon juice for a citrusy smell. Lemon juice will also provide extra grease-cutting power. Spray onto the mirror or window, and scrub off with sponge or rag.

Conditioning furniture polish: Combine ¼ cup vinegar with ¾ cup olive oil. Distribute onto the furniture using a soft, lint-free cloth, and wipe off. For wood furniture, mix ¼ cup lemon juice with ½ cup olive oil, then follow the same procedure as above. Alternatively, you can just use straight coconut oil in the same manner. In all situations, test your mixture on a small area first.
Step Into Spring—Clean and Toxin-Free

Don't be fooled by the shady "green" marketing, or by ingredients that are purposely left off of labels. The toxic chemicals listed above are found in a wide variety of everyday cleaners and detergents and pose a significant health risk. We are starting to see that now with increased and unexplained cancers, increased infertility and difficulty in reproduction, exploding neurological disorders, ADHD, and autism in our children.

These diseases are thought by many to be linked to environmental causes. And many of the toxic ingredients in cleaning products are among the suspected culprits. Fortunately, as you can see there's no shortage of alternatives, and the basic ingredients will typically end up costing mere pennies on the dollar compared to store-bought brands.
What Are Your Favorite Non-Toxic Cleaning Go-To's?
Do you have a passion for nutrition & natural healing?. Learn more about the Food Matters Nutrition Certification  Program here.
ENROLLMENT & BONUSES CLOSE IN