The 10 Ready-To-Drink Beauty Elixirs We're Loving!
We all lead busy lives and sometimes juggling work, relationships and day-to-day errands can leave us feeling (and looking) tired. The busier we get, the more we need to focus on creating space for micro-moments of self care in our daily lives. These little habits can include mini meditations, quick workouts & "beauty hacks" like reaching for a cleverly concocted nutritional elixir. I find that sipping on an elixir is one of the simplest ways to create beauty from the inside out and maintain that healthy glow!
There are plenty of amazing elixirs available today that can help you look and feel absolutely gorgeous. Here are 10 of our favorites...
1. Sea Buckthorn Tonic by Juice Generation (US)
Introducing Sea Buckthorn, or as some people call it - The Miracle Berry! This ancient superfood was originally only found at high altitude in the Himalayas and has been used in traditional Chinese medicine for about 12 centuries! Sea Buckthorn berries contain high levels of vitamin E and beta-carotene, which are known to combat wrinkles, dryness, and other symptoms of aging.
Juice Generation has created a wildcrafted Sea Buckthorn tonic shot which provides you with a daily boost of antioxidants that are essential for healthy, glowing skin!
You can check out Juice Generation's full range of products here. They also have a recipe book which includes 100 recipes for fresh juices and superfood smoothies - available here.
2. ProPlenish by Greene St Juice Co. (AU)
This berry delicious cold-pressed elixir by Melbourne's Greene St. Juice Co. uses a unique blend of organic coconut water, acai, strawberries, raspberries, blueberries, blackberries and a beauty-enhancing ingredient called ProPlenish which contains sustainably sourced marine collagen.
Collagen is one of the most important building blocks for our skin, hair and nails. It is often referred to as the anti-aging protein due to its ability to increase elasticity in the skin and reduce the appearance of wrinkles. The most bioavailable form of collagen is marine collagen, as the particle sizes are smaller and more easily absorbed into the body.
You can find other great elixirs from Greene St. Juice Co. here.
3. Antioxidant Inner Beauty Boost by The Beauty Chef (AU)
An organic, bio-fermented probiotic concentrate that helps to protect your skin and body from cellular aging. Designed by The Beauty Chef founder, Carla Oates, the Antioxidant Inner Beauty Boost uses a mouthwatering blend of papaya, pomegranate & green tea to deliver a vibrant shot of antioxidants and vitamins that help fight free radicals and repair damaged cells. It also contains a variety of natural probiotic strains which are used to ferment the carefully-selected blend of ingredients. This process creates a potent concentrate with a minimum of 6 billion digestive-balancing probiotics per serving! As an added bonus, this nourishing elixir contains no artificial colorings, flavorings or preservatives and is also dairy, sugar and gluten free!
You can find more products from The Beauty Chef here.
4. Living Elixir by Red Dragon Organics (AU)
We've all heard about the amazing health benefits of turmeric, but the team at Red Dragon Organics take it to a whole new level with their flavorful fermented turmeric and ginger elixir.
Cold-pressed organic turmeric, ginger and lemon juice is blended with herbal infusions of ginkgo and brahmi, then fermented with honey to create a powerful health tonic. This elixir is not only detoxifying but also helps cleanse the blood through the addition of gotu kola, which assists in treating skin impurities and premature aging!
5. Pure Mega by Temple Turmeric (US)
Keeping up with the turmeric trend, Temple Tumeric's Pure Mega elixir also contains black pepper, ginger and coconut milk to help your body absorb the full benefits of their Hawaiian Oana Turmeric™.
Combined with organic pineapple, mango and lime juice, this tropical tonic is bound to get your tastebuds tingling while still providing your body with some of the most essential nutrients it needs to maintain a healthy outer glow!
6. Beauty by Herbal Fix (AU)
The name says it all. "Beauty" is an herbal elixir by Herbal Fix with an impressive list of radiance-enhancing ingredients such as aloe vera, Indian gooseberry, chamomile, gotu kola, Siberian ginseng, rosemary, collagen, beta-carotene and just about every vitamin you can think of!
The aloe vera component is particularly effective in helping to soften and soothe the skin. When ingested, it helps supply oxygen to the skin cells, which increases the strength and synthesis of skin tissue while also decreasing the presence of wrinkles!
7. TigerNut Horchata by Organic Gemini (US)
Tigernuts are a tuberous vegetable that have been around for thousands of years, with documented use by the ancient Egyptians as early as 4000 BC. The best way consume this highly-nutritious superfood is in a delicious drink called horchata, such as this one from the team at Organic Gemini.
Tigernuts are rich in prebiotic fiber, which is essential for gut health. Prebiotics act as food for all of the good bacteria (probiotics) and provide the foundation for your gut microbiome to thrive!
8. Inner Beauty Rose Extract by CILK (AU)
Rosewater is widely recognized as a blissful topical skin toner and has been used in many cultures around the world for thousands of years - even the famously beautiful Queen Cleopatra was known to regularly bathe her face and body in rose water.
One innovative Australian company has taken this ancient beauty treatment and created a delectable elixir from it. Chanelle Louise, founder of CILK, produces an exquisite, organic rose extract which contains an impressive collection of antioxidant and anti-inflammatory properties derived from its high nutrient content. Just add a few drops to your favorite drink or some mineral water and you'll be feeling like royalty in no time!
Read more about the CILK story here.
9. Drinking Vinegars by Suja (US)
Don't be put off by the name, Suja's apple cider vinegar drinks have been masterfully crafted to not only taste great but also provide some incredible health benefits in the form of 4 billion live vegan probiotics in each bottle! These little micro-warriors help to boost your gut health, which supports your skin and enhances your overall vitality.
The other obvious benefit of these elixirs is the detoxifying effect of apple cider vinegar! Drinking small amounts of apple cider vinegar regularly can help in the removal of toxins and impurities from your blood which promotes smooth, clear skin!
Check out Suja's full range of products here.
10. CocoBiotic by Body Ecology (AU)
Last but not least, Maria Hunt's Body Ecology CocoBiotic drink is a delicious and hydrating way to help improve your gut health.
The bacteria and yeasts in this convenient 'all-in-one' probiotic elixir are derived entirely from organically certified plant sources. CocoBiotic is created from wildcrafted young Thai coconuts and utilizes a natural organic fermentation process to create a bioavailable source of probiotics that not only enhances your health but also tastes absolutely divine!
Browse the full Maria Hunt Body Ecology range here.
Do You Have A Favorite Beauty Elixir? Share It With Us In The Comments Below!
Take the stress out of cooking with 21-days of guided meal plans, shopping lists, and nutrition support. You'll find all of this, and more, in our signature Clean Eating Program.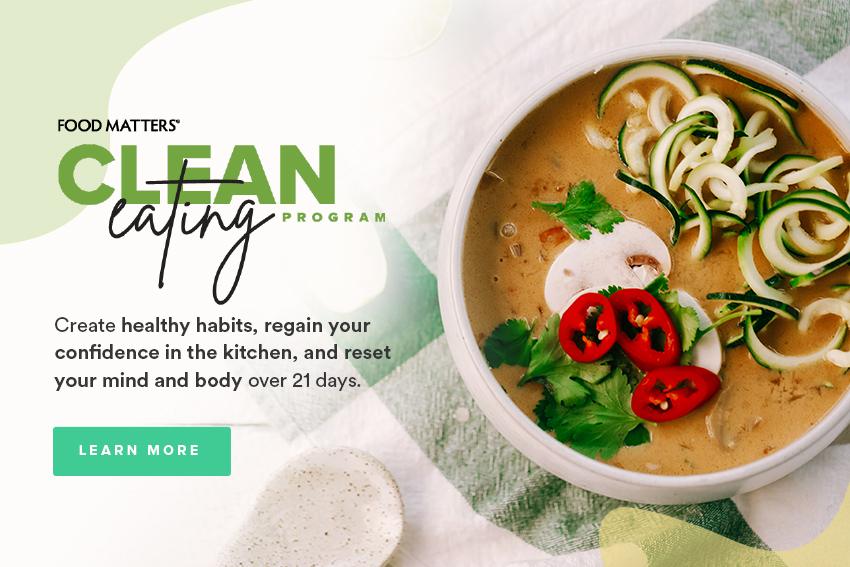 ---