Trick or Treat: Healthy Halloween Survival Guide (Plus 9 Fun Photos Of Snacks!)
What day do teachers (and school bus drivers) call "the worst day of the year"? You guessed it - the day after America's biggest candy holiday. But if you think we're talking about too much sugar as the cause of Halloween Hangover, please think again. So, if it isn't sugar or the festivities that are to blame for your child's November 1st hangover, then what is the culprit?

Take a close look at the tiny print on those candy wrappers and look for numbers, especially if they also include the names of colors. Do you see things like Yellow #5, Red 40 or Blue No. 2? These are the names for the colorings added to candy and other foods. Synthetic food dyes are the most likely suspects when it comes to triggering behavior problems in children, even of they only eat a small amount.

Here are some of the behaviors that have been attributed to eating food dyes:

attention deficits
irritability
restlessness
sleep disturbance
aggression
hyperactivity

Food dyes have been around for well over 100 years, the difference is that they are now synthesized using petroleum. (The same stuff that makes your car run can result in high-octane kids!) Not to mention that a child growing up in the 1940s and '50s didn't start their day with petroleum based dyes (in vitamins, artificial juice, cereal, toothpaste etc) and eating prepackaged, high processed, chemical foods in their meals. So, when our parents ate candy corn and other dyed candy, they were able to handle it better than our chemically saturated children can today.
Halloween Hangover Prevention Hints
1. Feed them first.
Be sure your kids go out trick-or-treating with full stomachs to discourage snacking en route.
2. Consider a swap.
Some parents keep natural candies on hand and trade for the unnatural ones. Other parents have a highly desired toy on hand to offer in exchange for the stash. Others tell their young children that if they set their bags of candy outside their door, the Halloween Witch will come by to collect the candy and leave a toy in its place.
3. Consider a buy-out.
Many kids sell their candy back to Mom; it's a big money-maker for them. (My kids continued going trick-or-treating even after they became teenagers. They were a bit embarrassed to be out with the little kids, but the income was so good they hated to give it up.)
4. Limit the damage.
If you and your child go through the stash and toss out the most brightly colored candies, and eat only a limited number per day, you will probably be able to weather the event.

Halloween doesn't have to be a horror. Avoid the petroleum dyes and try not to let the kids overdo the sweets or eat them on an empty stomach. And do what many parents do: keep the candies out of sight (and out of mind), toss out a few each day, and try not to eat too many of them yourself! You will probably find that Halloween is a fun holiday again!
9 Great Healthy Halloween Snack Ideas
If you're feeling a little creative and want to make something healthy and nutritious for your kids that they'll just adore, check out some of these great ideas we've found below. There are so many options out there on the web these days, that it's impossible not to find something that your kids will love and won't leave them with a toxic food hangover for days to come.
1. Ghostly Eggs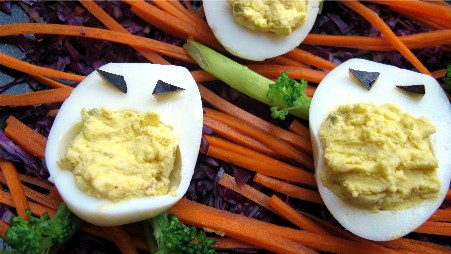 From PBS Parents
2. Skeleton Veggie Tray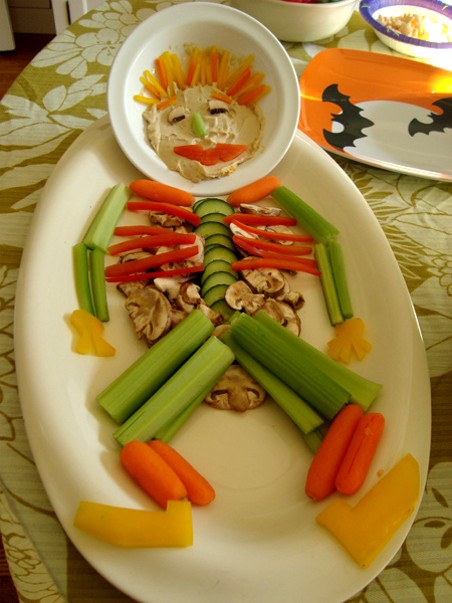 From Rookie Moms
3. Sweet Potato Pumpkin Patch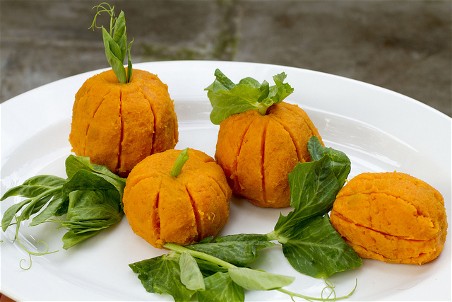 From Food Mayhem
4. Strawberry Ghouls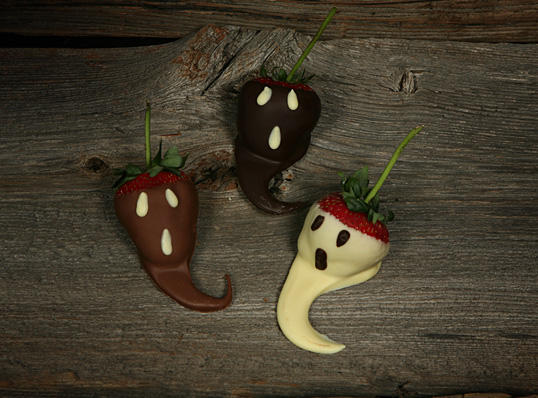 From Godiva
5. Frankenstein Fingers & Sheep's Eyes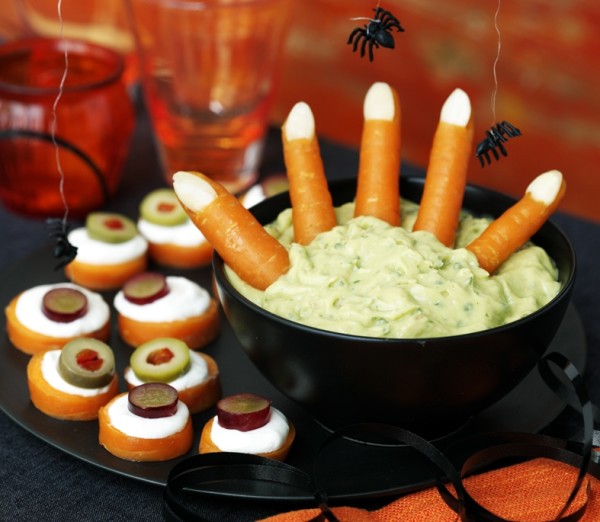 From Good To Know UK
6. Deviled Spider Eggs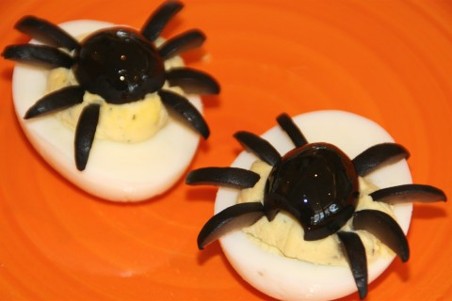 From Shockingly Delicious
7. Halloween Lunch Box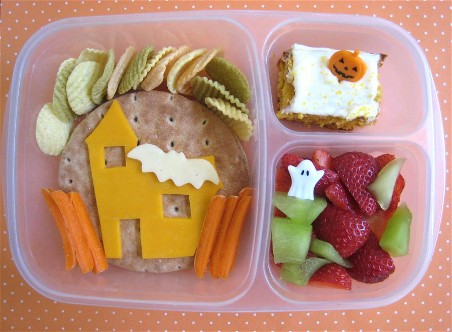 From Easy Lunchboxes
8. Creepy Bento Lunch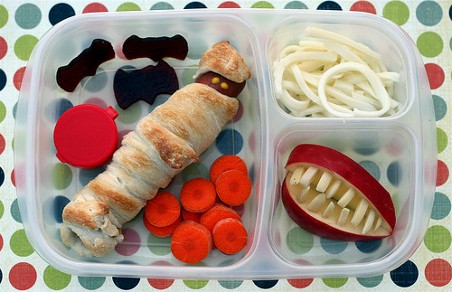 From Another Lunch
9. Spooky Fruit Pumpkins & Ghosts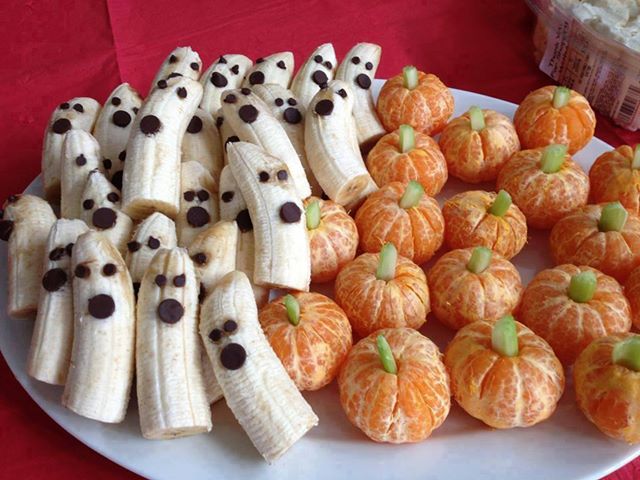 From Vicsnatural Victor Costa Trainer
How do you keep Halloween healthy for your kids? Do you have any favorite healthy Halloween treats you make for your family?
---
If you haven't already, join our free global challenge at www.GetOffTheGluten.com to receive daily recipes & health tips, access to our private group for support and inspiration, plus before and after testing to track your progress in key areas of your life such as weight, sleep, bloating, skin-conditions, mental health and more!
JOIN THE GROUP CHALLENGE STARTS IN: